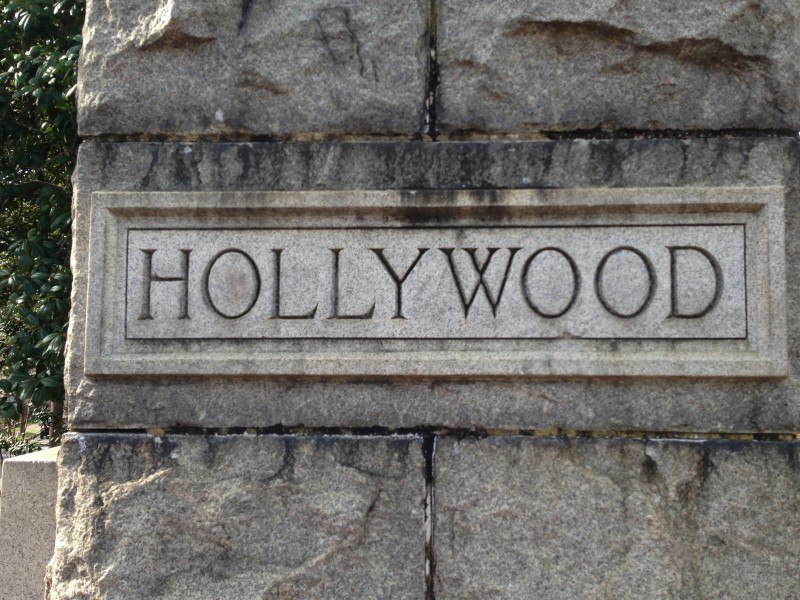 Richmond's historic Hollywood Cemetery, renowned for being the resting place for many notable Virginians, is also home to a vast collection of heritage roses, many with fascinating histories of their own. I first became acquainted with Hollywood's roses in 2011, when I worked with fellow members of the James River Garden Club (JRGC) to update Hollywood's Notable Tree and Rose Map.  James River's Evie Scott, Hollywood general manager David Gilliam and Van Yahres Associates, a site design firm in Charlottesville that advises Hollywood on its legacy trees, led the endeavor.
Fast forward to the summer of 2012, when Kelly Wilbanks,  Executive Director of Friends of Hollywood, turned her attention to the roses. Kelly understands both the historic and horticultural importance of the roses to the cemetery.  Determined to find someone with rose knowledge to help her at Hollywood, she attended a Richmond Rose Society meeting.  Kelly says, "I wasn't even sure what help meant and had no idea where it might lead or what it might produce."
Happily for Kelly, Connie HIlker, owner of Hartwood Roses in Spotsylvania County, was at the meeting, and immediately jumped at the chance to help.  Kelly discovered that Connie had been studying, documenting and propagating Hollywood's roses for several years (see Connie's blogs on the Hollywood roses). Talk about a fortuitous meeting!  Kelly had found an expert who already knew Hollywood's roses as old friends, and Connie would be able to continue the work she had begun, but now she would do so in conjunction with Hollywood's leadership.
Since that meeting, Connie has worked with Hollywood Grounds Supervisor Donald Toney to locate and identify over 100 heritage roses in the cemetery, and devise a maintenance and conservation schedule. The identification includes noting the class, growth habits and present condition of each rose. Connie very kindly took the time to identify for this post several Hollywood roses.
My next brush with Hollywood's roses came while touring  the grounds of Tufton Farm and Monticello that fall with JRGC.  At Tufton (home to the Thomas Jefferson Center for Historic Plants), I learned the intriguing history of 'Champneys Pink  Cluster' Noisette. The name rang a bell, because I had come across the rose while doing the research for the updated Notable Tree and Rose Map at Hollywood.
'Champneys Pink Cluster' Rose is credited as the first Noisette. I had always assumed that, given its name, Noisette's heritage was French.  Not so!   In the early 1800's John Champneys, president of the South Carolina Horticultural Society,  crossed the white musk cluster rose (Rosa moschata) and the ever-blooming 'Old Blush' China rose to produce 'Champneys Pink Cluster', with clusters of pale pink flowers that bloomed throughout the season.
Champneys shared cuttings with Long Island nursery owner William Prince (who provided many plants to Jefferson) and with his Charleston neighbor, Pillippe Noisette.  Noisette, son of head gardener to Louis XVI (Phillipe came to America to avoid the French Revolution), produced his own seedlings, labeled them 'Blush' and shipped some to his gardener brother Louis Noisette in Paris.  There, Louis Noisette produced several varieties from the Champneys cross, and this class became known as Noisette.  While Mr. Champneys was not credited with the creation of a new repeat blooming cluster class of roses, he will always be lauded by rosarians for initiating the beloved Noisette class.
After touring Tufton, we popped over to neighboring Monticello.  There, Peggy Cornett, director of the Thomas Jefferson Center for Historic Plants, drew our attention to Rosa moschata, or musk rose (a parent of 'Champneys').  In 1985, rose rustler Marie Butler discovered the musk, thought to be extinct, in Hollywood's Crenshaw plot.  In 1998, Peggy, Douglas Seidel and Diane Lowe discovered a musk at The Recess at Bremo plantation.   The Bremo Musk has since been dated to 1815.  The musk now growing at Monticello was subsequently propagated from the Bremo Musk. Extensive research was done by many, including Cornett, Seidel and Butler (recounted in a paper published by the Southern Garden History Association), in an attempt to find a link between the Bremo Musk and the Crenshaw Rose, but no connection has been made. As Butler stated, "the discovery of the musk rose in America retains its aura of mystery."
I apologize for this  woefully inadequate and brief attempt to summarize the complex history of these roses.  Meticulous and fascinating research has been done by Cornett, Seidel, Butler and others.  That research spans over four centuries, features Jefferson's pursuit of the musk and follows the trail from Charlottesville to Long Island, Chesterfield, Hillsborough, Charlotte and, of course, Hollywood.  For anyone interested in a fascinating example of the intersection of American history and botanical history, I recommend that you begin your exploration with Monticello, the Heritage Rose Foundation and the Southern  Garden History Association.
Meanwhile, back at Hollywood . . .  Kelly and Connie took the next step toward restoring the historic roses to their former glory.  They held the inaugural Hollywood Rose Volunteer Workshop on a blustery day last March. Connie gave each group of 3 or 4 volunteers a list of assigned roses, a location map and instructions for specific pruning requirements for each plant.
Anxious to follow up on our rose mapping project, curious to learn more about the roses, and excited to take part in such an ambitious and worthy horticultural and preservation effort, I came raring to go.  I will be forever indebted to Kelly for grabbing me and teaming me up with Peter Toms, the delightful Chairman of Friends of Hollywood, Stephen Scaniello, president of the Heritage Rose Foundation and former director of the famed Cranford Rose Garden at the Brooklyn Botanic Garden and volunteer Anne Call.
And then the day got even better — Connie assigned our group the task of pruning the cemetery's most celebrated rose.  Yes, the rose Peggy Cornett told us about at Monticello:  the Crenshaw Rose!  As reported by Peter in the Friends of Hollywood Newsletter, Stephen advised us, "think about what you are cutting and what it will look like when you do.  Take your time.  Have in mind the shape you ultimately want to achieve, and the height.  This is a cluster-flowered rose.  In fact, it is the 'mother of all cluster-flowering roses.'"  We tamed that mother on that chilly March day!
Hollywood is holding its second annual rose volunteer work day this Saturday, March 15.  If you love Hollywood's history and grounds or are a passionate gardener who likes to roll up your sleeves, I highly recommend spending the day giving the historic roses some much appreciated love and care.  Contact Kelly Wilbanks, kwilbanks@hollywoodcemetery.org for more information.
In closing, I'll leave you with a few pruning tips from Stephen Scaniello's A Year of Roses:
Remove dead and diseased wood. Canes with unusual dicooration or severe looking blotches should be removed.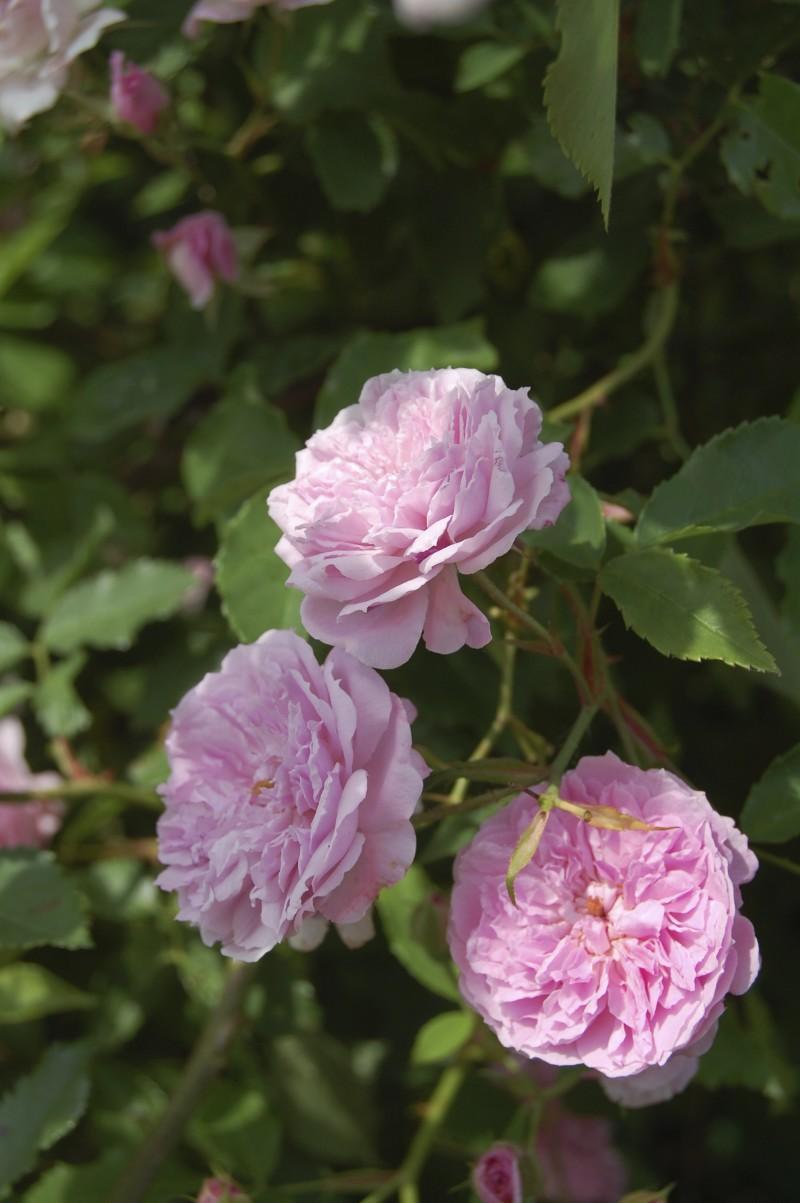 Remove weak, spindly canes and crossing branches from the center of the plant to allow air to circulate the plant.
Shorten remaining canes, making each cut about a quarter inch above a bud eye (the swelling red point located along the cane). These buds develop into new branches that will produce a flower. Because the new growth grows in the direction of the bud eye, be sure to make your cuts above outward facing buds.