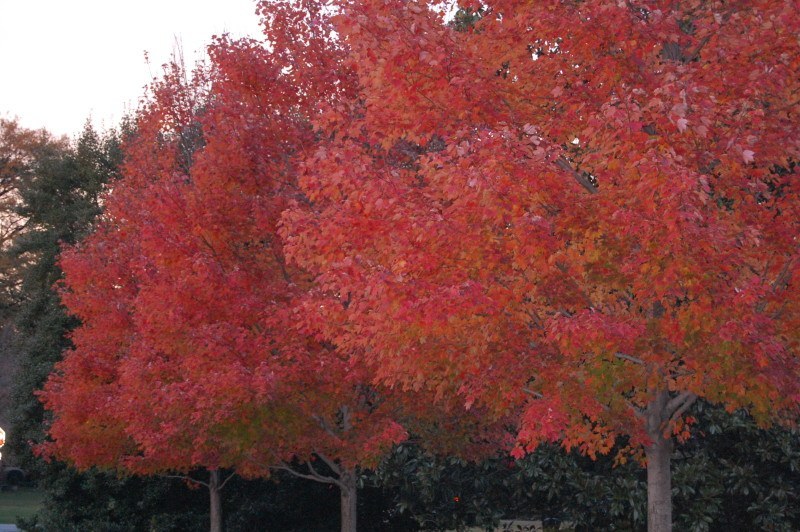 Yes, October means our Maples, Ginkgos, Black Gums and Sourwoods step out of the background and take center stage. But it's not all about the foliage in October. Several plants are blooming their heads off this time of year.  Here are a few to consider adding to your garden  to extend the bloom season into fall.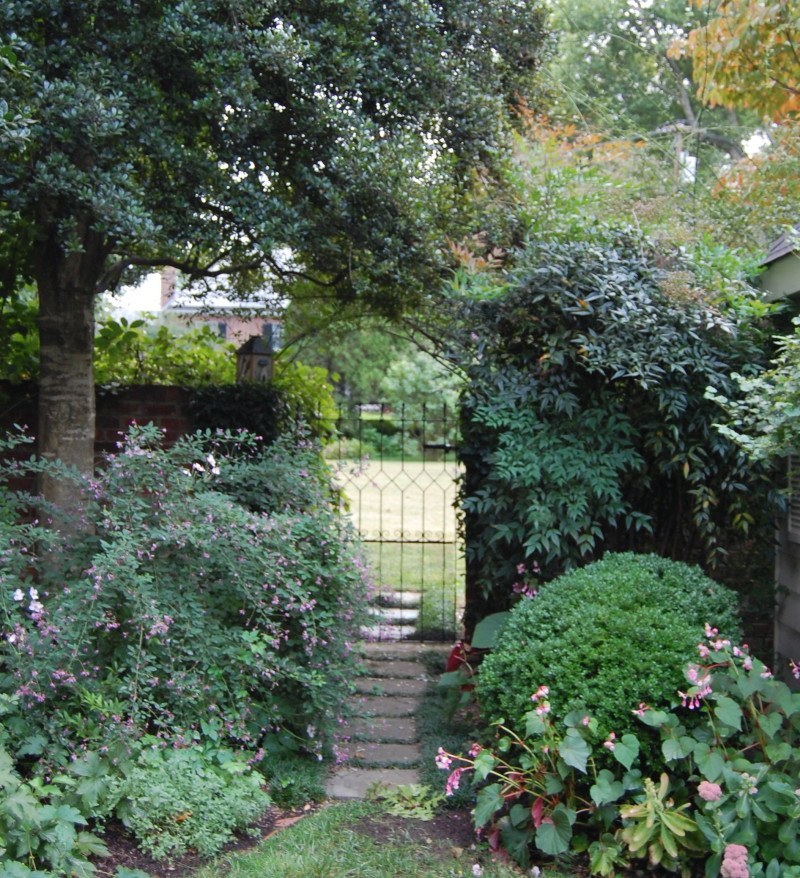 In Peggy Valentine's charming garden, Lespedeza thunbergii (also called Pink Bush Clover) spreads its pink wings, while Japanese Anemone (Anemone japonica) climbs through it.  In the foreground, Hardy Begonia and Sedum compete for attention.  The Begonia pictured was named for Peggy.  She allows plants such as the Lespedeza and Begonia to spread sparingly.  I'm envious of her ability to balance volunteers in both numbers and species to create a seemingly spontaneous yet dazzling plant palette.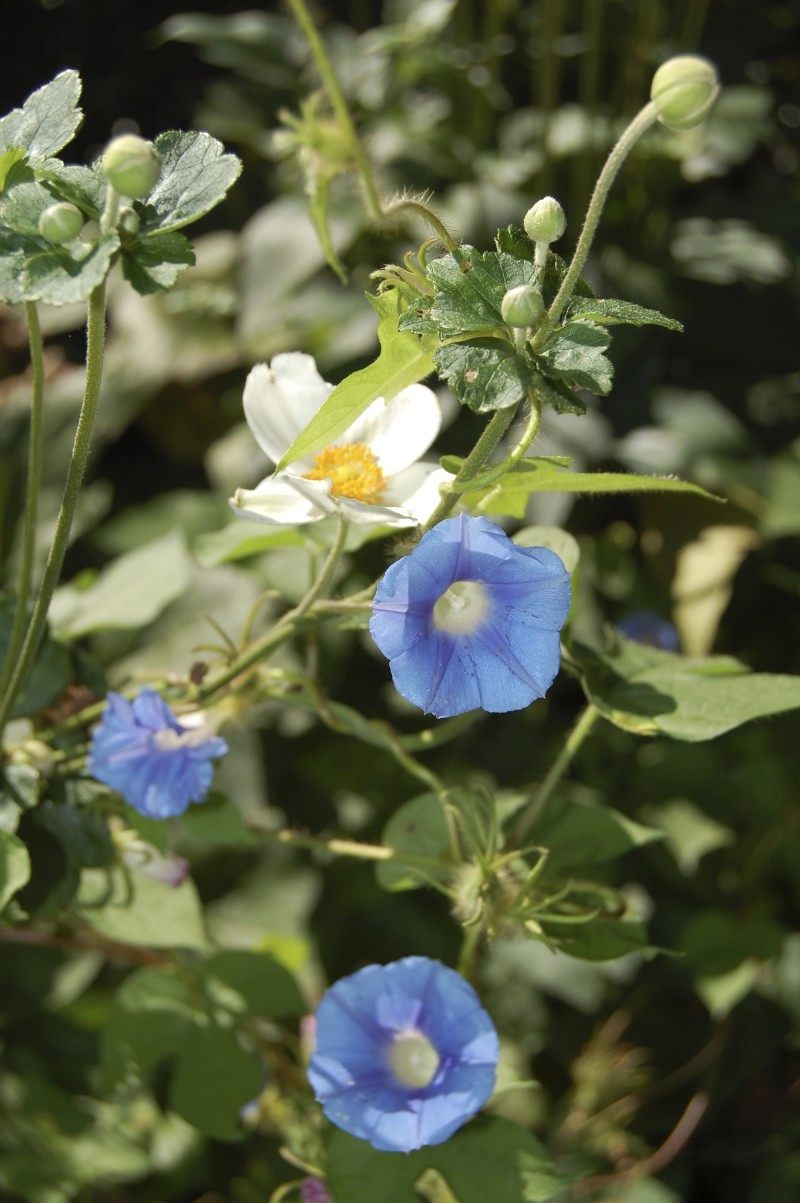 Honorine Jobert Anemone (Anemone japonica 'Honorine Jobert') is a great perennial to tuck in the back of most perennial borders.  It grows unobtrusively until late summer, when its stem shoots up to about 3 feet, producing single white flowers that bloom profusely until a hard frost.  Many gardeners find Morning Glories to be a pest, but I can't help loving them. The Morning Glories in my yard have become good friends with my Anemones.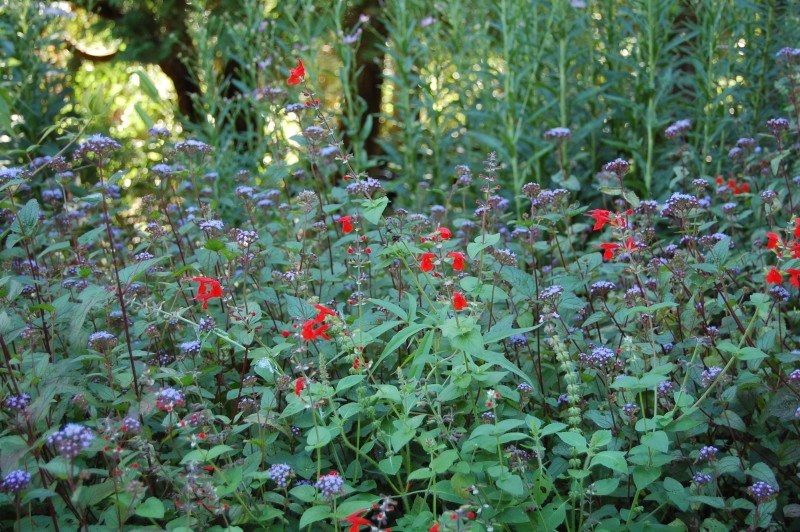 Cardinal Flower (Lobelia cardinalis) and the perennial form of Blue Mistflower (Eupatorium coelistium) happily co-exist in the perennial bed.  Plant them with earlier flowering perennials such as Columbine (Aquilegia, spp.) and False Indigo (Baptisia australis). The Eupatorium and the Cardinal Flower are naturally found near stream banks and will grow in damp soils.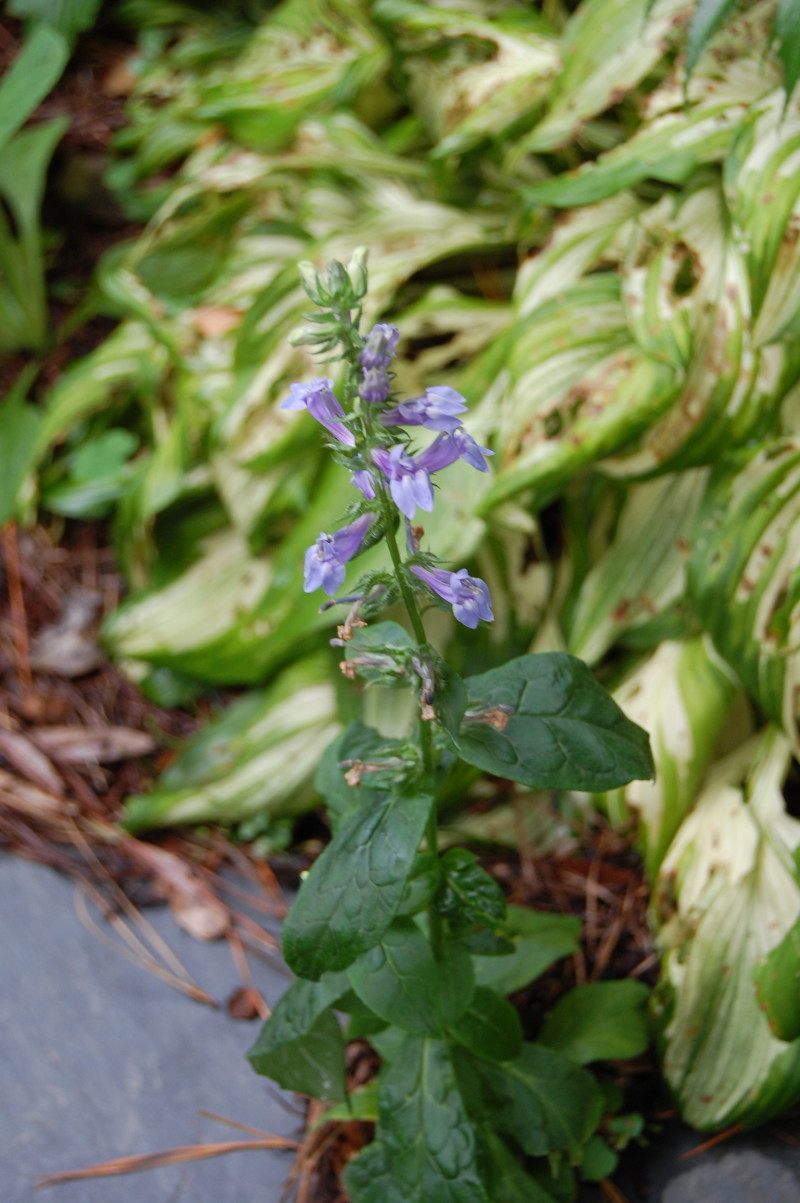 Great Blue Lobelia (Lobelia siphilitica) is another native Lobelia found in the wild near stream banks.  This little guy popped up in the cracks of a garden path.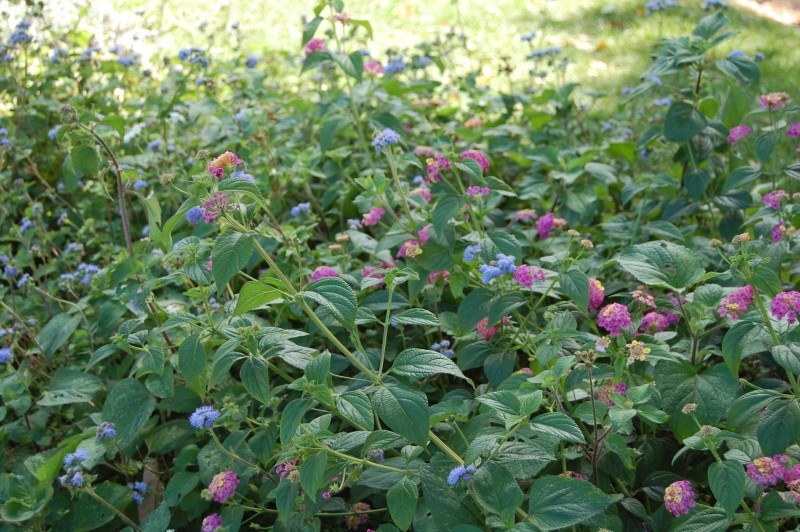 The annual form of Eupatorium (Ageratum houstonianum) pairs nicely with other annuals, like this Lantana which blooms all summer.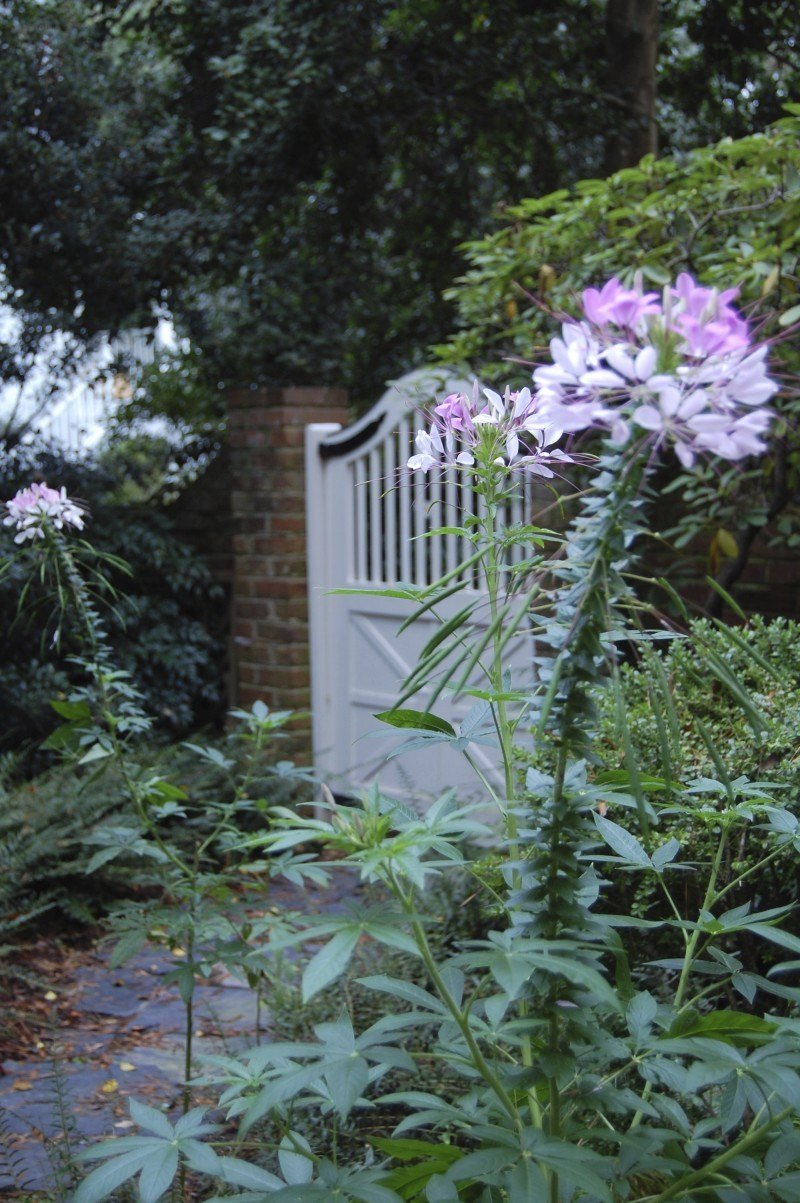 Mary Glen Taylor's lovingly tended four-season garden is full of fall-blooming flowers. Her Spider Flower (Cleome hassleriana) leads the way to the beautiful garden gate.  Cleome is a drought-tolerant self-seeding annual that grows in sun and part shade.  If you don't want it to bloom next year, be sure to cut it back before it sheds its seeds.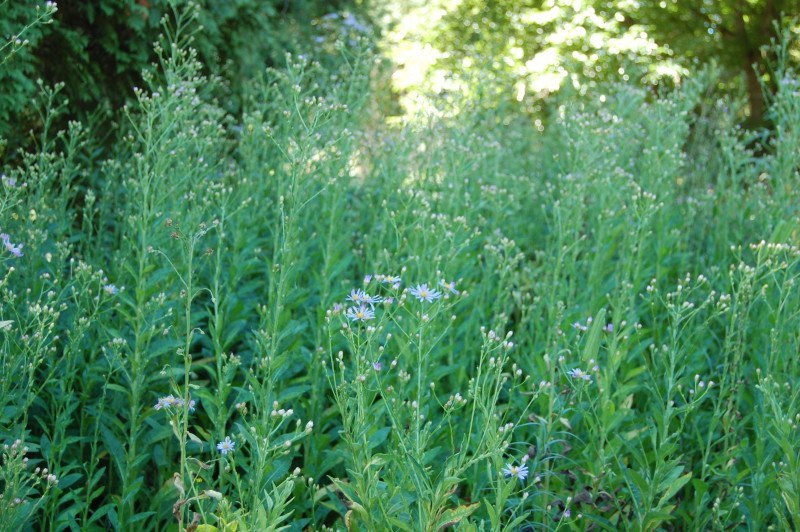 I didn't catch the name of this Aster blooming at Monticello's Tufton Farm, but it looks like the Michaelmas Daisy, or Monch Aster (Aster x frikartii 'Monch').  At Tufton Farm, the focus is on plants important to America's horticultural heritage.  Thomas Jefferson was interested in learning about plants native to Virginia, native to other parts of the United States (many of which were  brought back by Lewis and Clark) and native to Europe.  Tufton propagates plants from all of these places, and supplies Monticello with many of the resulting plants.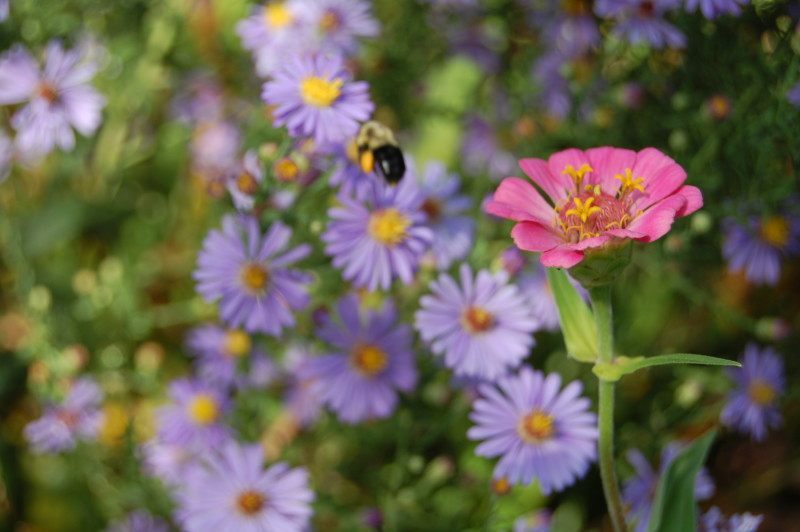 Melinda Hardy hijacked my camera to catch this bee hovering around the Asters and Zinnias in garden writer Marty Ross's expansive Gloucester garden.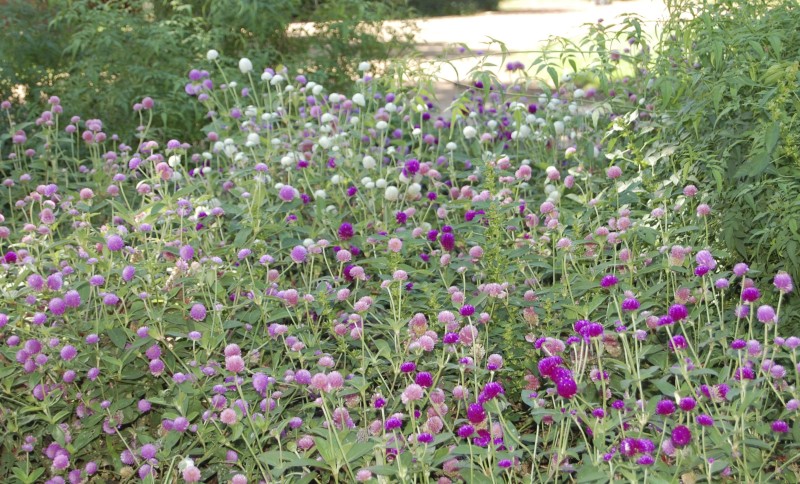 Globe Amaranth (Gomphrena globosa — sounds like a communicable disease!) is another late-blooming annual to give color to the fall garden. It grows 12-24 inches.  The actual flowers are insignificant — the bracts are the showy part of the plant.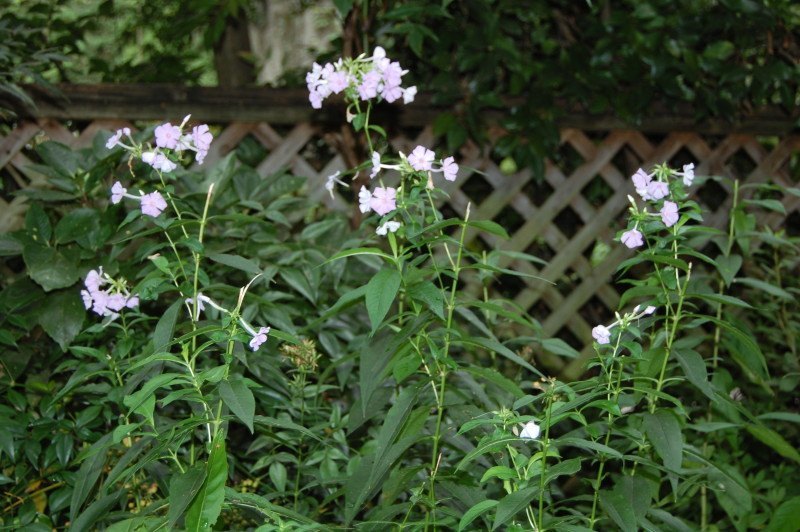 Mary Glen collected this Carolina Phlox (Phlox carolina) in Roaring Gap, North Carolina. Mary Glen says that it reseeds in this pale pink and in a hotter pink, and blooms all summer (and fall).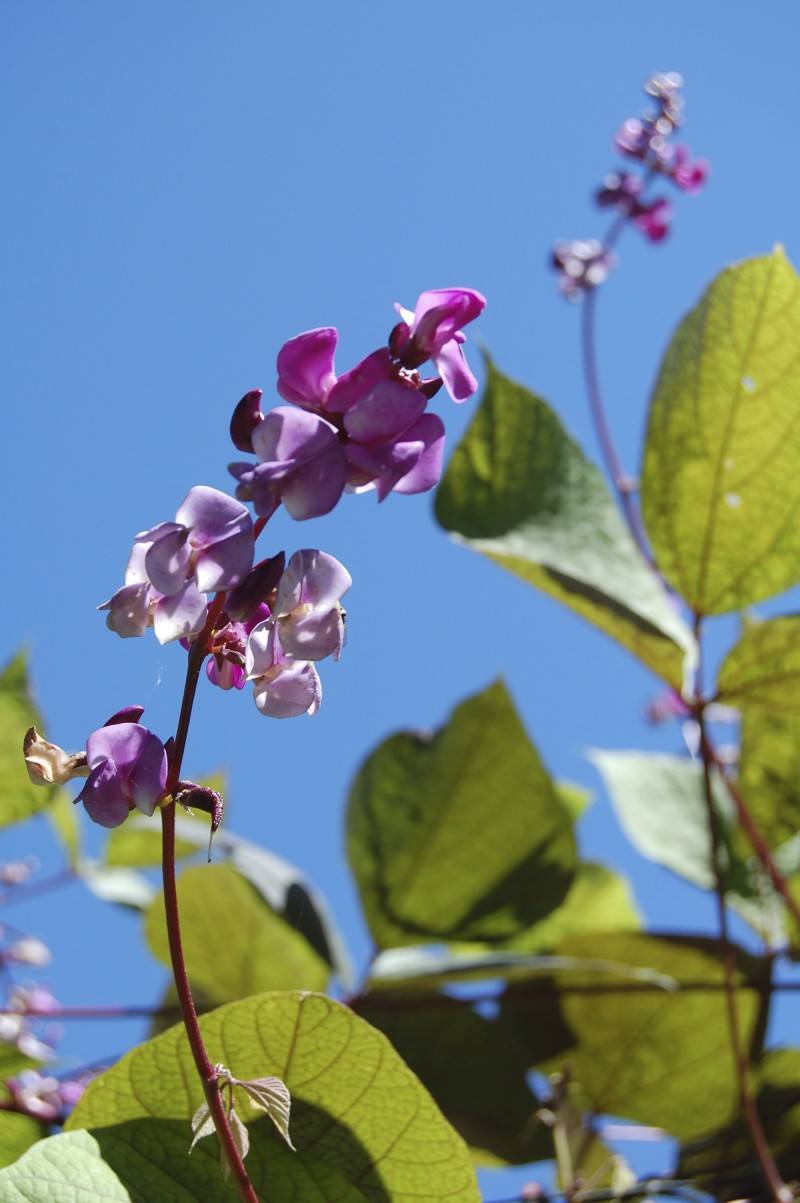 Collect the seeds of Purple Hyacinth Bean (Lablab purpurea) and plant next spring along a fence for gorgeous late summer and fall blooms.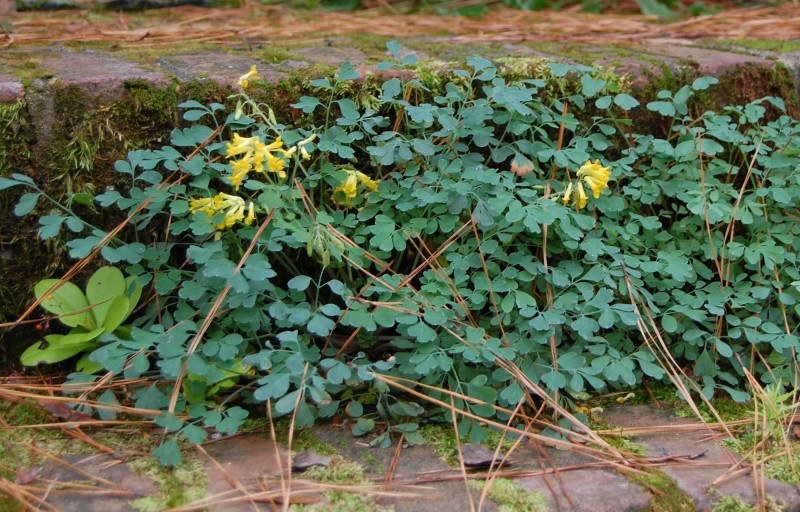 Corydalis (Corydalis lutea) blooms all summer when happy.  It prefers rich, moist soil that never dries out.  It is a rampant weed in cool, damp climates, but stays under control in our hot and humid weather.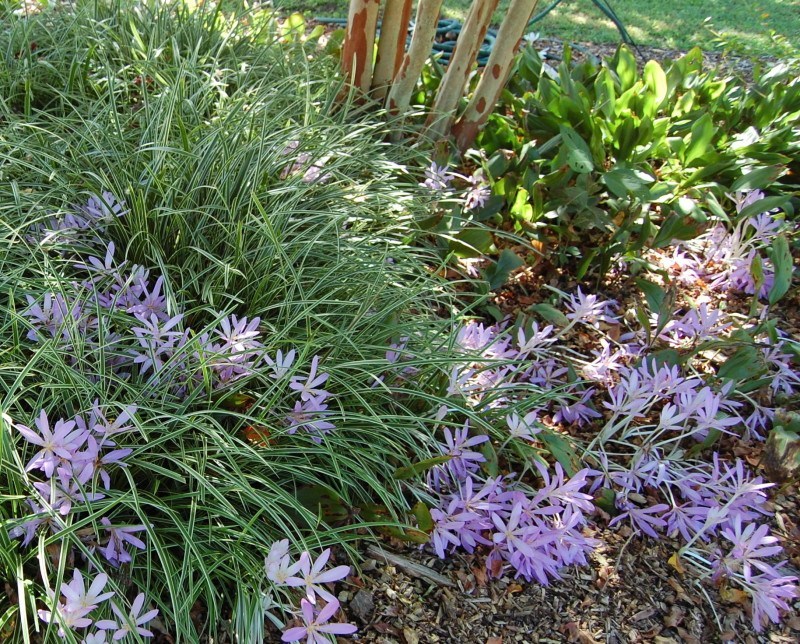 My Capital Trees buddies and I came upon these Autumn Crocus (Colchicum autumnale) in Brent and Becky Heath's garden (Brent and Becky's Bulbs) in Gloucester. Plant these bulbs where perennials such as Bleeding Heart (Dicentra) go dormant in summer.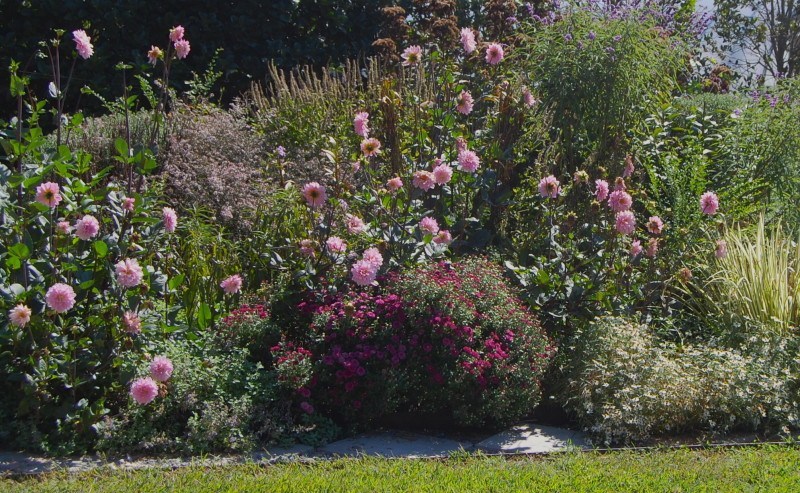 This exuberant perennial bed in Brent and Becky's garden is bursting with pink Dahlias. Growing Dahlias is a labor of love In Richmond, because the tubers should be dug up and stored each winter. You might get away with leaving Dahlia tubers in the ground over a mild winter in Zone 7, but you risk harming or killing them if we have a harsh winter (which some predict this year).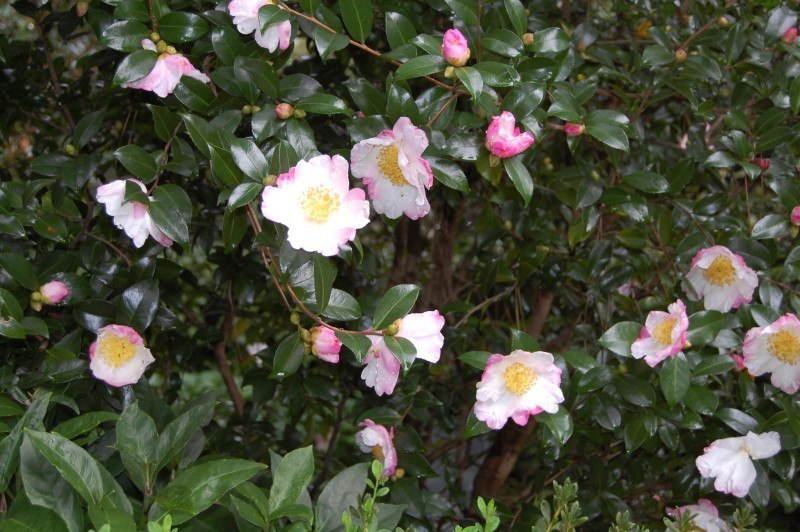 Sasanqua Camellias usually bloom for a good two months in fall.  This single-flowered Camellia is Hana Jiman.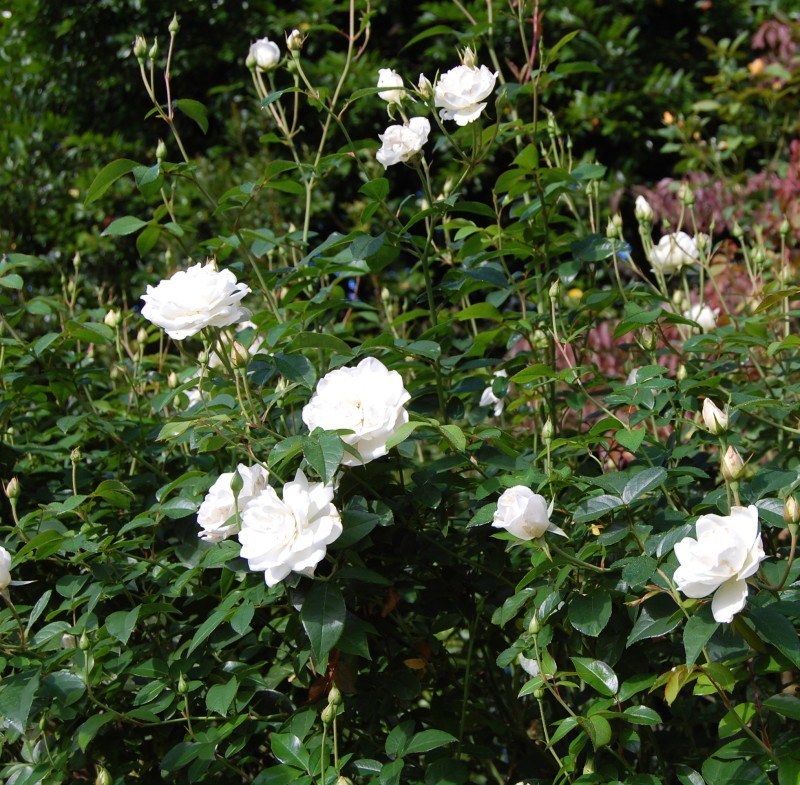 In Virginia, roses come alive again once the heat retreats. This Iceberg Rose makes a beautiful hedge.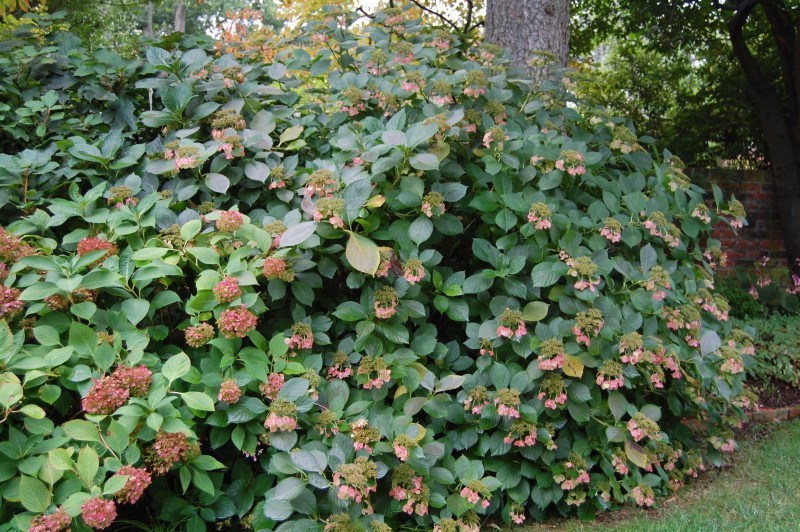 Fading plant blooms give the fall garden a melancholy beauty. Peggy's garden is filled with Hydrangeas that turn bronzy pink in fall.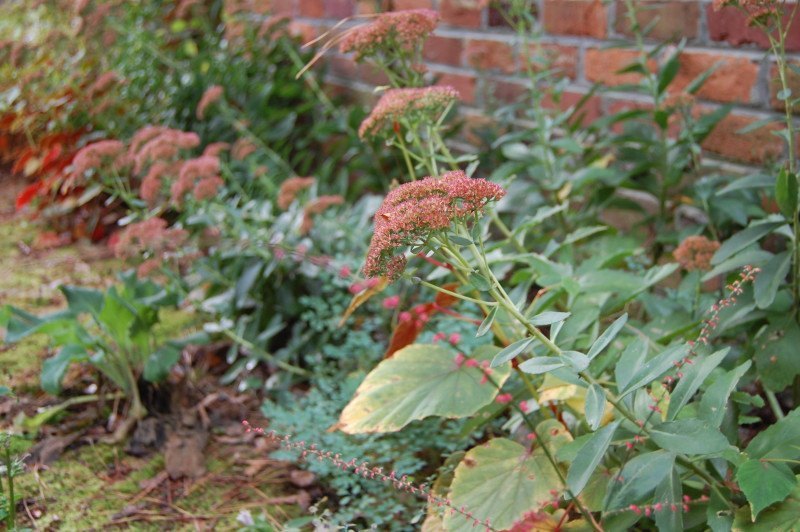 The Sedum's dried flower heads look smashing against Mary Glen's red brick wall.   Reddening Begonia leaves are in the background and the tiny pink blooms of the Jewels of Opar (Talinum paniculatum) are in the foreground.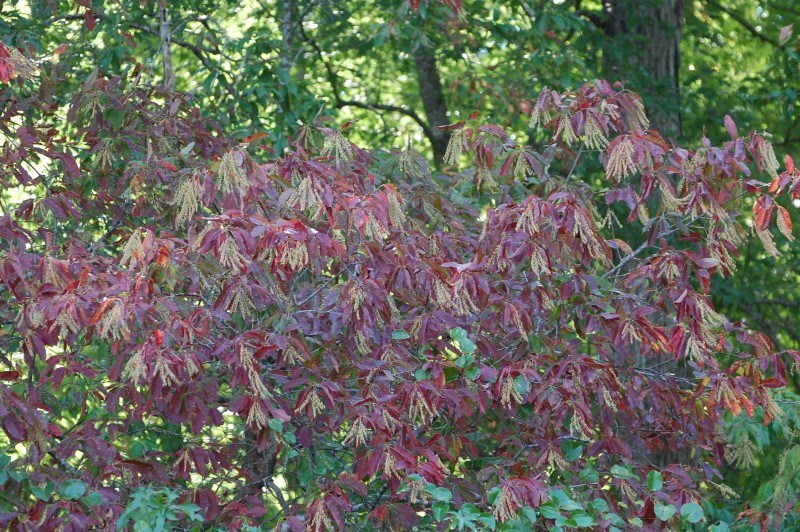 The fading blossoms of the native Sourwood (Oxydendrum arboretum) are highlighted by the red fall folliage of the tree.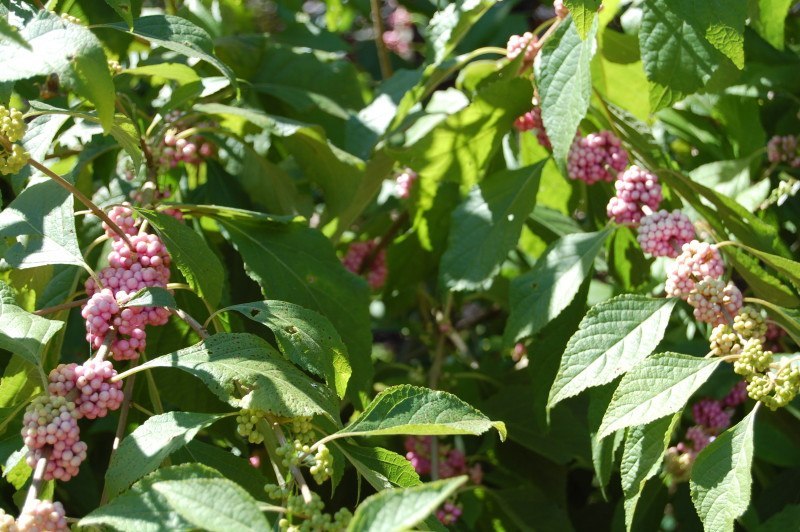 The pink berries of this native American Beautyberry (Callicarpa americana) growing in Marty Ross's garden are just beginning to ripen.  Beautyberry attracts birds and is drought tolerant.  Plant it behind a low evergreen shrub or dwarf Butterfly Bush (Buddleia davidii). Cut it back generously in late winter or early spring to keep it from getting too gangly.
The air is crisp.  The earth is still warm. There's no better time to dig in the garden.