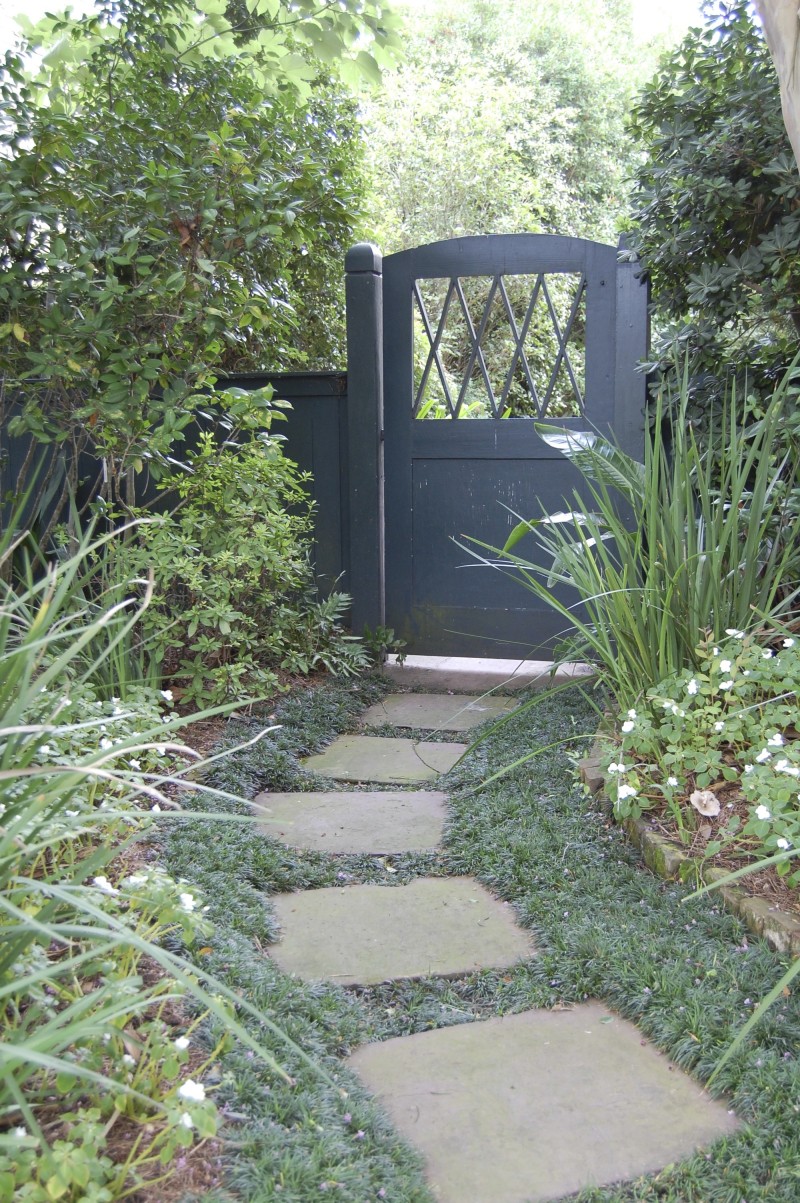 The side yard is often a throw-away.  Ignored.  Neglected. Just a place to hide the trash cans.  But walking from your front yard to your back yard should be, at the very least,  a pleasant saunter.   Ideally, it is a beautiful garden room that is a captivating transition between front and back.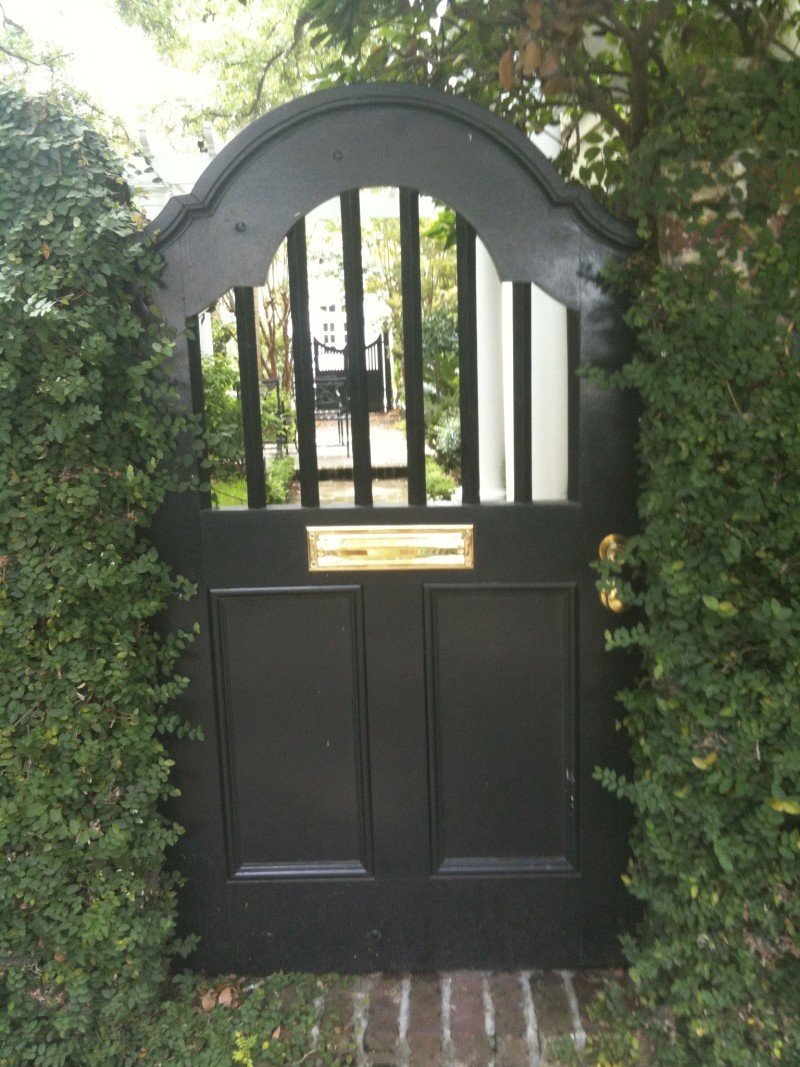 A successful side yard will create some separation between front and back. That separation can be subtle, such as twin trees or shrubs acting as sentries, or a solid separation.  In the picture above, two brick pillars covered in Creeping Fig (Ficus pumila) anchor a wooden gate that allows a peek beyond.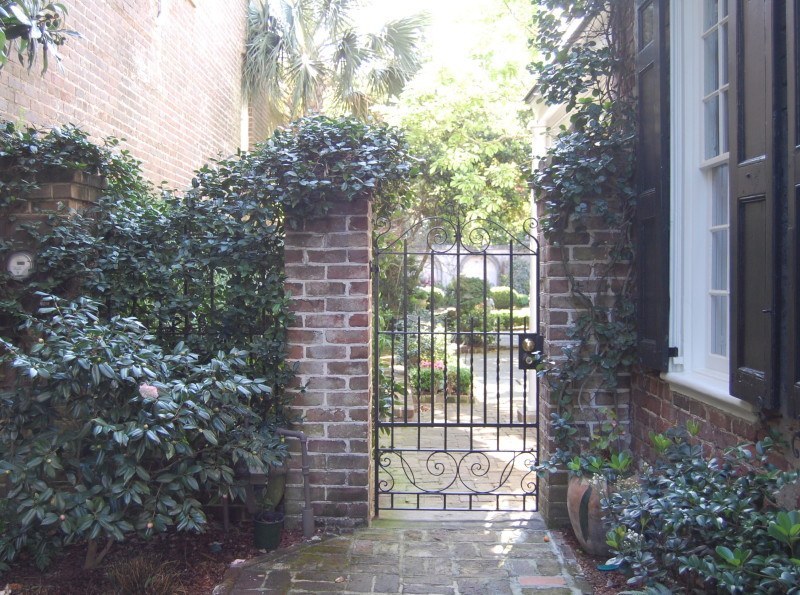 The iron gate and fence posts supported by brick columns, above, have a more open feeling.  The evergreen plantings, including Japanese (spring blooming) Camellia (Camellia japonica) and Confederate Jasmine (Trachelospermum jasminoides) provide essential softening of the the hardscape.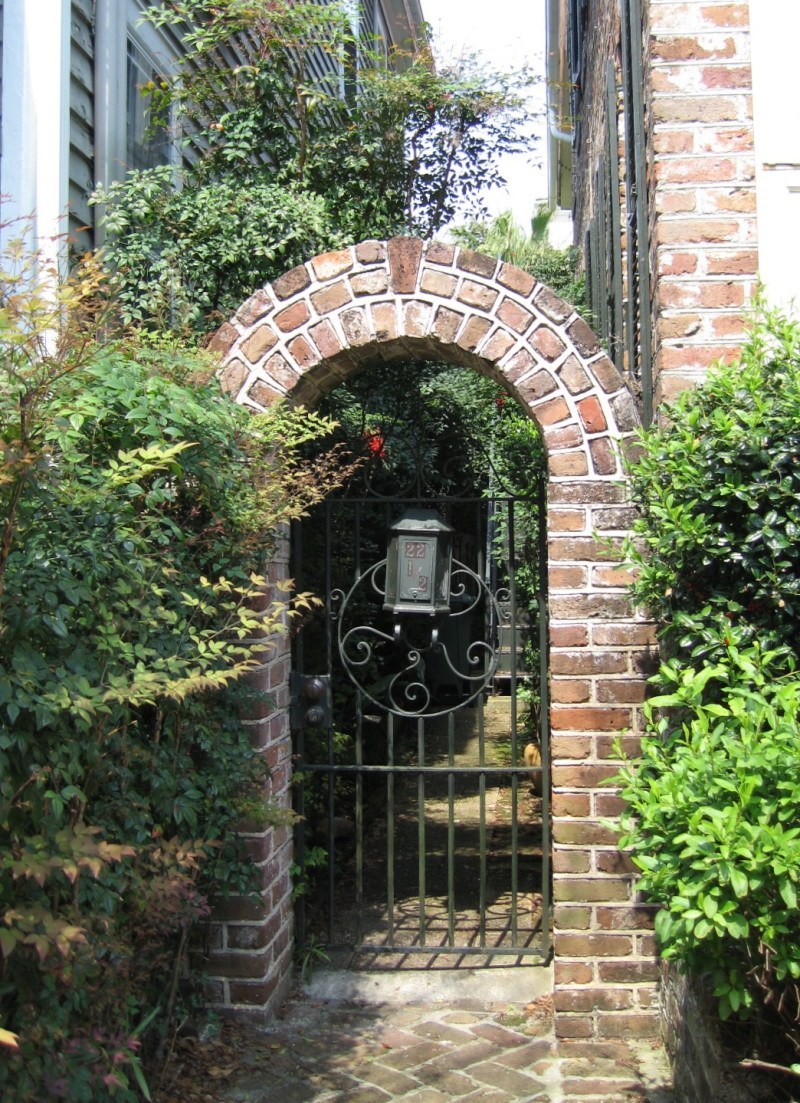 This Charleston home shows off the classic iron and brick work that defines Charleston gardens.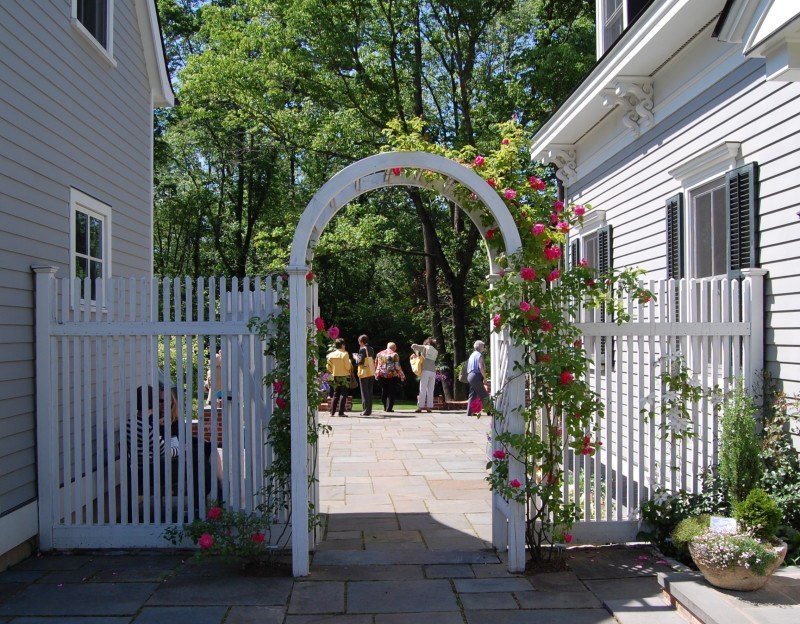 Whether the arch is brick or wood, it beckons. This white arbor and fence  are the perfect complement to the Climbing Rose.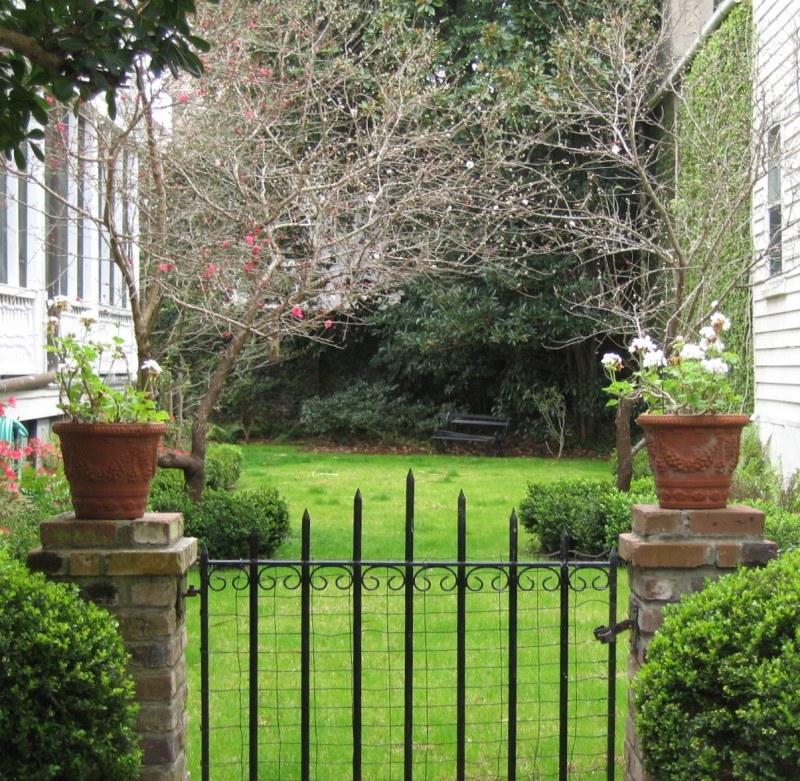 Beyond the gate, the two airy trees underplanted with the low shrubs are the counterpoint to the brick-supported gate, and offer a subtle transition from side yard to back yard.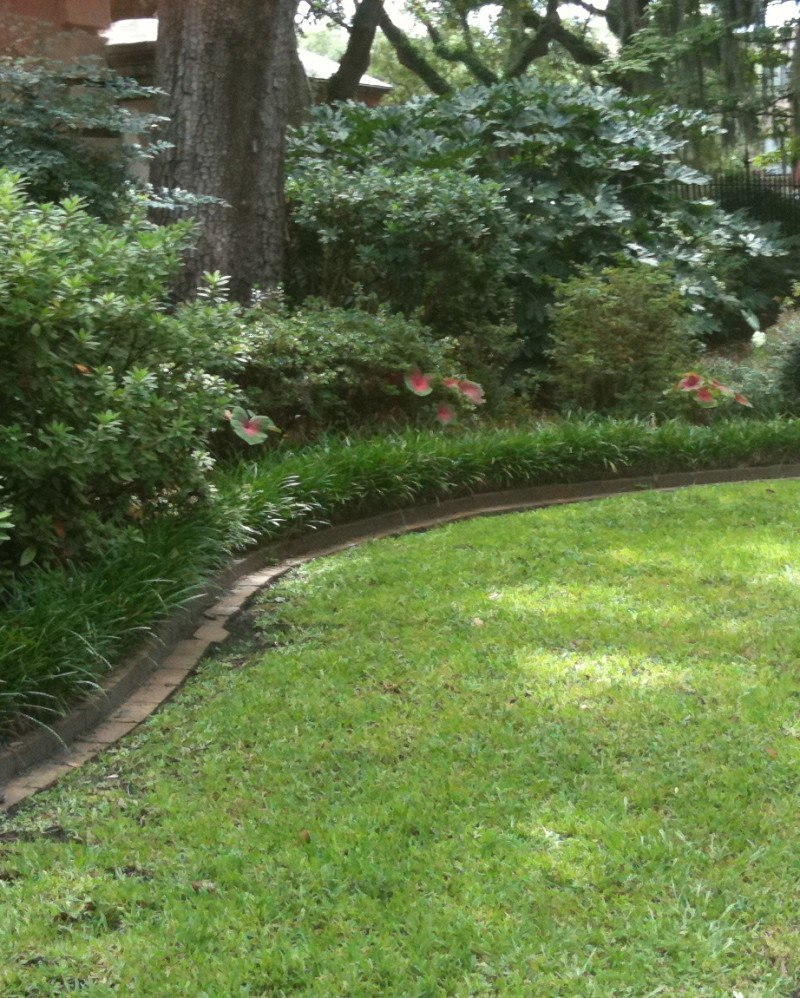 A roomy side yard allows for sweeping borders. The graceful curve of the brick mowing edge leads the eye to the back yard entrance.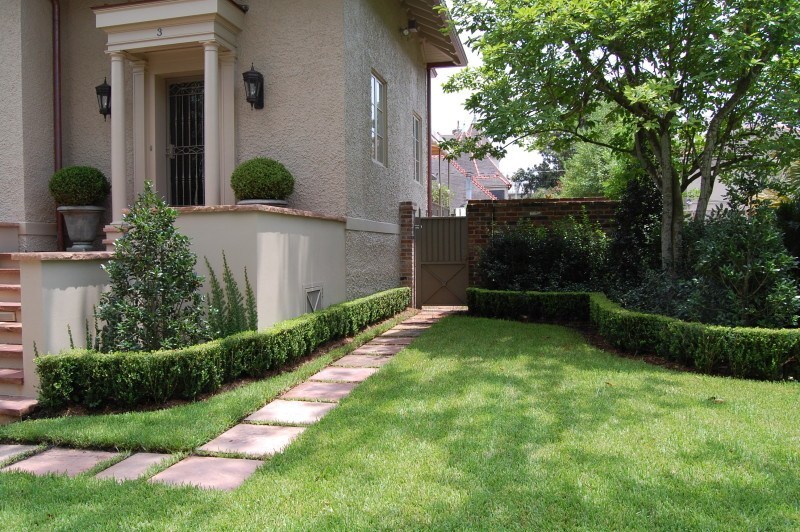 This generous side yard uses a low Boxwood hedge to define the borders in a classic arc and jog.  The play of severe lines and loose plantings provides a wonderful tension and release.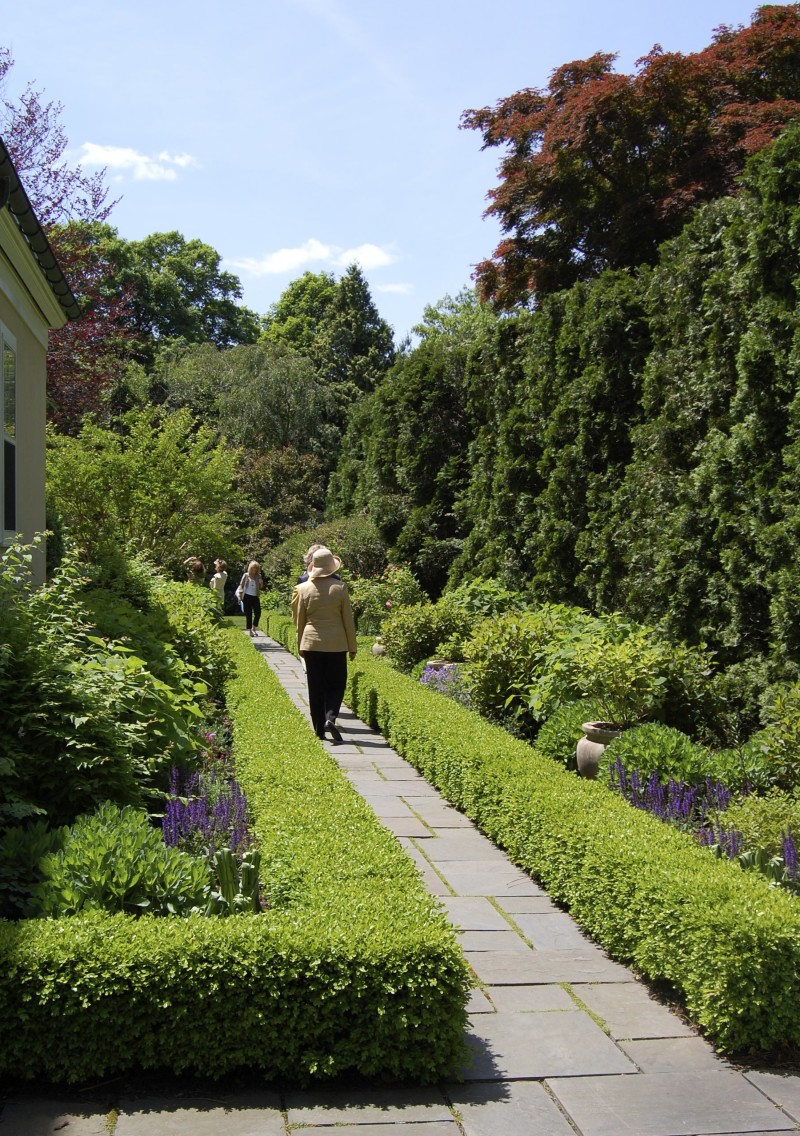 This linear Boxwood (Buxus sempervirens 'Suffruticosa') hedge and stone walkway in a Princeton garden provide structure for the mixed perennial and shrub border. Note the tall evergreen hedge on the property's border, which allows complete privacy from  next door in a bustling neighborhood.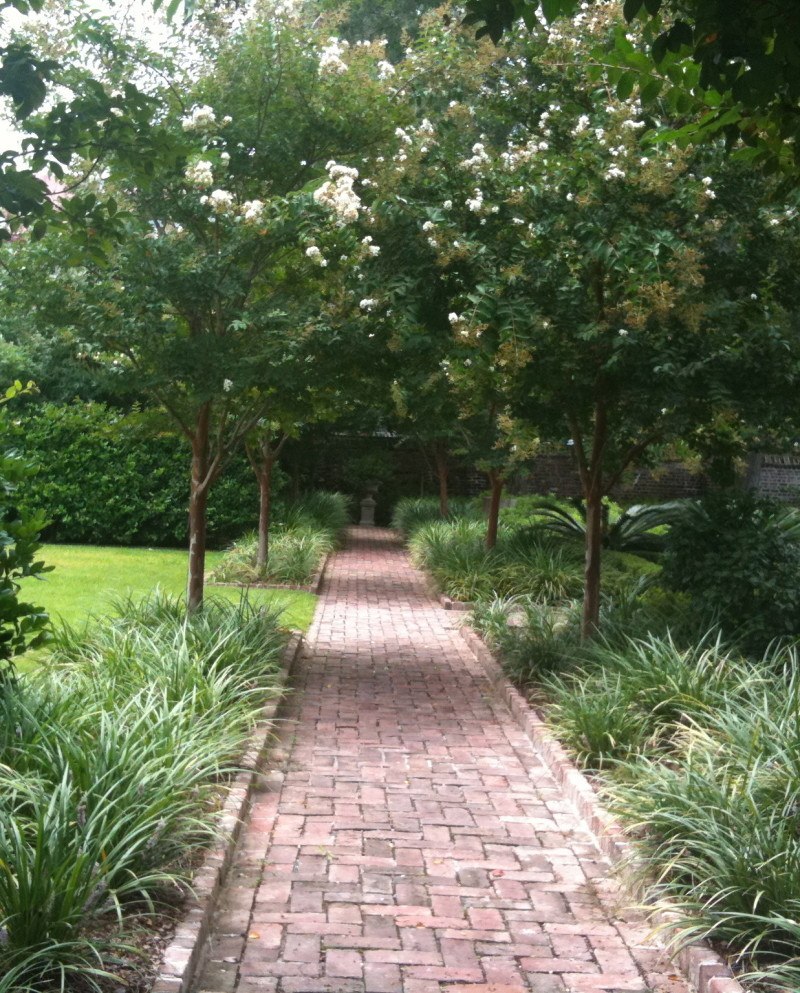 Separation between front and back aren't always necessary.  Here, all that's needed is a brick path leading the way.  The Crapemyrtle (Lagerstroemia indica)  allee provides a nice canopy.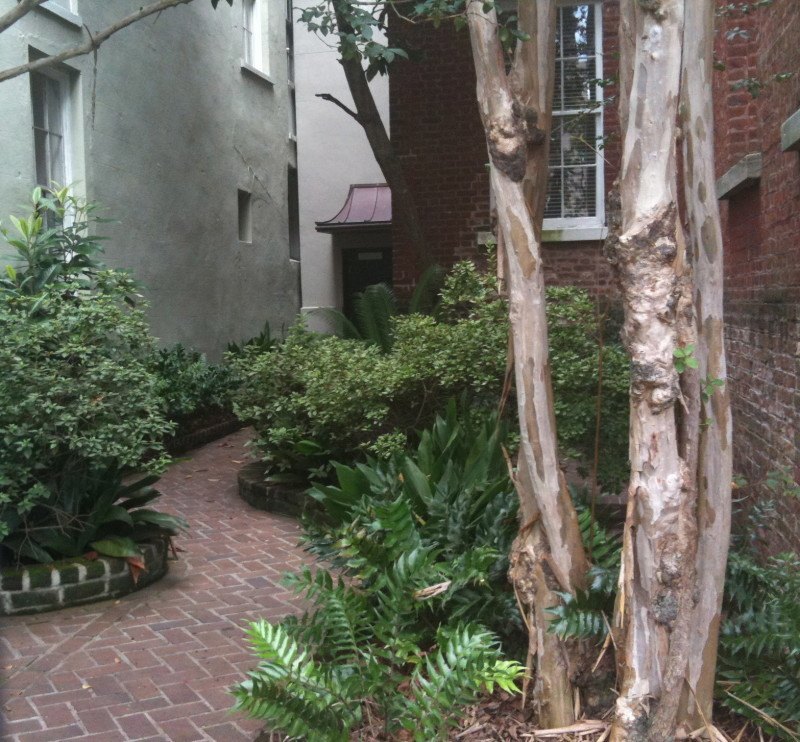 Where you have more than an eight or ten foot wide side yard, your path can sport some curves.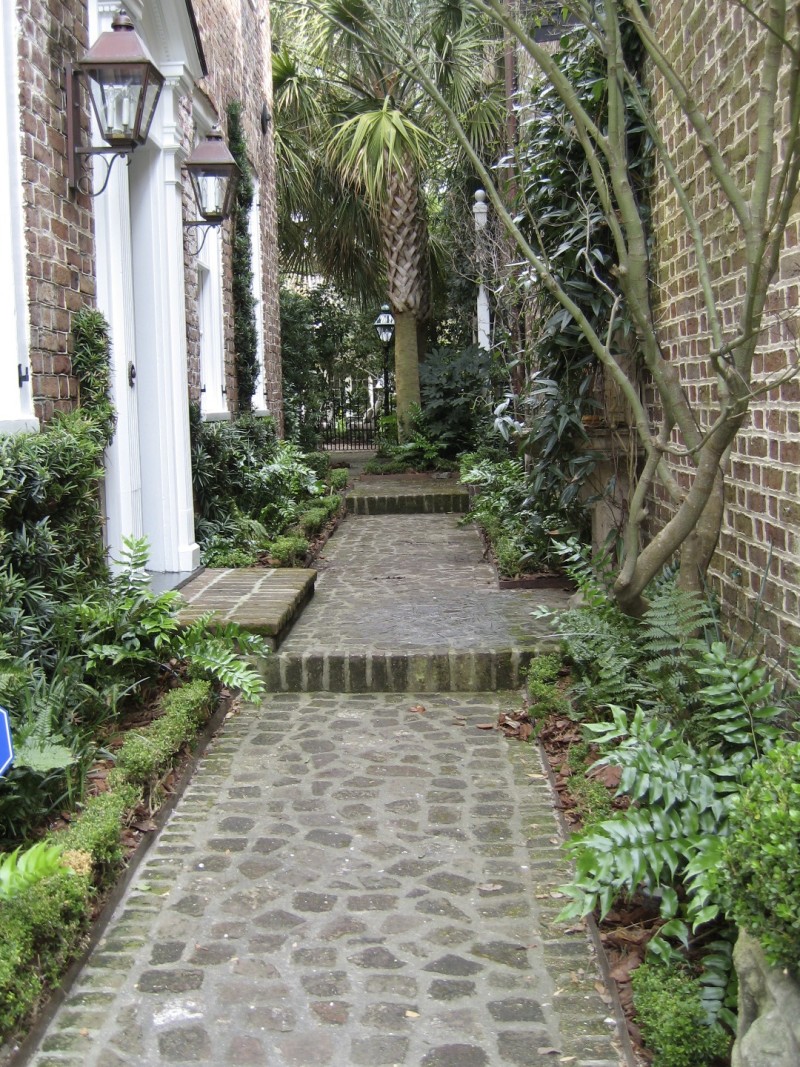 The path can also provide necessary changes in elevation.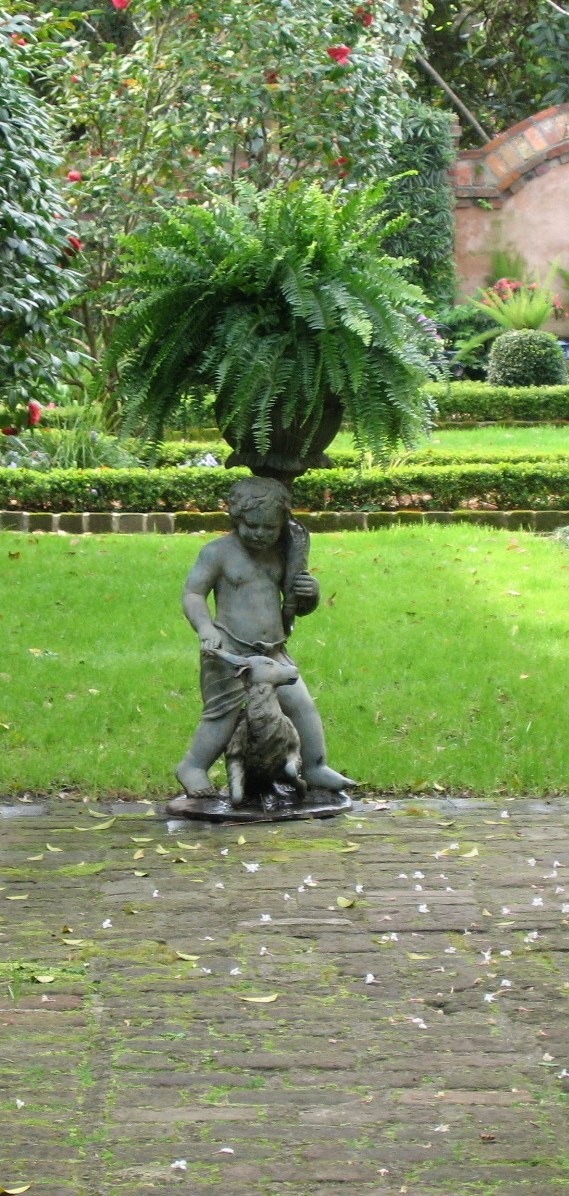 This brick path takes an abrupt right turn as it enters the back yard.  The fern-topped sculpture provides an interesting terminus.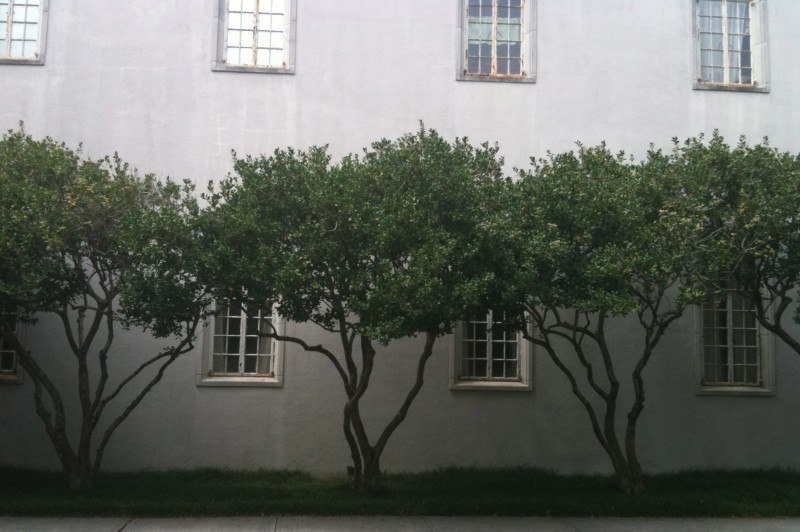 Corner lots provide opportunities for public "side yards."  This five foot wide planting strip in Savannah makes the most of its space.  The trees are limbed up, allowing the sculptural quality of the trunks to steal the show.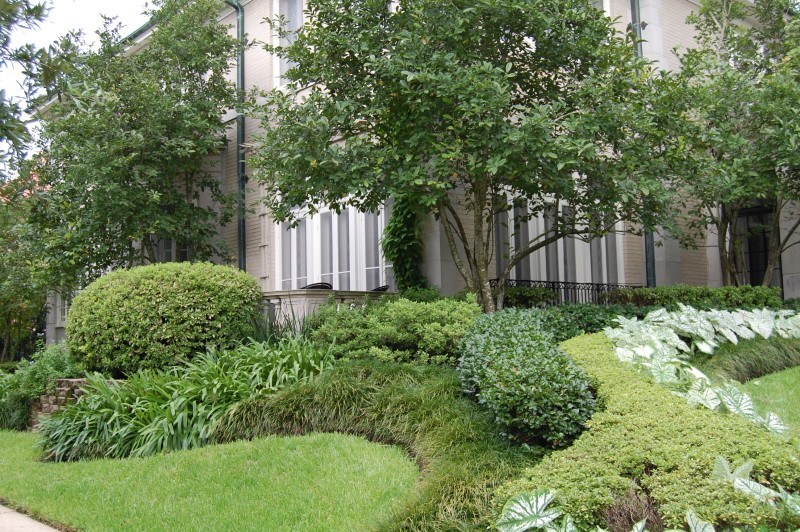 This New Orleans garden uses sweeping curves and low masses of plants, at once providing both continuity of the beds and separation between the spaces.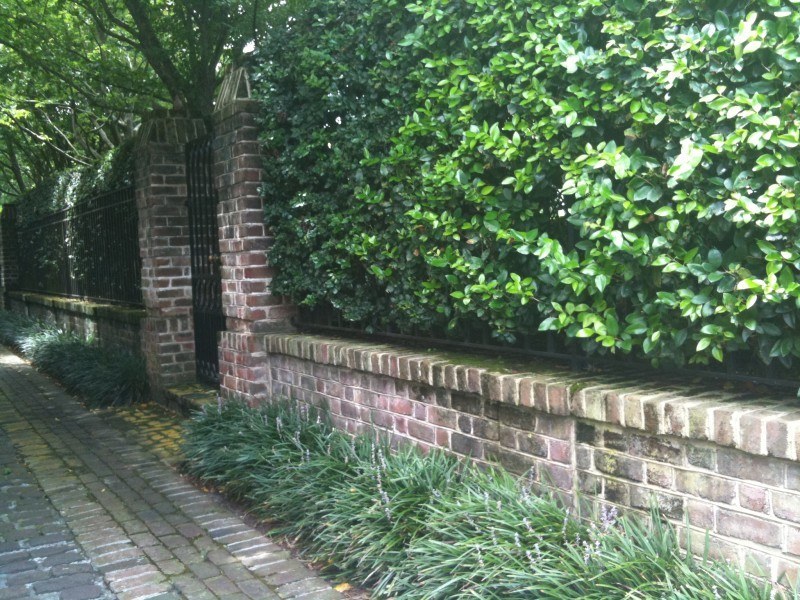 On the opposite end of the spectrum, this brick wall and Ligustrum hedge provide privacy for this corner yard.  The Liriope softens the brick work.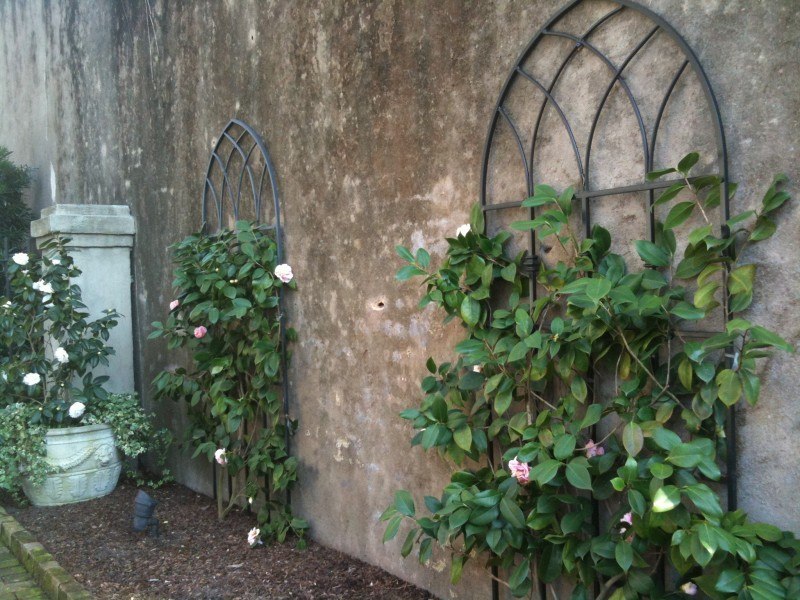 Here's another gorgeous example of evergreens softening  a large amount of hardscape — in this case, an otherwise stark stucco wall.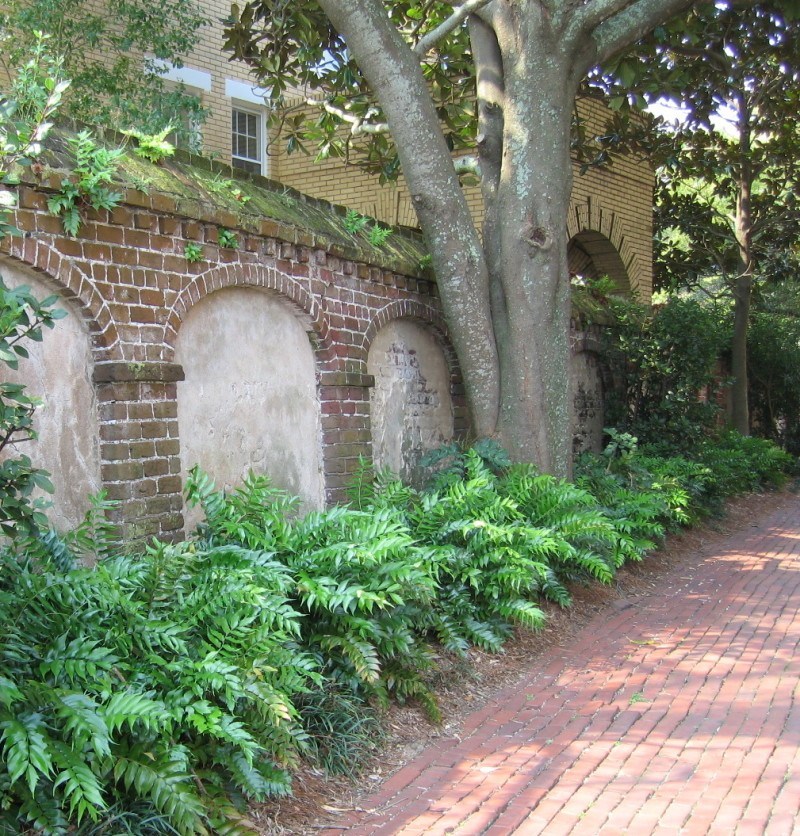 Where the side yard  is a driveway, it  can be given more of a garden feel if it is paved with brick, slate, bluestone or crushed stone.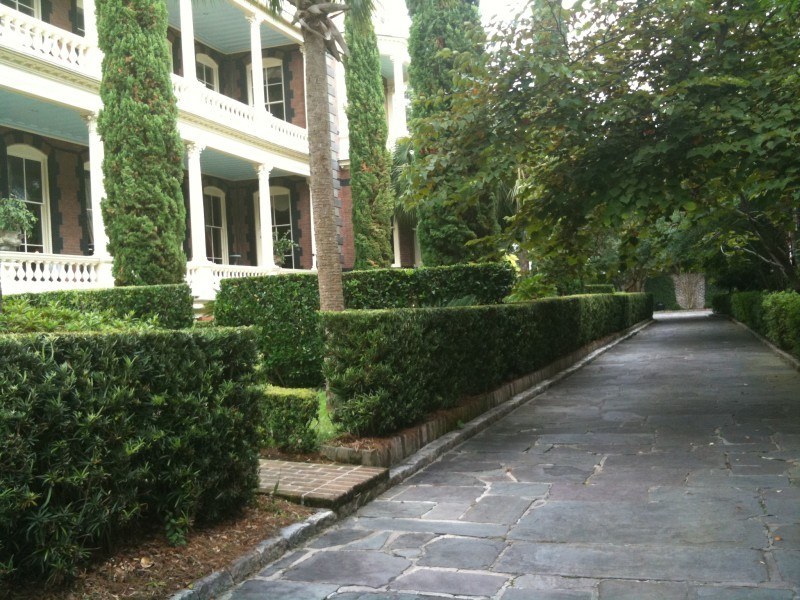 This "side" yard (considered the home's front yard in Charleston) has a driveway paved in slate, and a series of hedges to separate the drive from the garden.  When paving a driveway with stone, use an experienced mason.  In order for the stone to bear the weight of vehicles, it must be laid using the correct thickness of stone, and very specific support and preparation.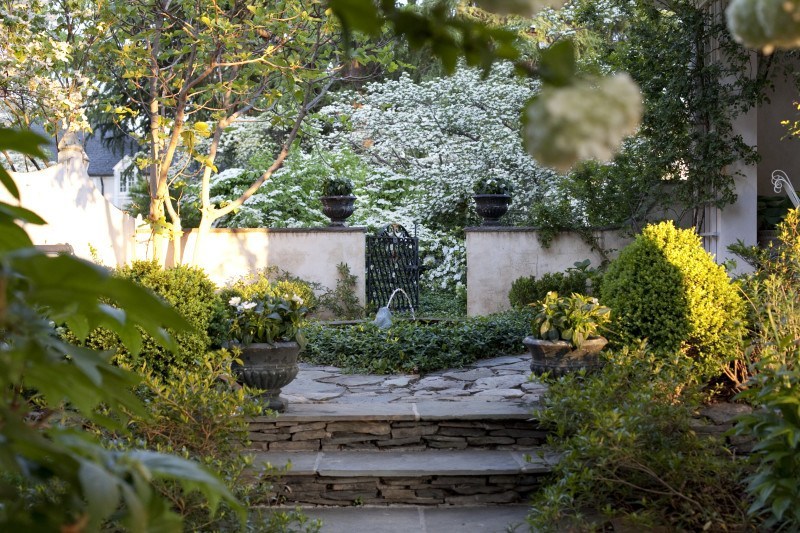 If the side yard is especially wide, it can be turned into a courtyard. Here, a former sloping side yard was given walls and a frog pond.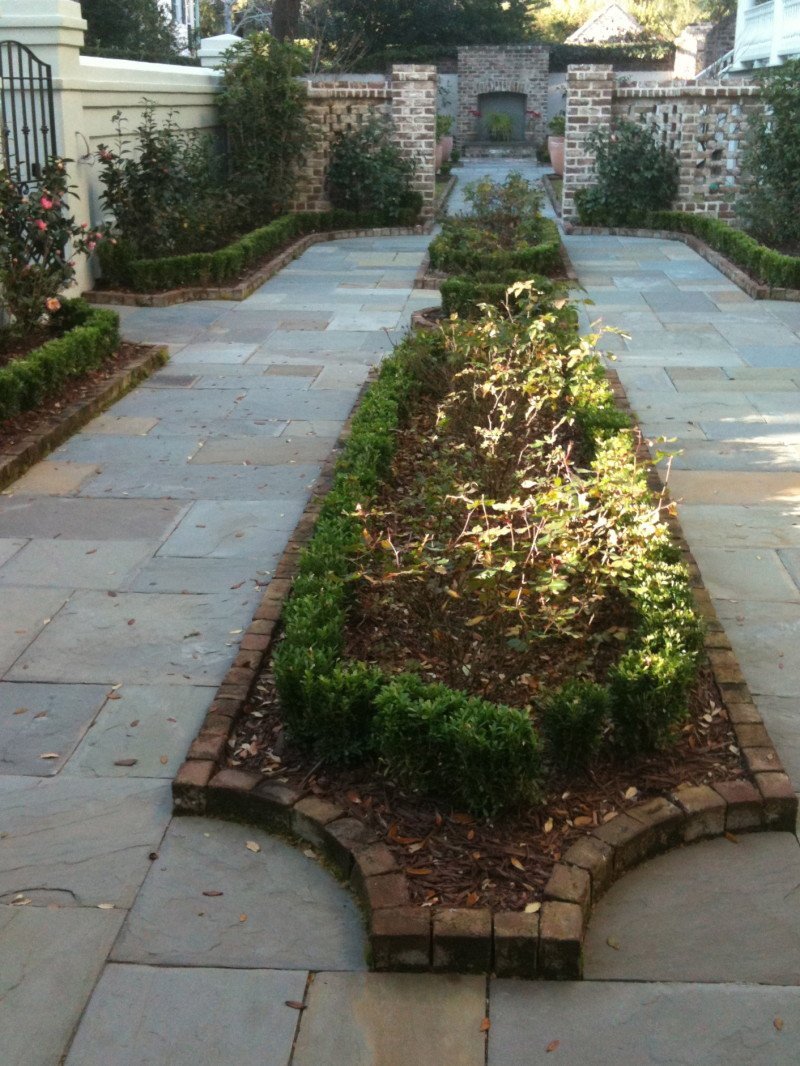 This side yard-turned-courtyard is just one of a series of rooms.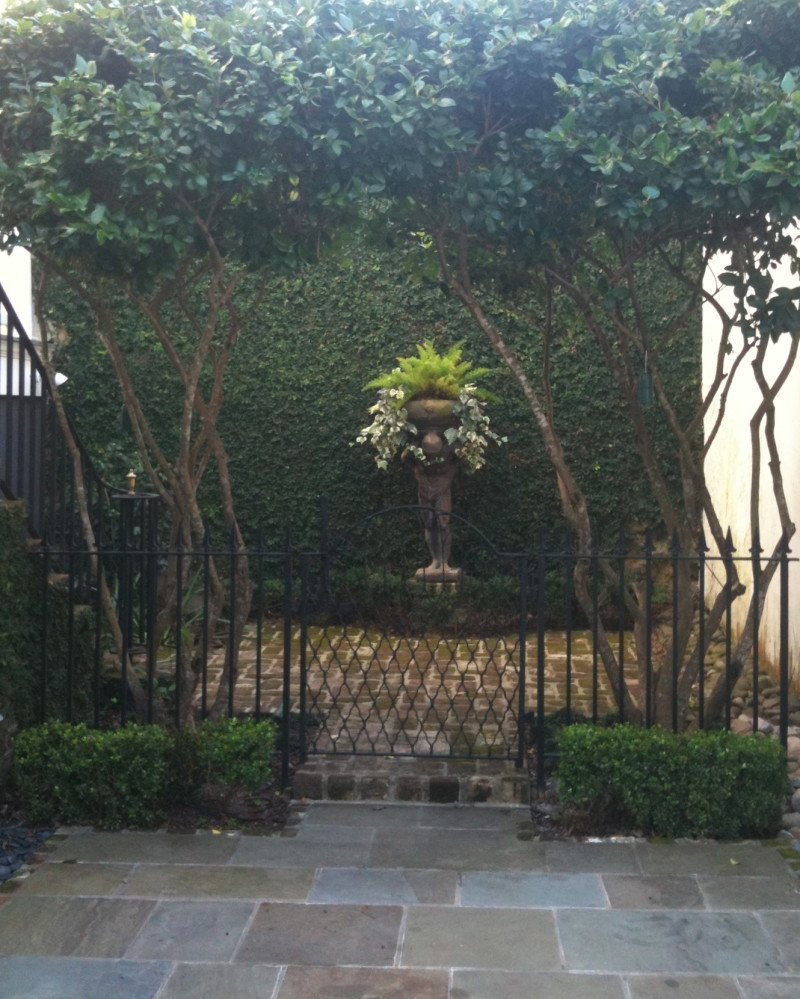 Study your side yard with new eyes.  Whether you add a simple stepping stone path bordered by plants or you build a  courtyard where you relax sipping your coffee or wine, it's an opportunity waiting to be unleashed.