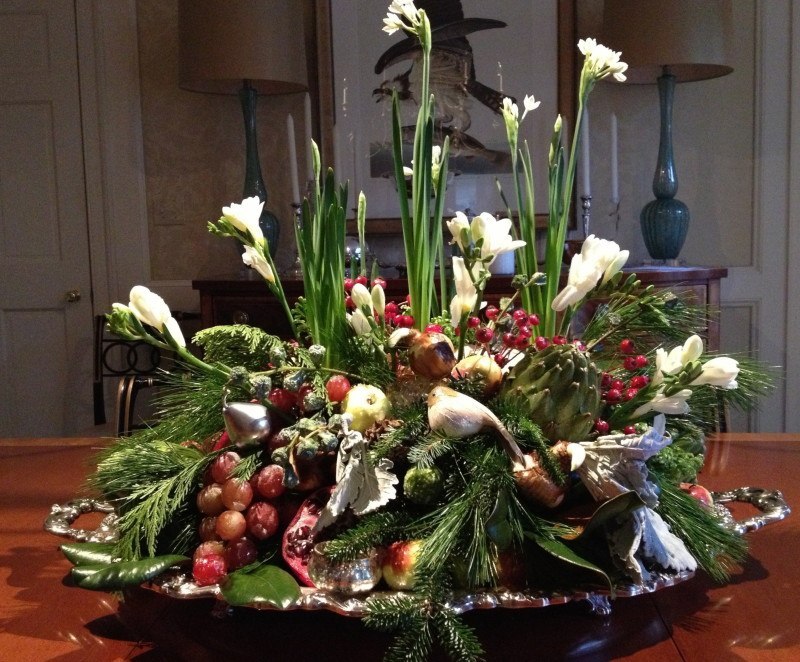 The creative juices are flowing in RVA this Christmas. The spirit of the season shines through in these festive arrangements lovingly put together by some of Richmond's most talented artists. Jeanette McKittrick serves up a platter of pomegranates, grapes, artichokes, apples and pears, adorned with pine, cedar, freesia, Paperwhite narcissus and holly.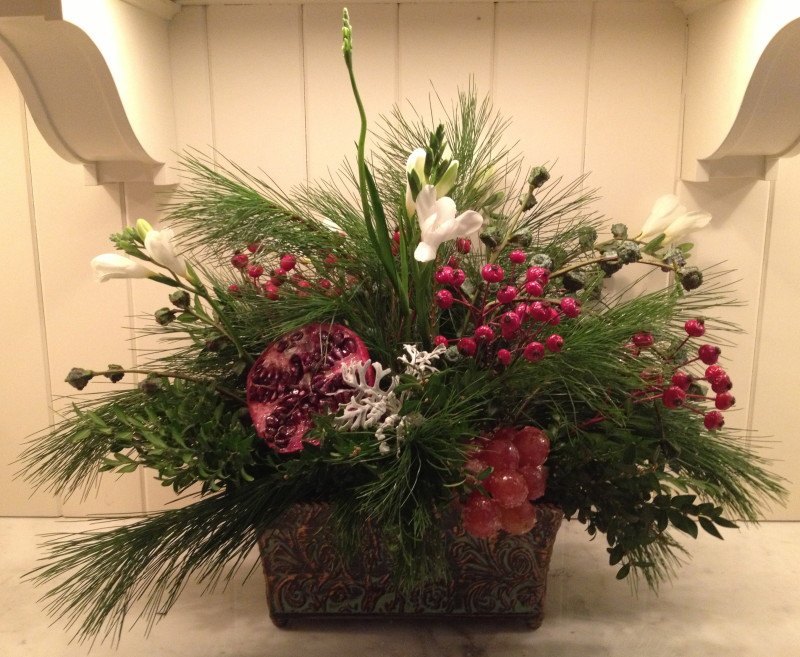 Jeanette fills a basket with more fruit, rose hips, pine boughs, boxwood, freesia, a little Dusty Miller, rose hips and eucalyptus pods.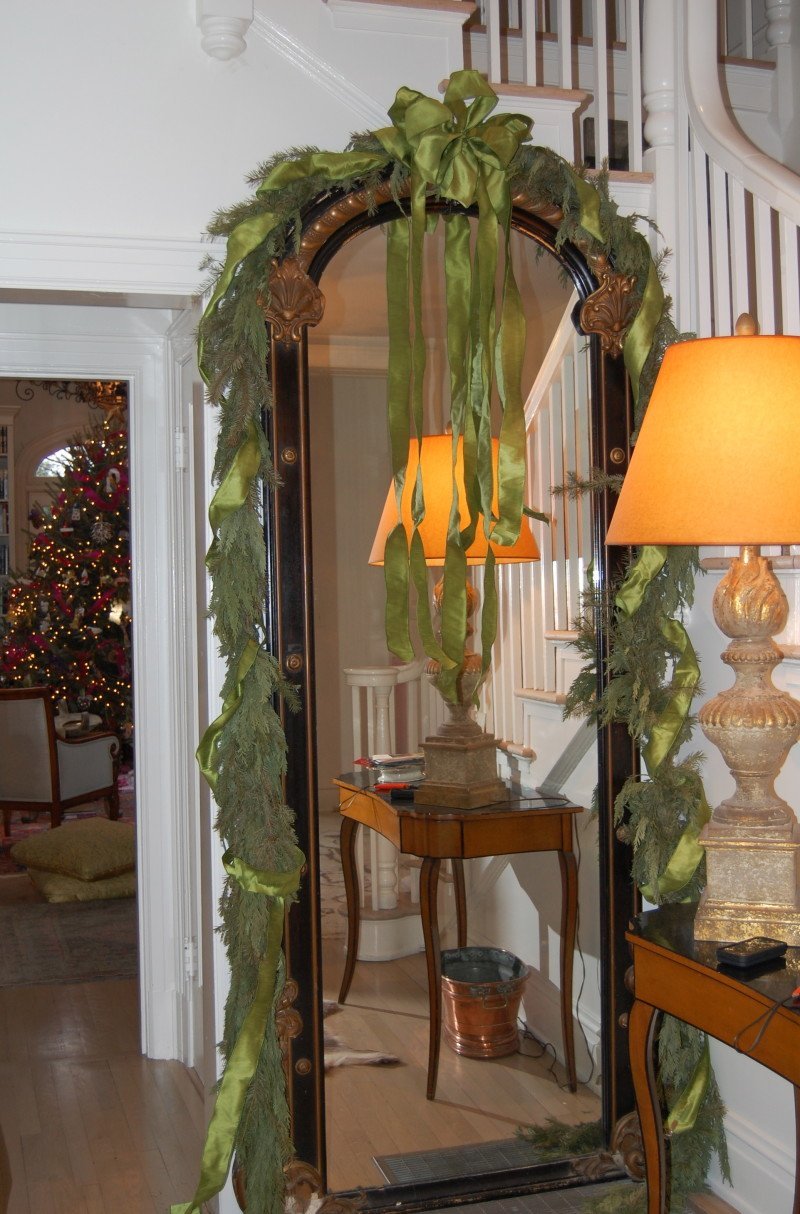 A full-length mirror draped in pine and silk ribbon rests casually against Deborah Valentine's front hall wall.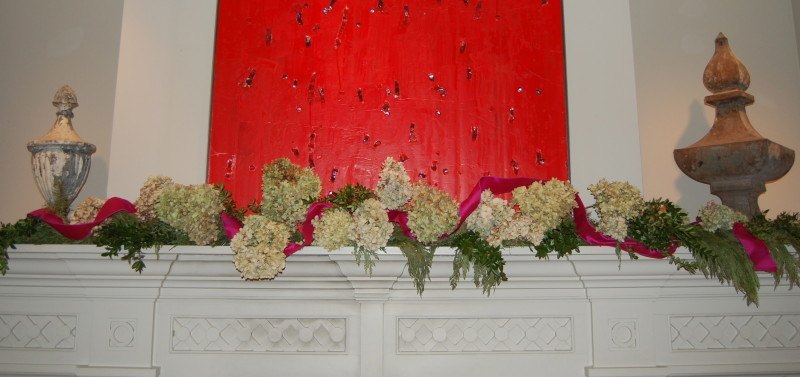 On a mantle, Deborah threads a fuchsia ribbon through cedar, boxwood and dried hydrangea.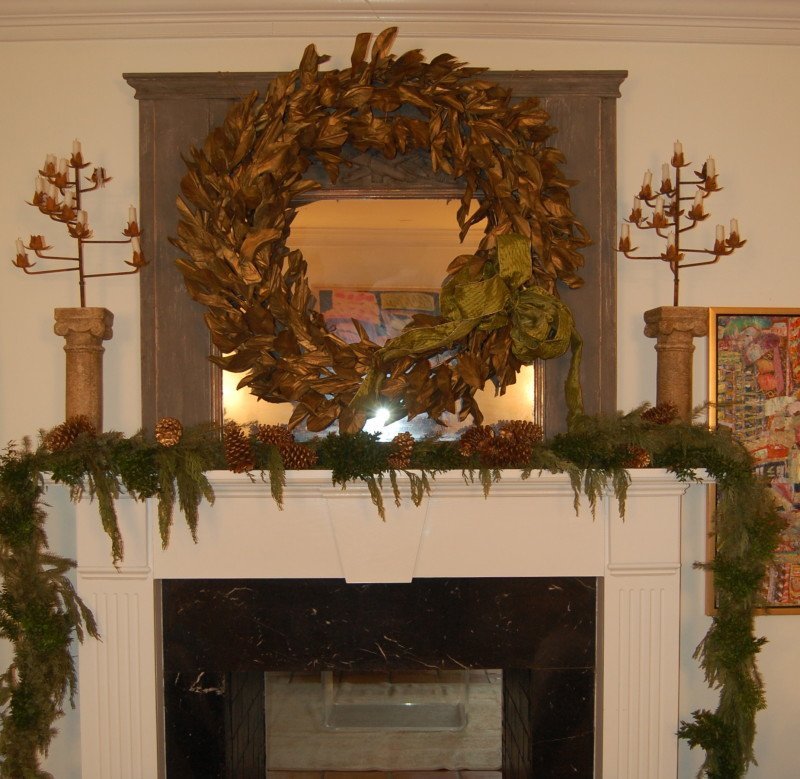 On another mantle, Deborah plays off the rustic, but gilded, mirror and candelabra with pine cones and a magnificent magnolia wreath  touched with gold paint.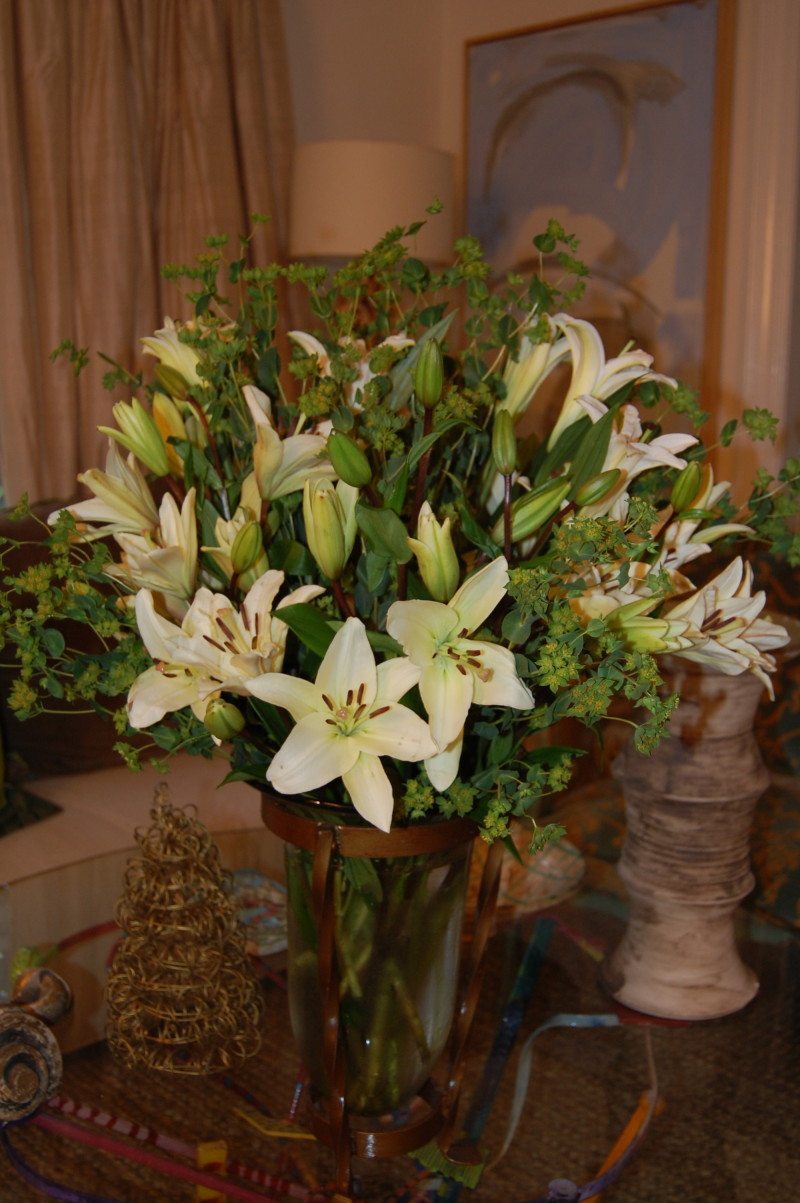 A vase is filled with Lilies and Euphorbia.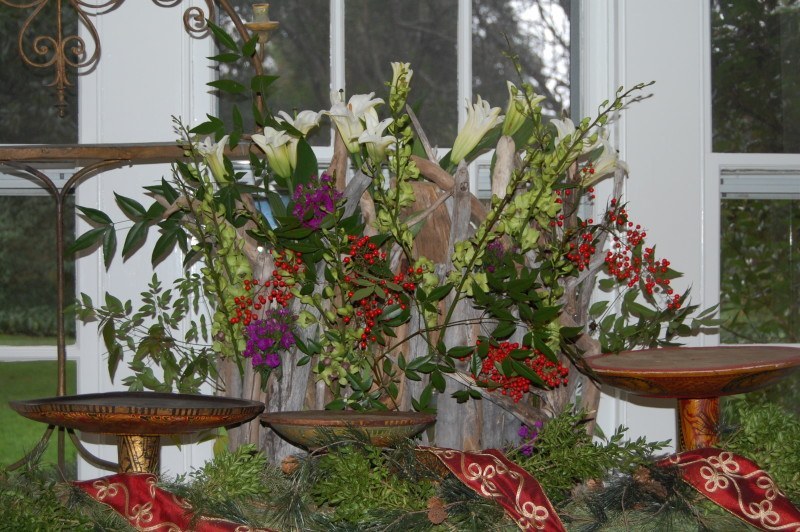 On the sideboard in the dining room, Deborah filled her driftwood container with Poet's Laurel, nandina greens and berries, lilies, orchids and Advent Purple Dianthus.  She "underplanted" the arrangement with a mixture of conifer boughs.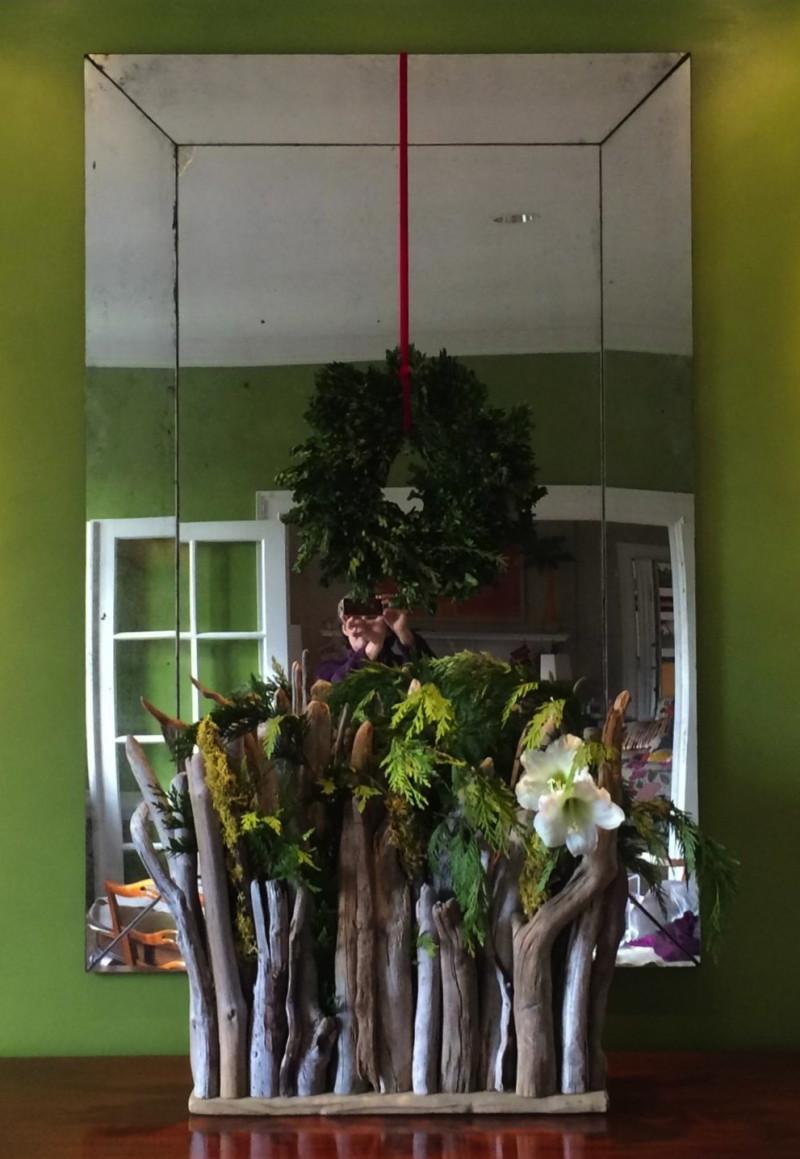 Jennifer Sisk gave her driftwood container a more earthy feel, by filling it with Amaryllis, Moss and Cedar, then she hung a boxwood wreath from the mirror with a simple red ribbon.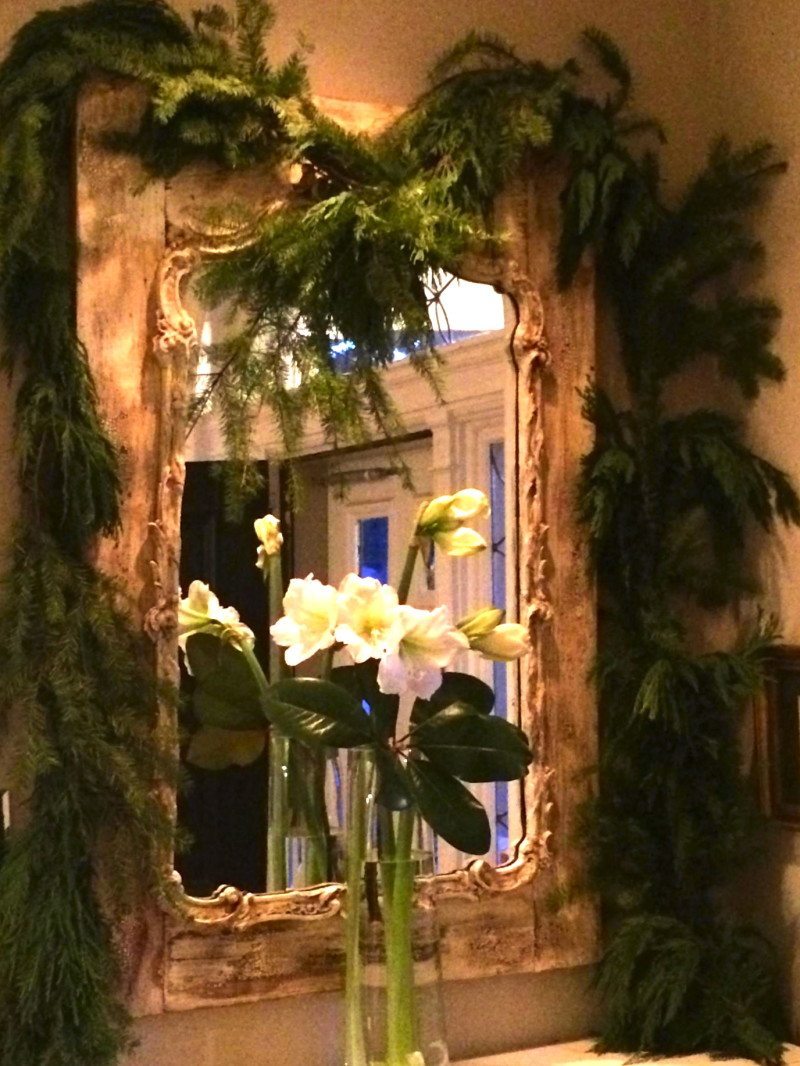 Jennifer has used this gorgeous front hall mirror as the anchor for so many different looks.  It glows here, draped in cedar and framing amaryllis and magnolia.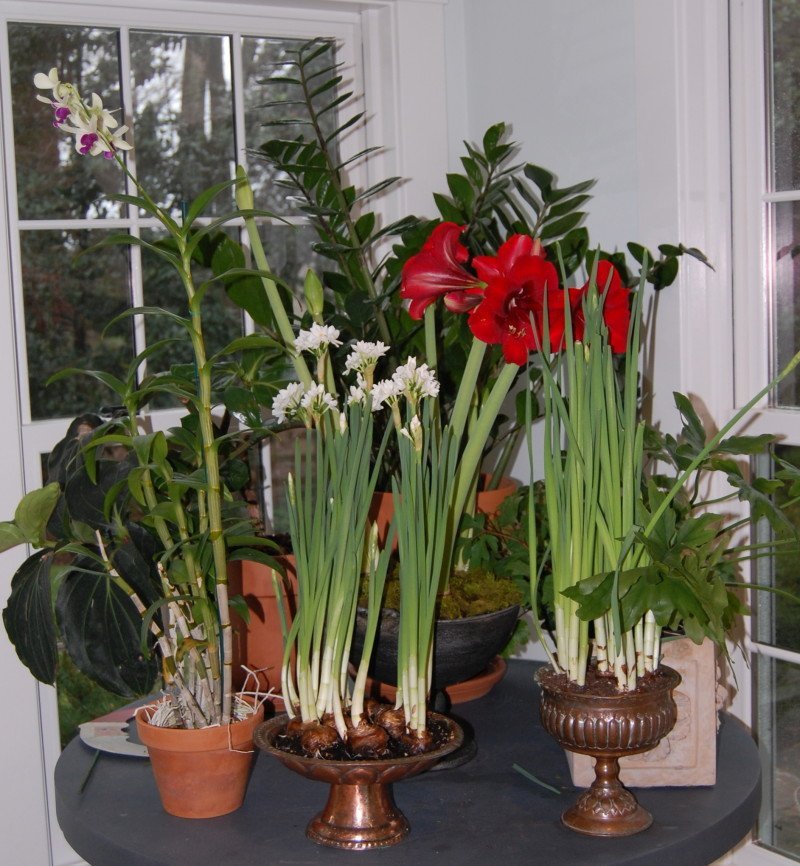 Susan Robertson keeps a progression of Christmas flowering bulbs on the garden table in her sun room.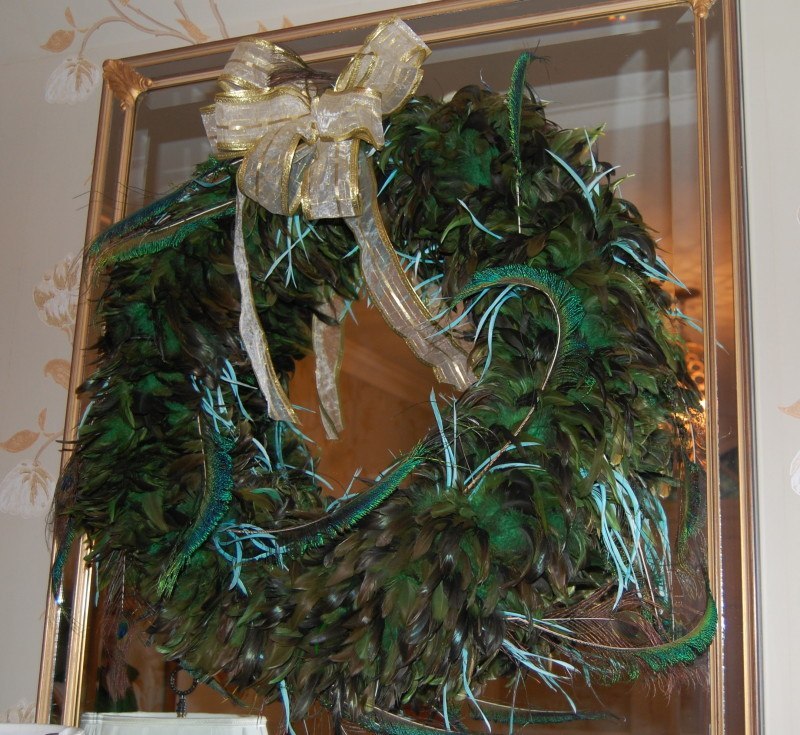 An exotic peacock feather wreath dazzles in Susan's front hall.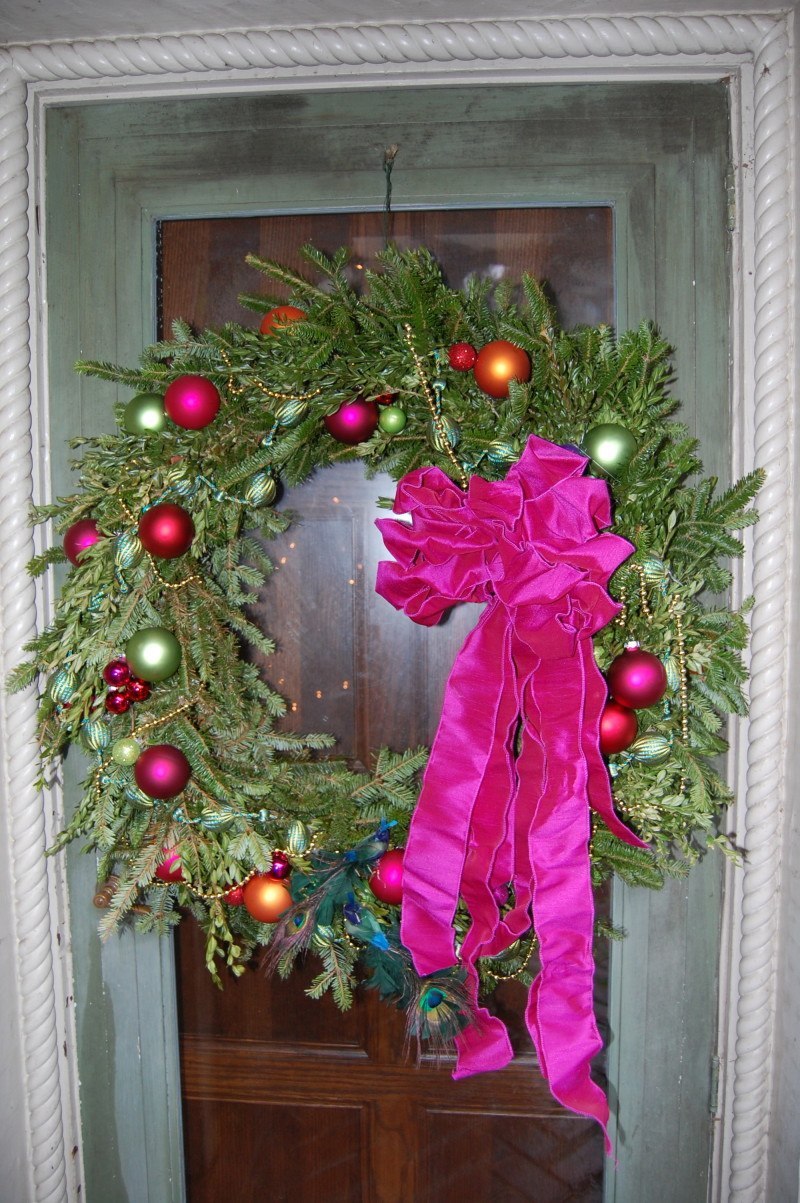 Margaret Valentine adorns her ginormous boxwood and spruce wreath with a hot pink ribbon, which looks smashing on her front door.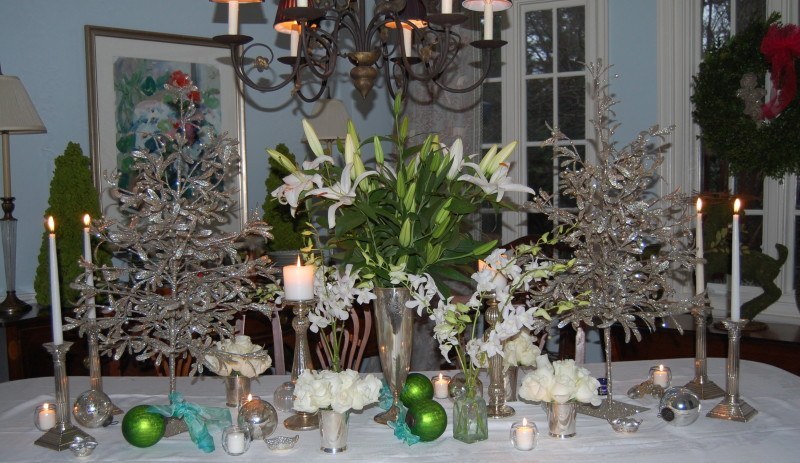 Margaret continues the glam look on her dining room table. Using silver candlesticks, vases and Julep cups, she fills the containers with all white flowers: lilies, roses and orchids.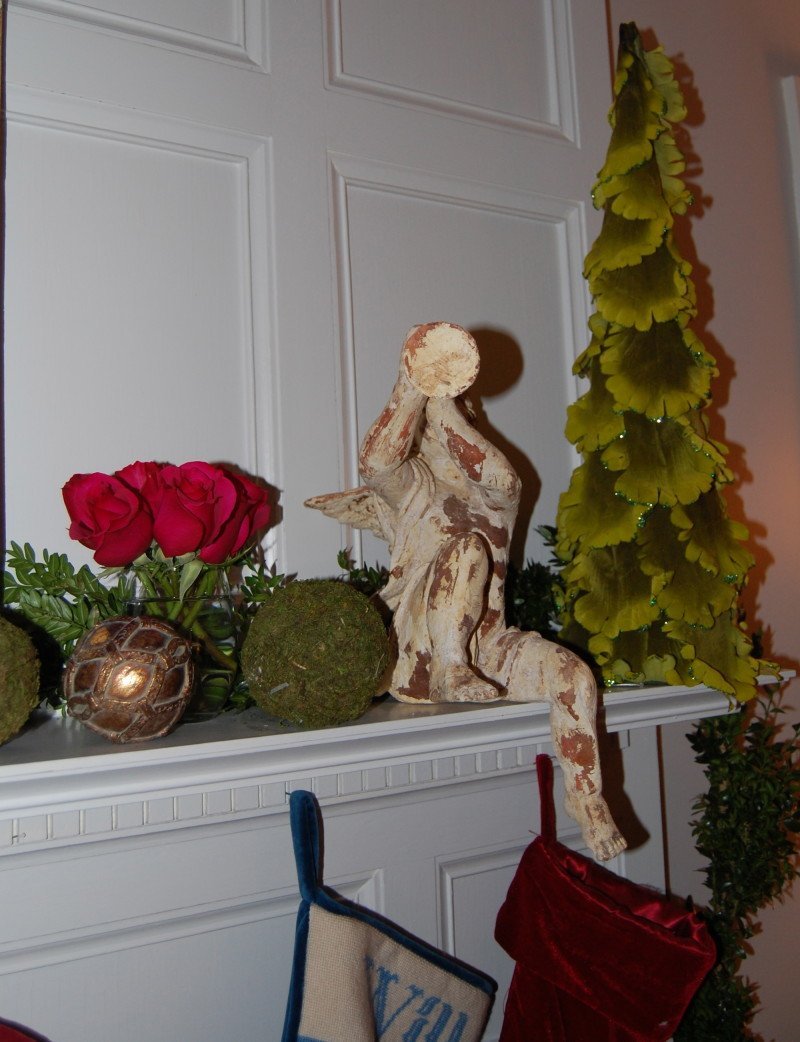 Margaret surrounded the funky Christmas trees on her mantle with moss balls, boxwood, roses and an angel trumpeting the joy of the season.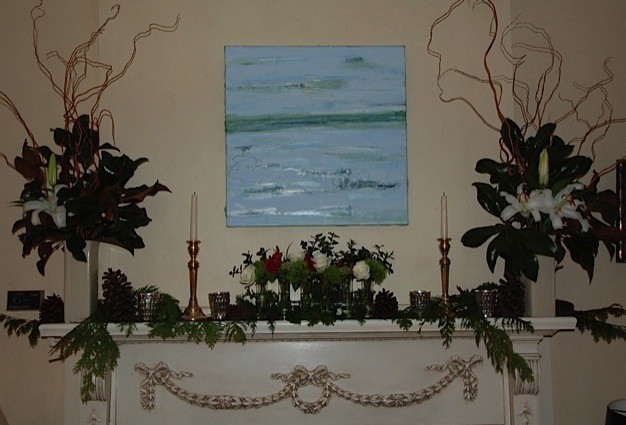 Noni Baruch draped her mantle in cedar, added gilded pinecones and silver votives, filled  containers with berries and roses, then framed it with  towering containers of magnolia, lilies and willow sticks.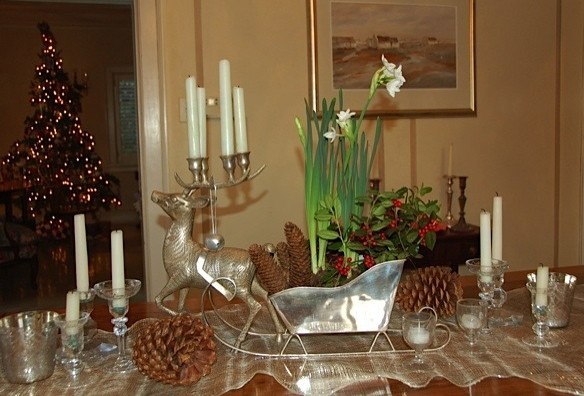 In her dining room, Noni threw a shimmering runner on her table, then topped it with a silver sleigh filled with paperwhite narcissus, holly berries, greens and various  cones.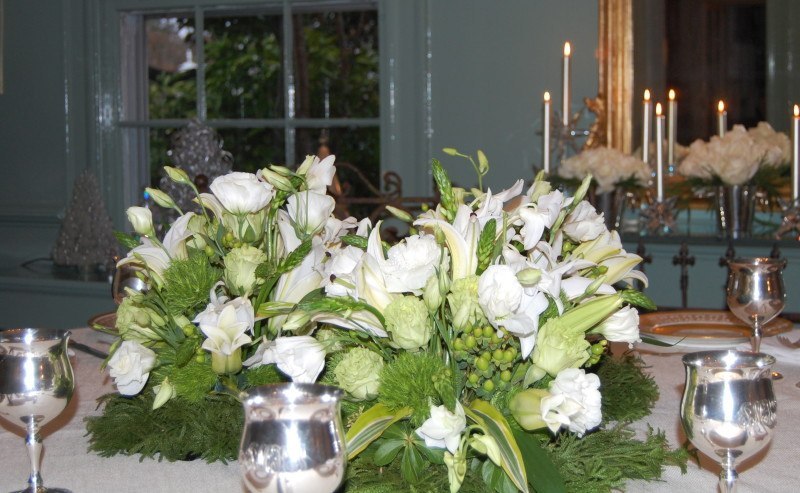 Speaking of silver, Bocky used the color to dramatic effect in her dining room. Surrounded by silver goblets and candles, the beautifully arranged white and green arrangements really pop.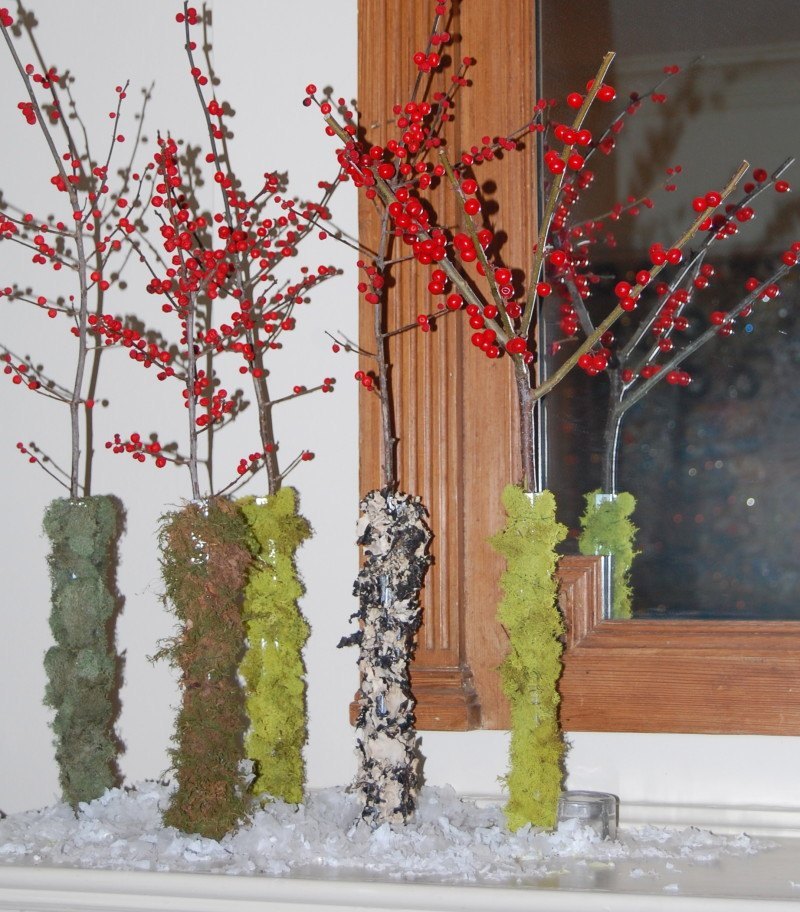 Bocky's earthier side is on display on this mantle, where she covered simple containers with different mosses and lichen. The containers hold Winterberry stems.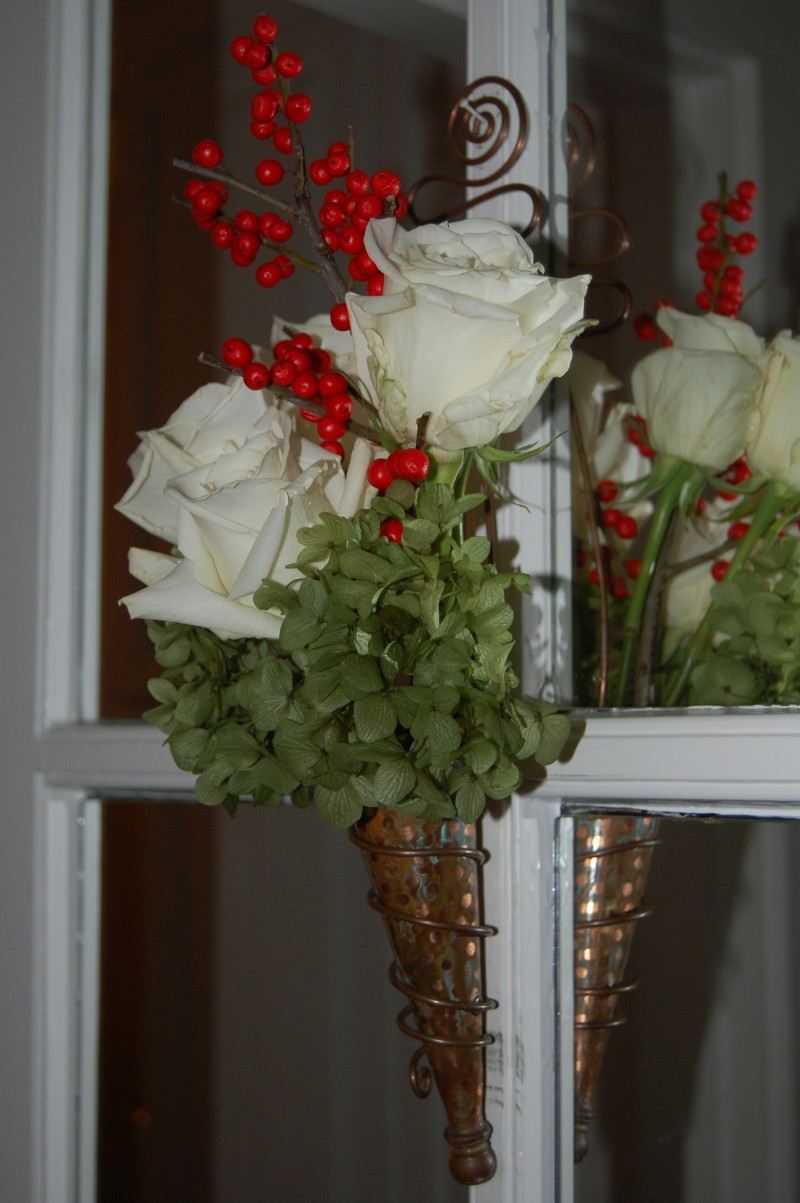 By adding the cluster of berries to this rose and hydrangea posy, a summery bundle is transformed into a Christmas arrangement.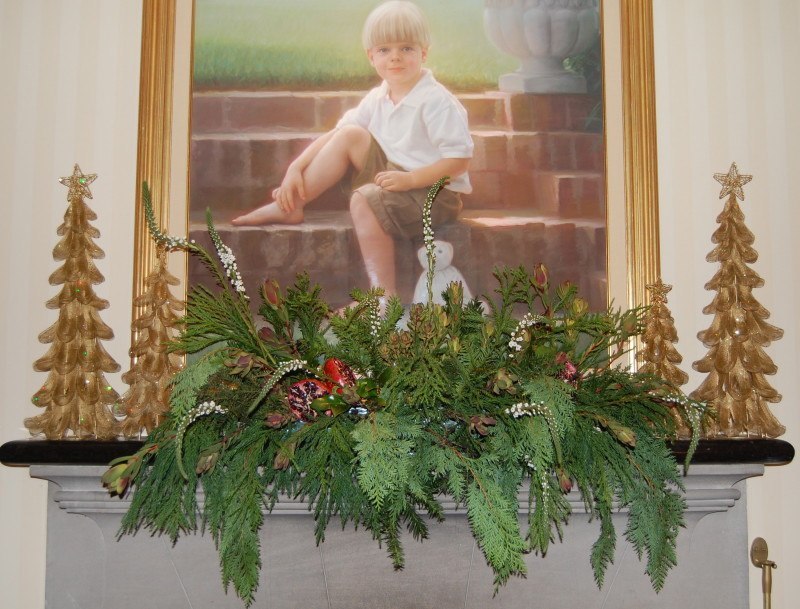 Jeanette and Melinda Hardy create this spectacular, overflowing arrangement on Melinda's living room mantle. Using greens as the base, they added sensuous pomegranates and sinuous Lysimachia.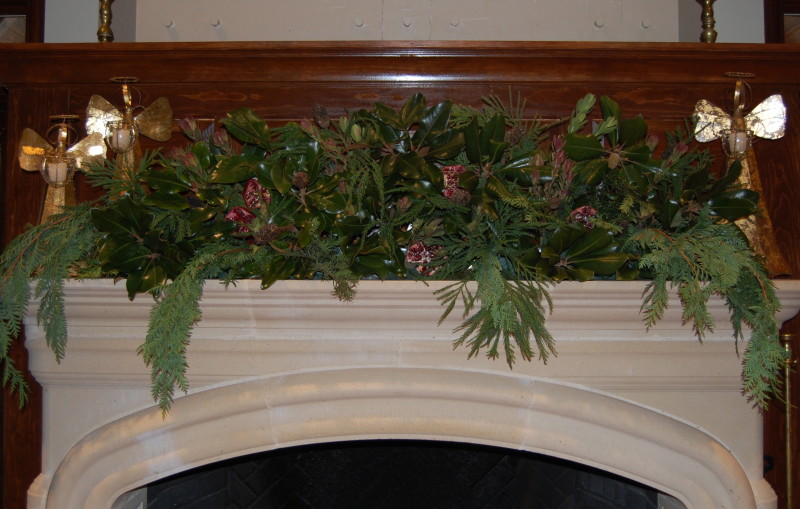 Melinda matched the muscular mantle in the den with more robust magnolia for great balance and rich color. The feathery cedar branches provide wonderful contrast.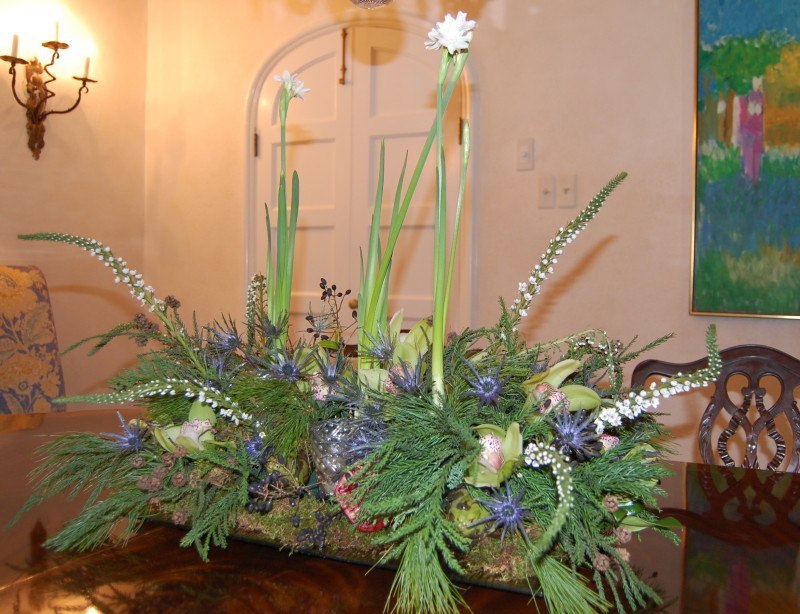 Melinda and Jeanette filled a moss-lined container with cryptomeria, pine, ligustrum, lysimachia, paperwhite narcissus, thistle, orchids and pomegranates for an ethereal effect.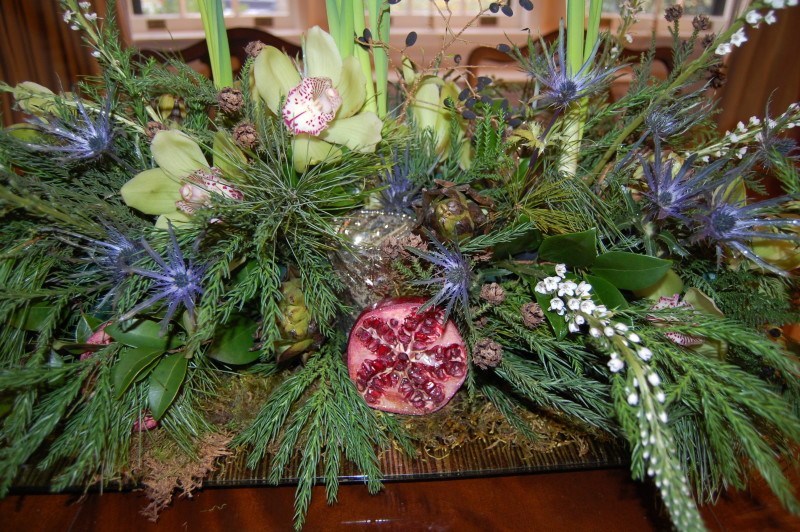 The pomegranates and thistle are dusted with glitter, giving this stunning arrangement a subtle glow.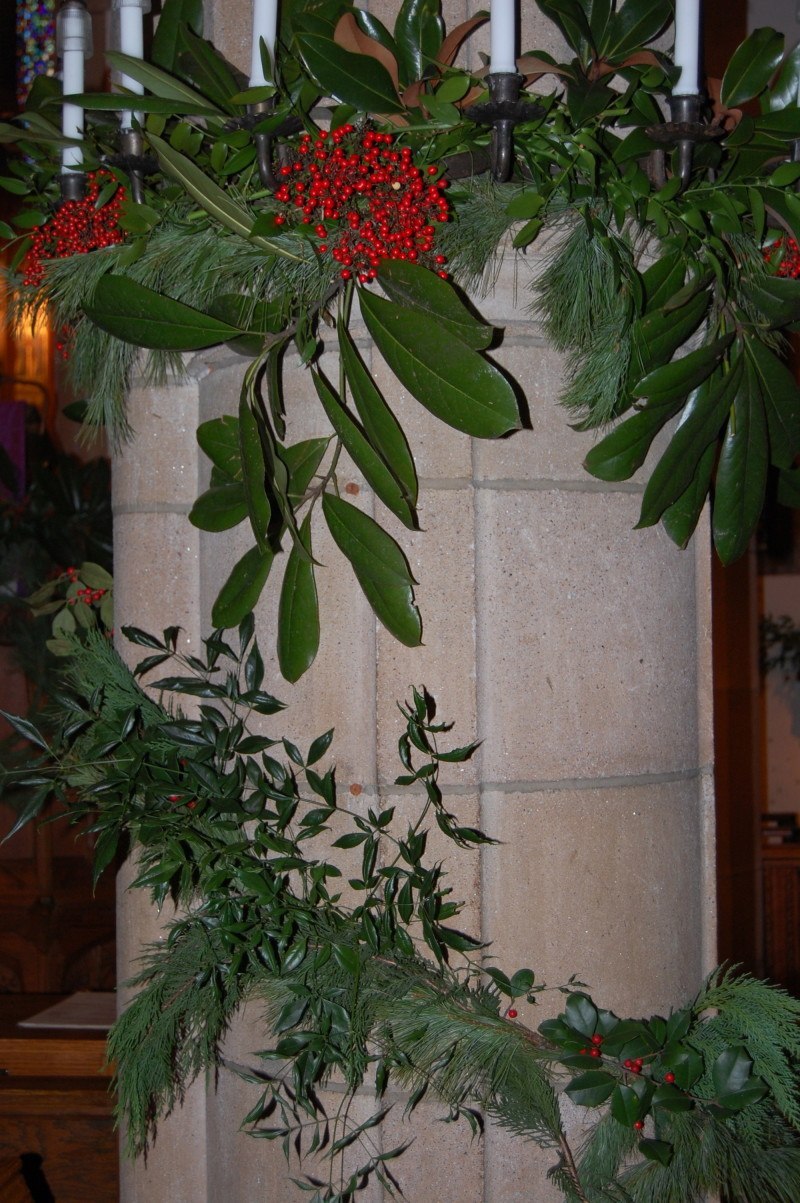 The alter guild at St. Stephen's Episcopal Church put me in the Christmas spirit today. As I admired this pillar majestically adorned in the traditional greens of the season — pine, holly, nandina, cedar, magnolia and Poet's Laurel — I was reminded that we decorate for the season with joy in our heart and  with the hope of peace on earth and goodwill to all.
Related Posts