Another year, another stellar collection of flower arrangements by talented members of the James River Garden Club for Historic Garden Week. The women, as always, used mostly greens and flowers from their own gardens.
The team of Noni Baruch, Mary Frediani, Elizabeth Hickey, Sheila MacFarlane, Betsy Trow and Sarah Wiley took their inspiration from the beautiful 1798 farmhouse of Louise and Russell Bowles, which was on the Friday Richmond tour.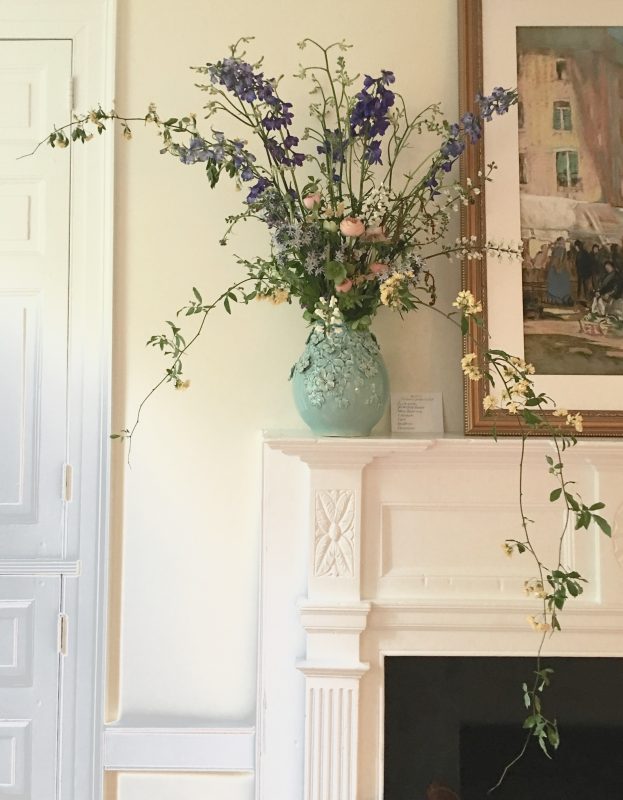 Lady Banks Rose (Rosa banksiae), White False Indigo (Baptisia pendula), Larkspur (Delphinium, spp.), Ranunculus (Ranunculus, spp.), Blue Star (Amsonia tabernaemontana), Lenten Rose (Helleborus orientalis), Fern fiddlers.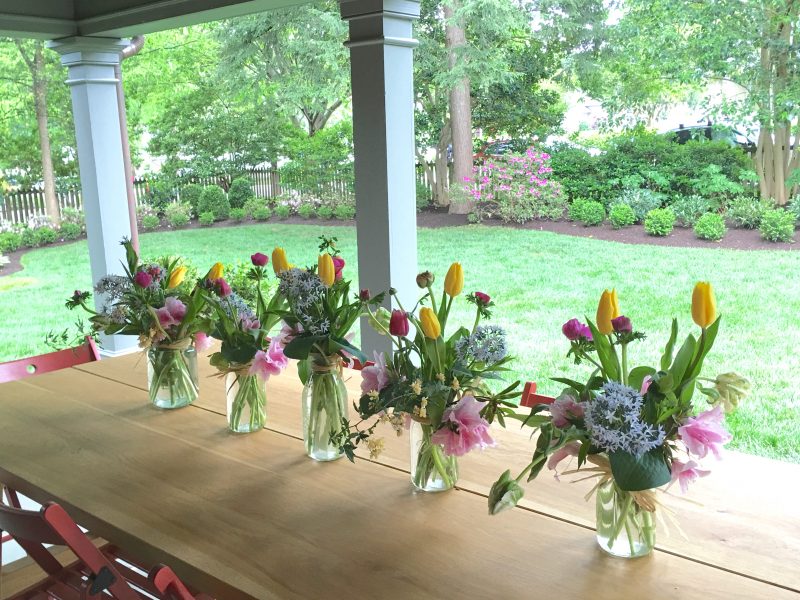 Tulip, Azalea, Blue Star, Lenten Rose, Lady Banks Rose, Anemone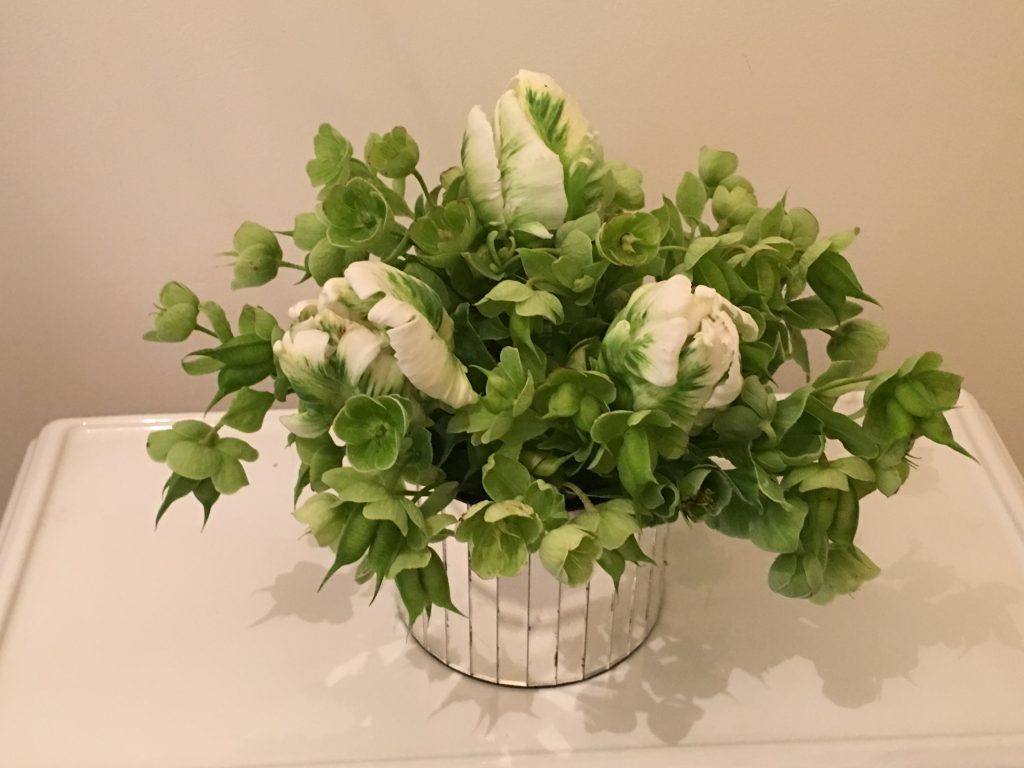 Stinking Hellebore (Helleborus foetidus) (a very unfair common name! — I think it smells like pepper) and Parrot Tulip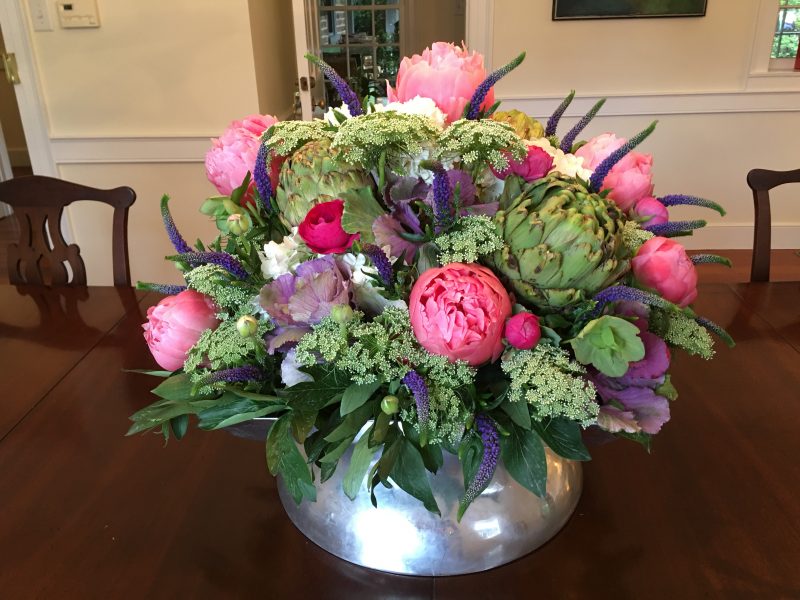 Peony (Paeonia, spp.),  Snowball Viburnum (Viburnum opulus 'Sterile'), Queen Anne's Lace (Daucus carota), Speedwell (a guess — Veronica spicata?), Rose, Lenten Rose, Artichoke (Cynara cardunculus var. scolymus)  and Purple Kale (Brassica oleracea)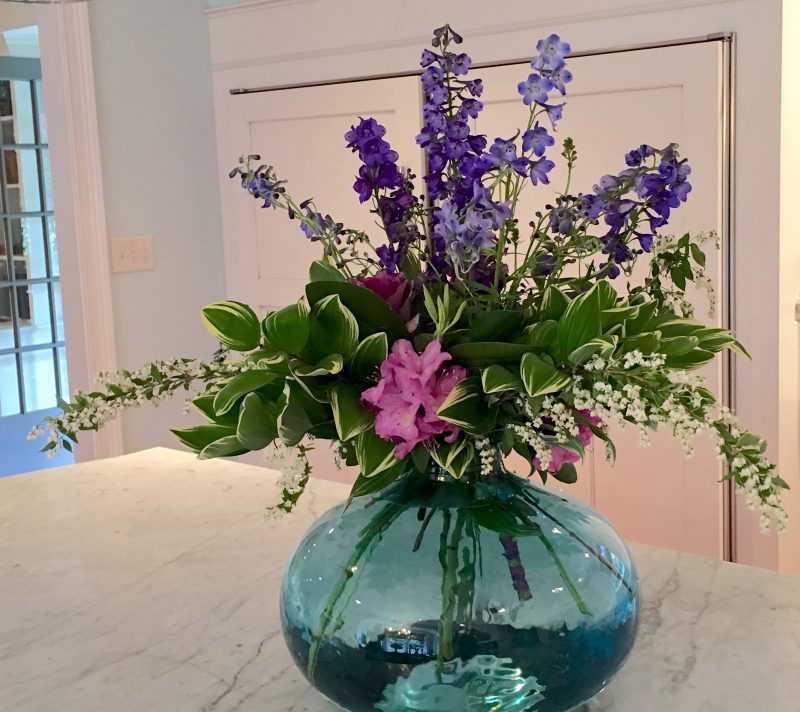 Rhododendron (Rhododendron x PJM), Slender Deutzia (Deutzia gracilis), Variegated Solomon's Seal (Polygonatum odoratum 'variegatum'), Larkspur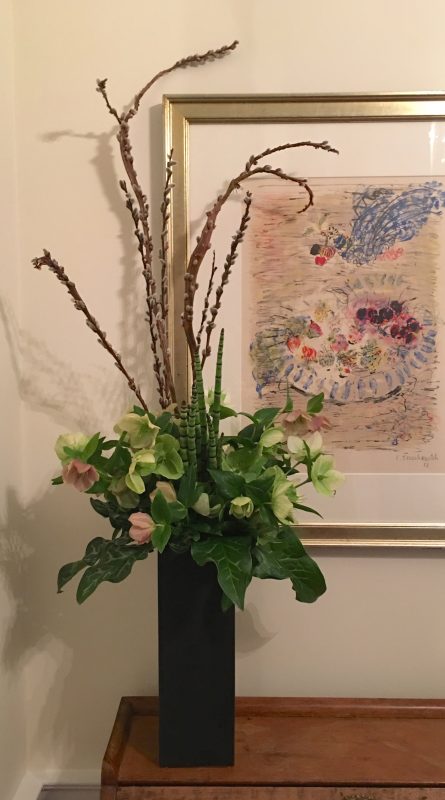 Horse Tail Palm, Pussy Willow (Salix discolor), Arum (Arum italica), Lenten Rose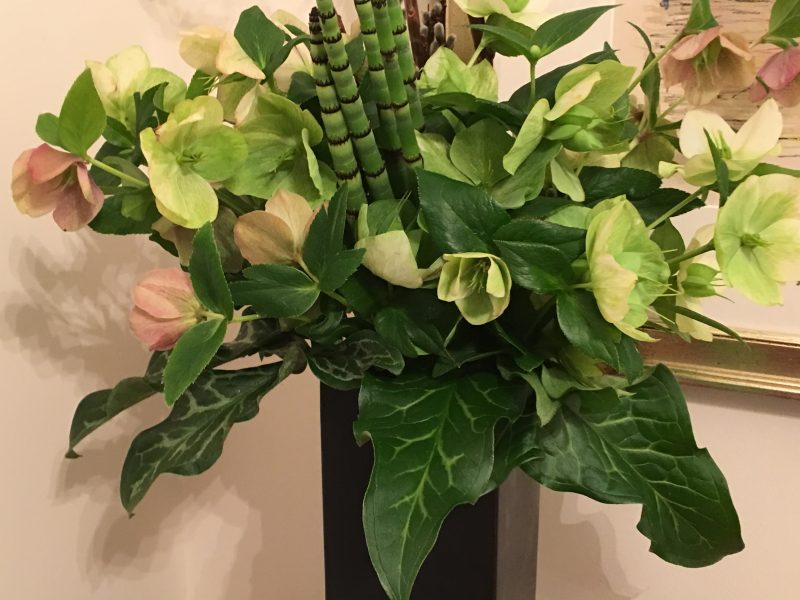 A close up of the Lenten Rose and Arum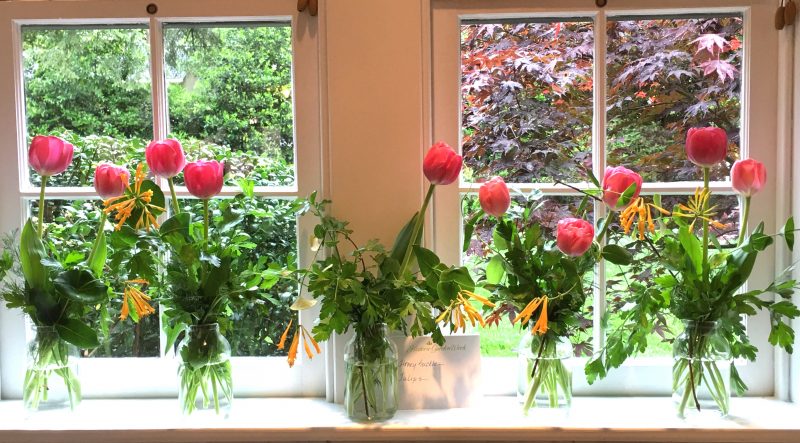 Tulip,  Honeysuckle (Lonicera sempervirens — possibly the cultivar Sulpherea?)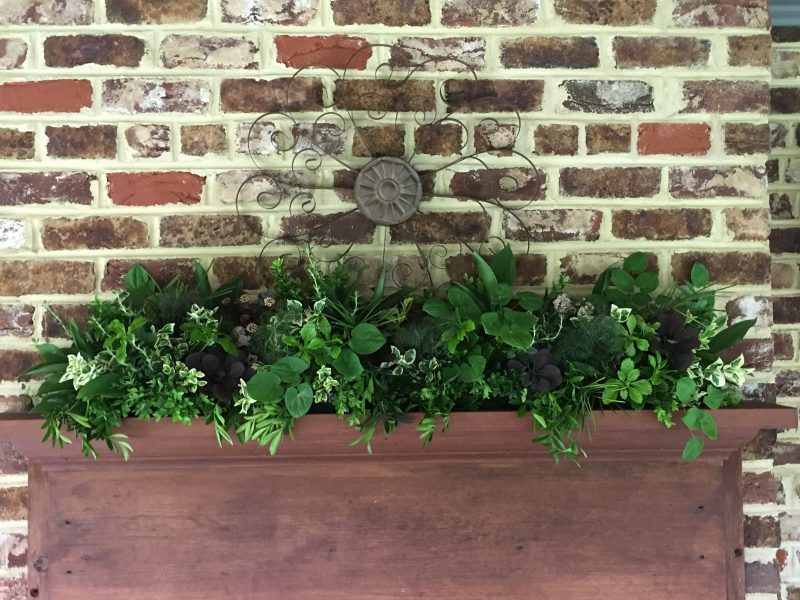 Smokebush (Cotinus coggygria) (really stands out with the brick), Barrenwort (or Bishop's Hat) (Epimedium  grandiflorum), Variegated Wintercreeper (Euonymus fortunei),  Boxwood (Buxus, spp.), Pine (Pinus, spp.), Lily of Valley (Convallaria majalis), Pachysandra (Pachysandra terminalis),  and is that Hawthorn and Fennel tucked in there?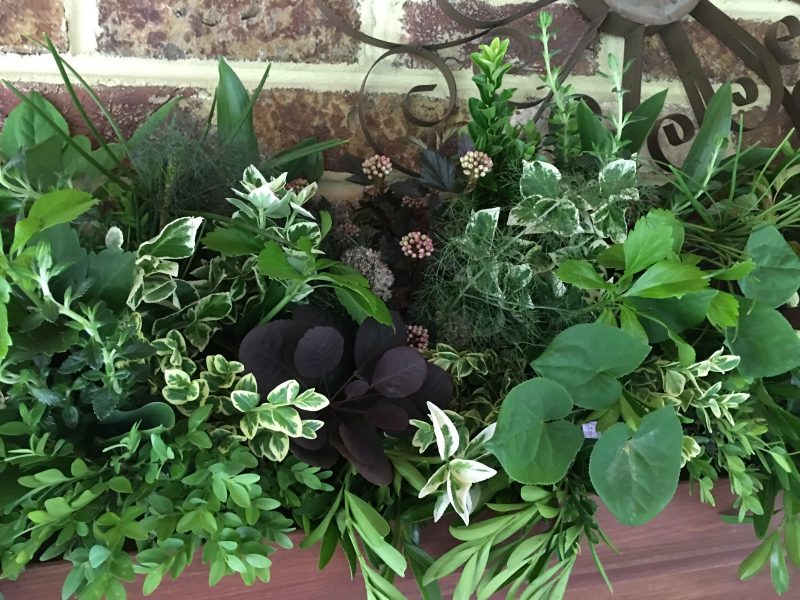 A close up of this magnificent arrangement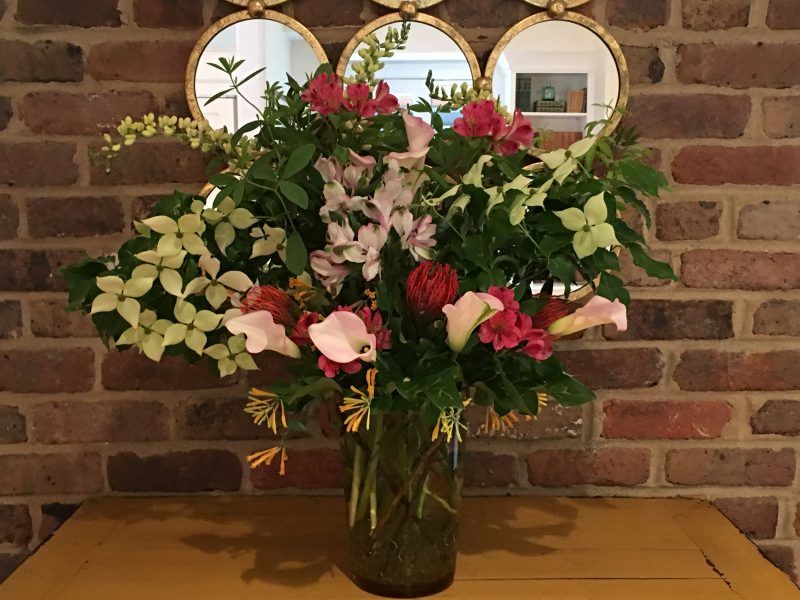 Kousa Dogwood (Cornus kousa), Pink Dogwood (Cornus florida 'Rubra Pink'),  Honeysuckle, Protea, Calla Lily (Zantedeschia aethiopica), Alstroemeria, Arum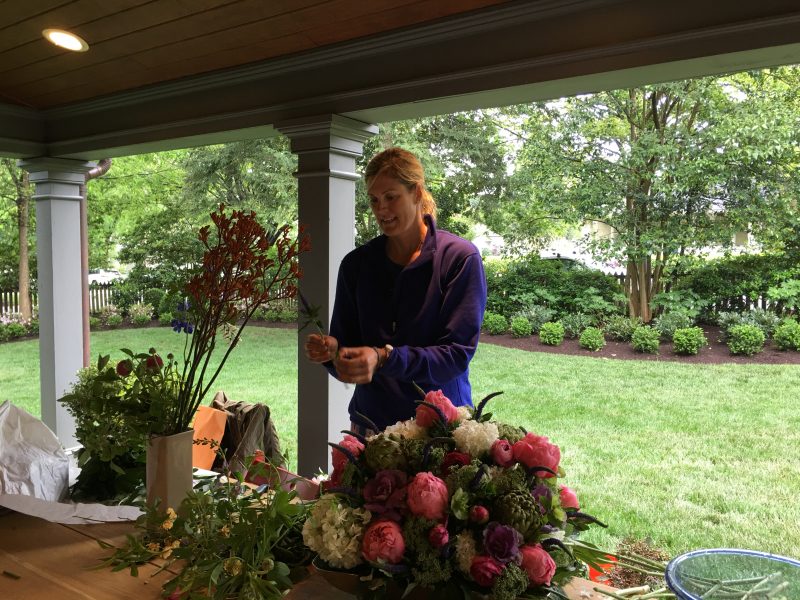 Elizabeth Hickey at work.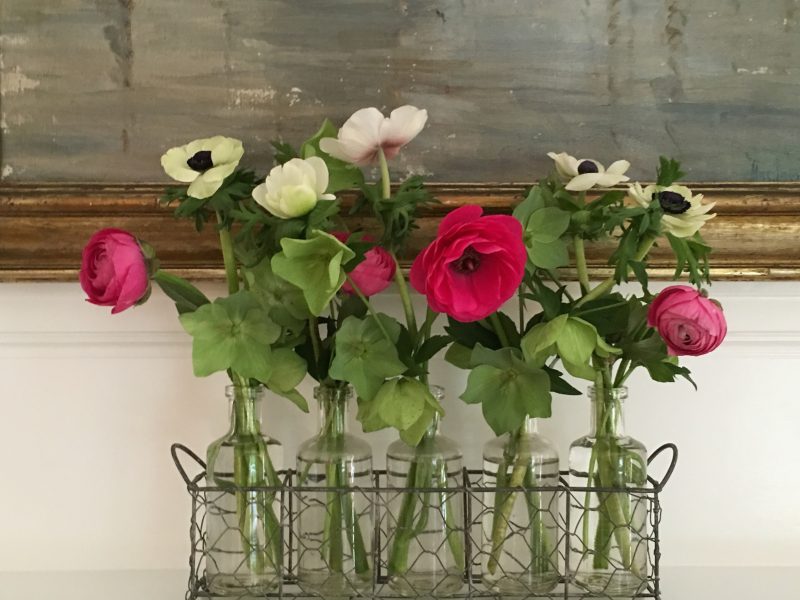 Ranunculus, Anemone and Lenten Rose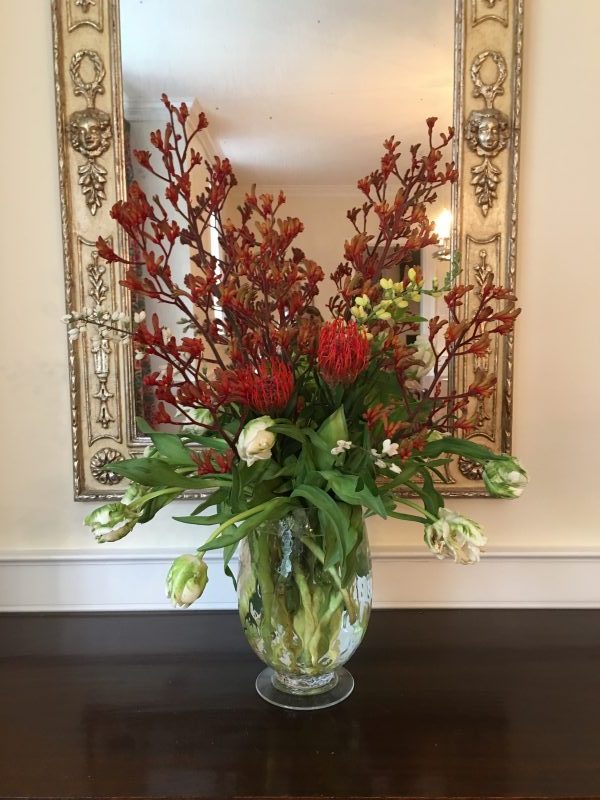 Tulip, Protea, White False Indigo and Kangaroo Paw (Anigozanthus genus?)
At Westover Plantation, homeowner Andrea Erda and her mother Muschi Fisher did the arrangements,
using only plants grown in Westover's gardens.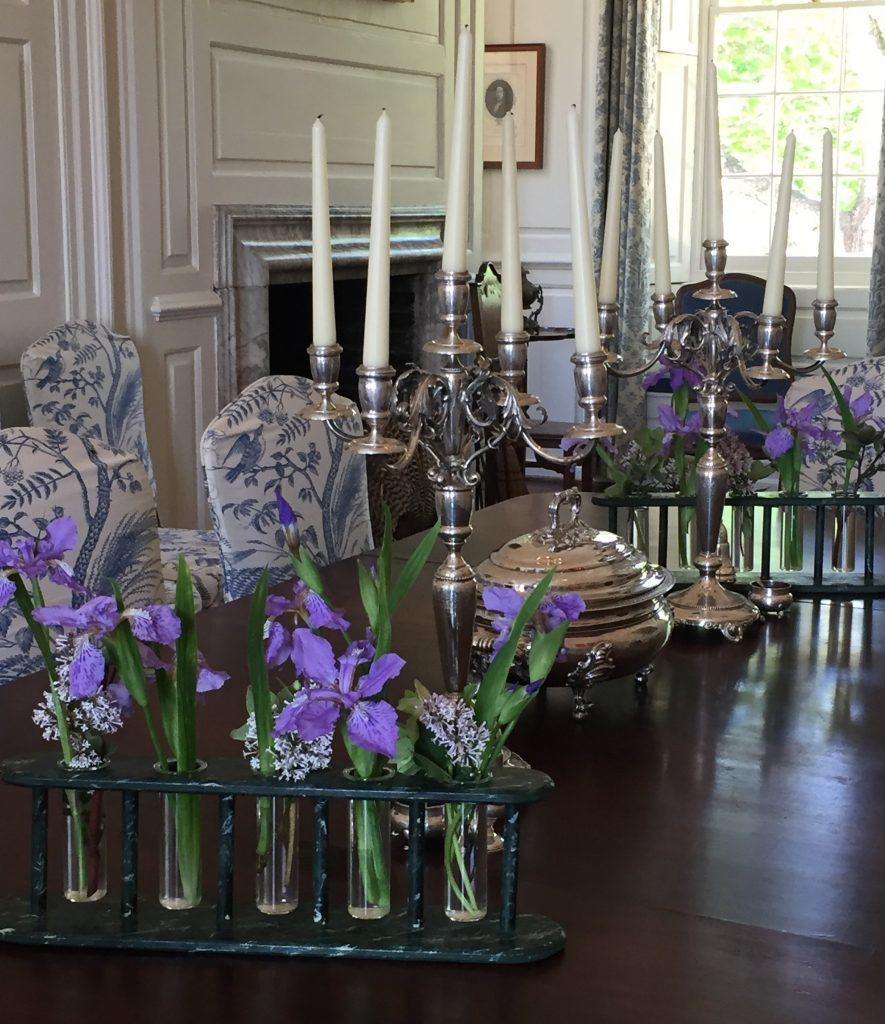 Iris (not sure which — ensata? cristata?) and, perhaps Lilac (Syringa vulgaris)?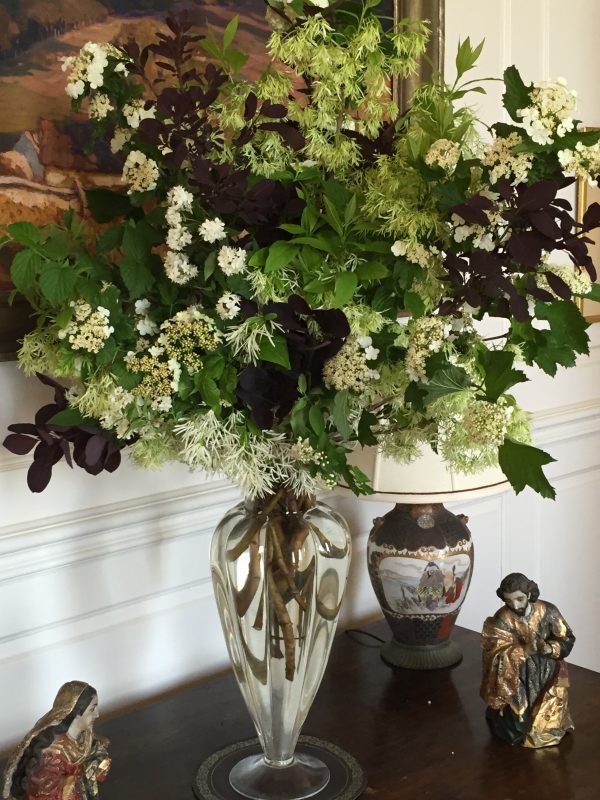 Smokebush (the dark foliage), Virginia Fringetree (Chionanthus virginicus), Viburnum — not sure which species, maybe American Cranberrybush Viburnum? (Viburnum trillium), and Spirea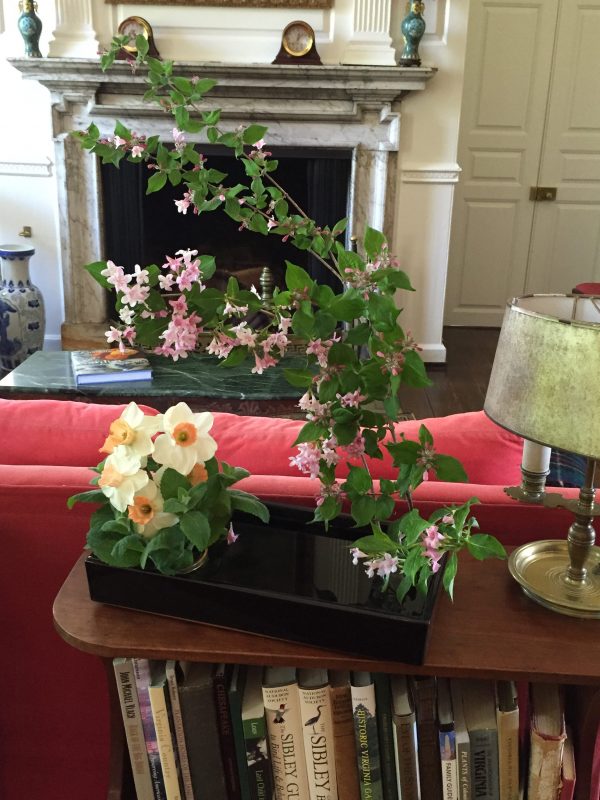 Daffodil (Narcissus, spp.) and Beautybush (Kolkwitzia amabilis)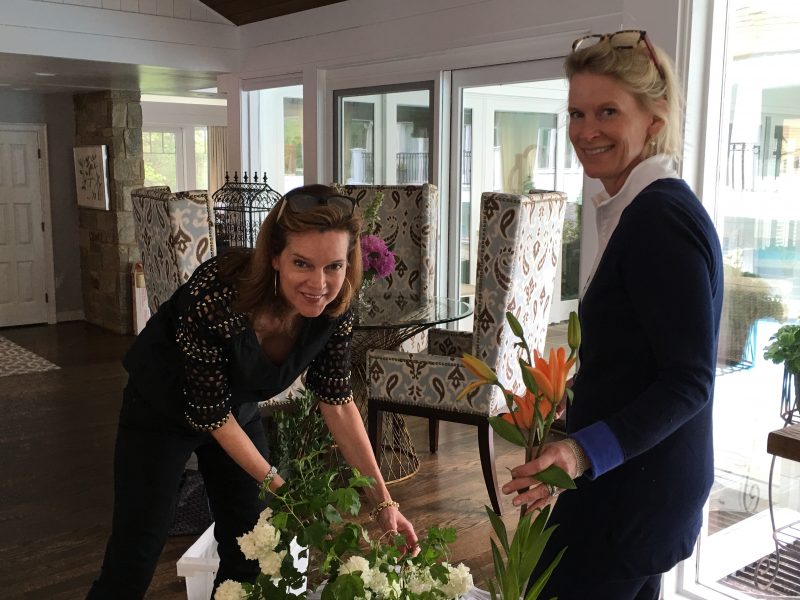 Margaret Reynolds, Susie Rawles (both pictured above), Tenley Beazley, Deborah Valentine and Gaylen Reynolds provided gorgeous arrangements for Pamela and Clark McGhee's light-filled home crafted of stone, glass and redwood.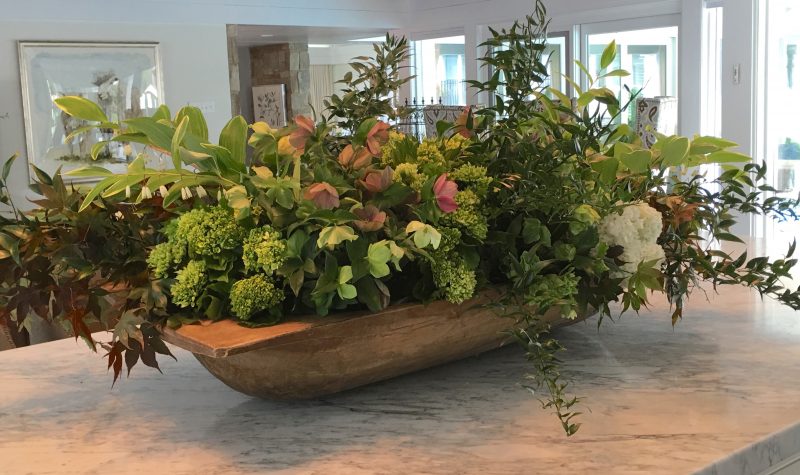 Japanese Maple (Acer palmatum), Poet's Laurel (Danae racemosa), Hydrangea (Hydrangea macrophylla), Lenten Rose, Variegated Solomon's Seal, Snowball Viburnum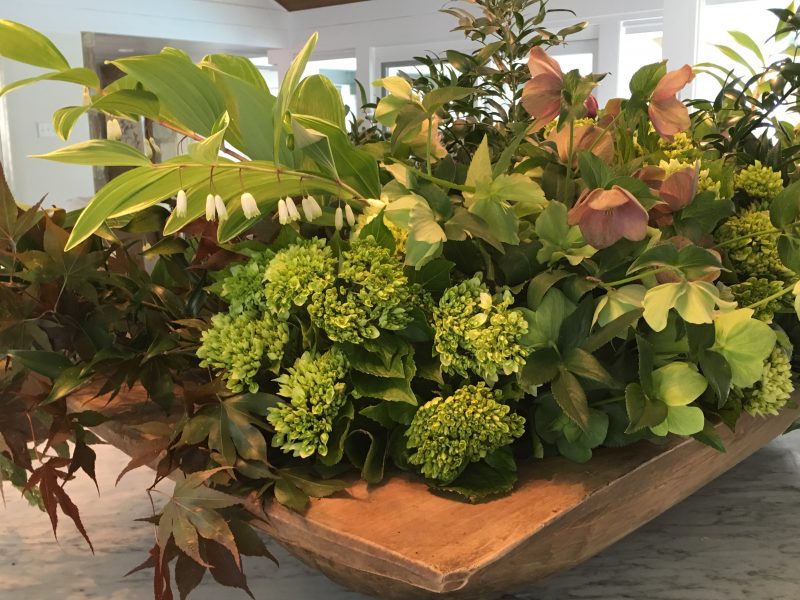 A close up reveals how the subtle neutral palette is enhanced by the washed out reds of the Japanese Maple and the Lenten Rose.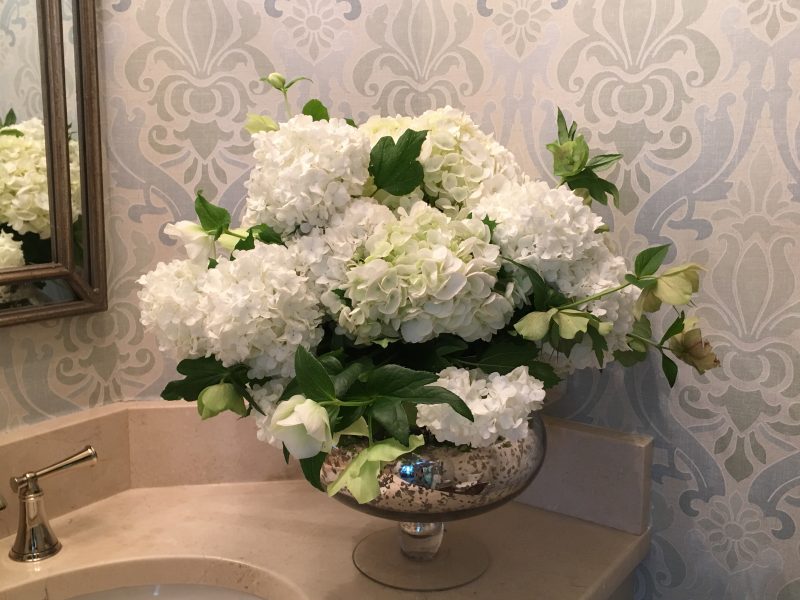 Hydrangea, Snowball Viburnum and Lenten Rose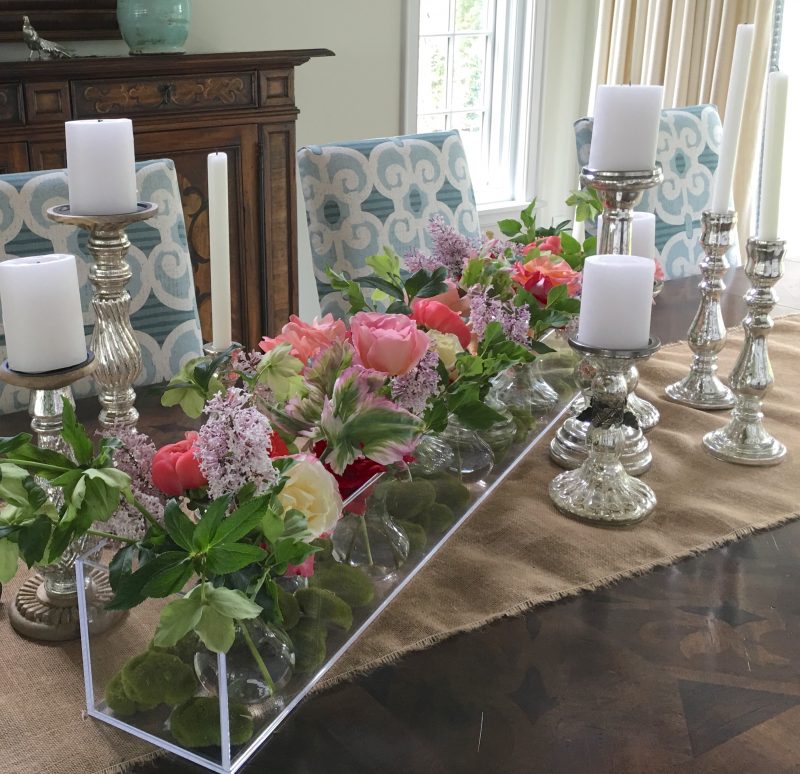 Garden Rose, Parrot Tulip, Lilac and Lenten Rose, with moss covered rocks at the base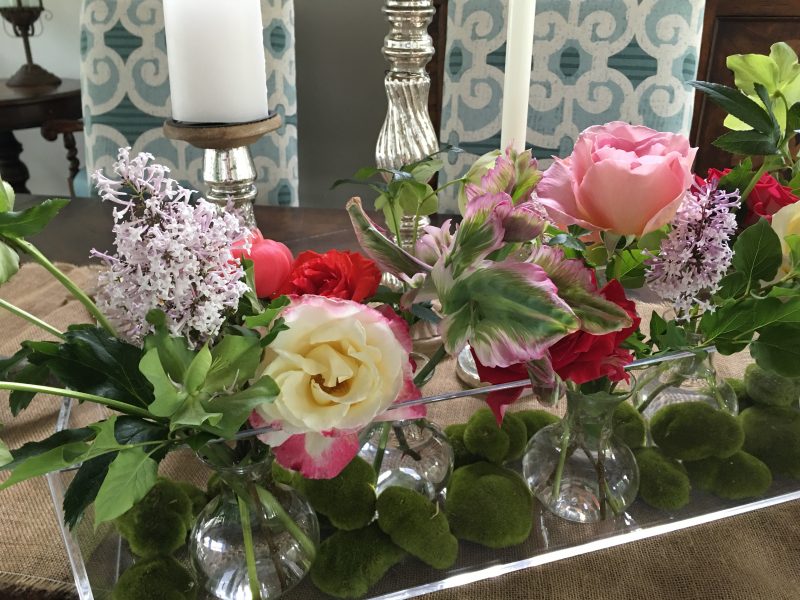 The roses and lilacs used in this spectacular linear arrangement are from JRGC member Betsy Hamilton's garden.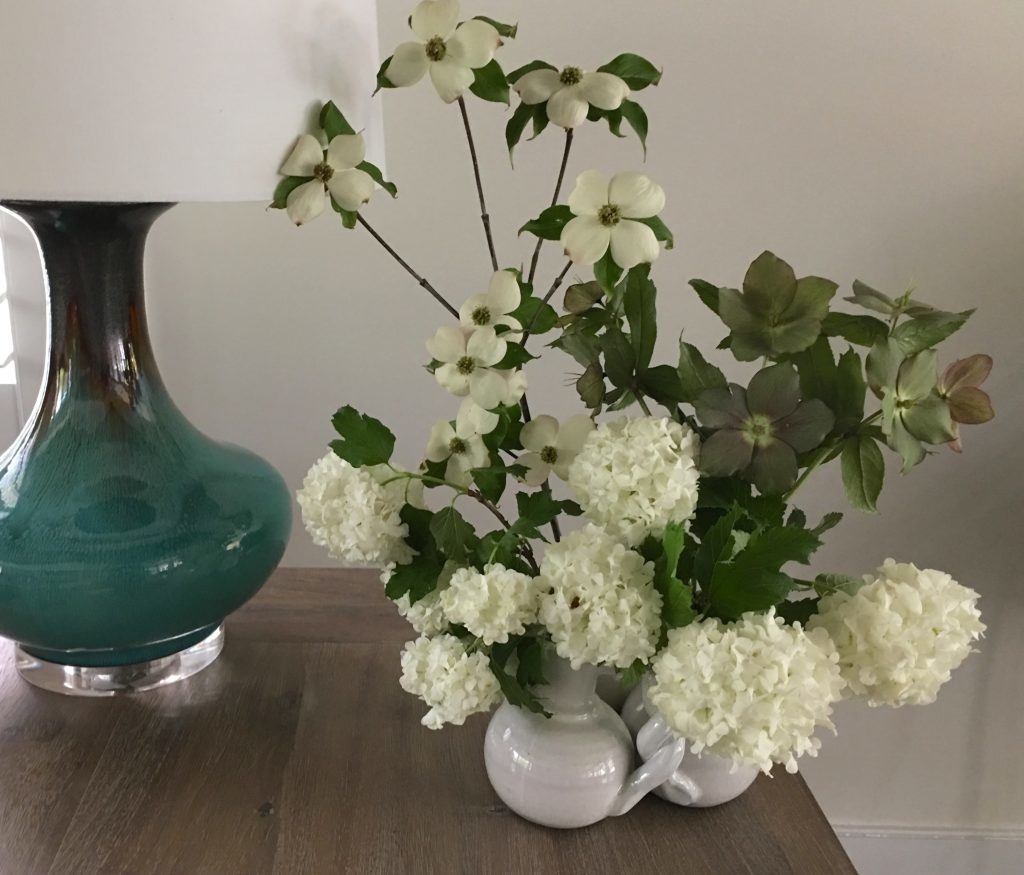 Snowball Viburnum, Flowering Dogwood and Lenten Rose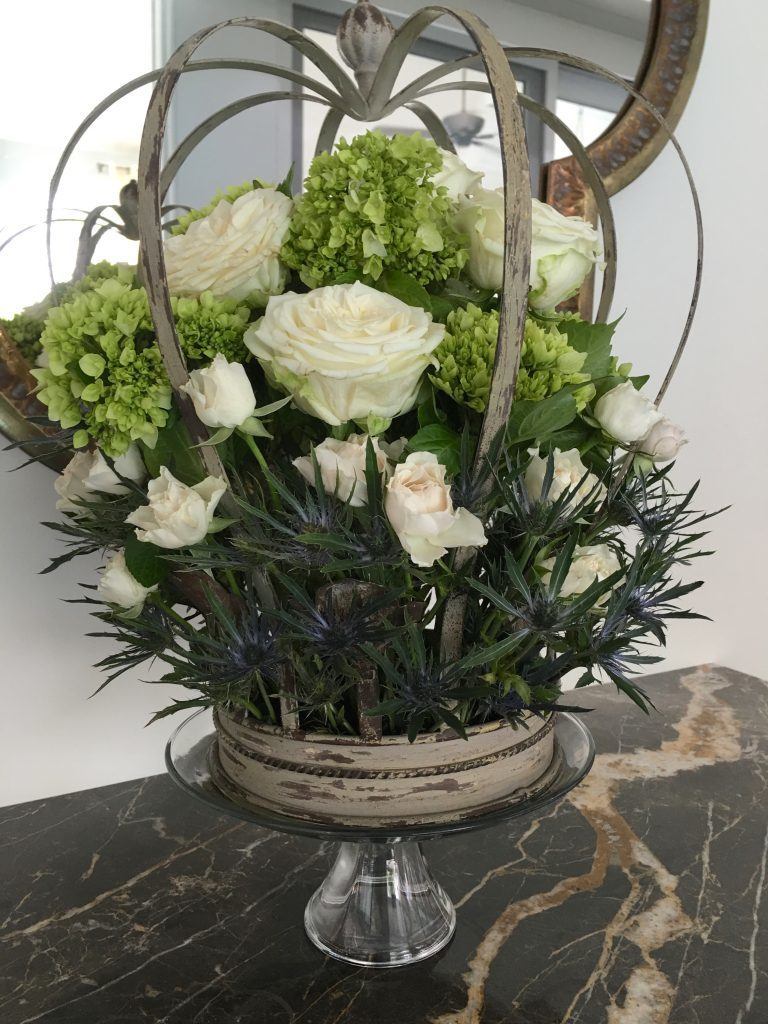 Rose, Hydrangea and Sea Holly (Eryngium amethystinum).
To see more beautiful arrangements and other excellent coverage of Historic Garden Week, visit The Gracious Posse blog.
Related Posts
Plant some of these shrubs, perennials, bulbs and vines in your garden for spectacular spring blooms and plenty of material for gorgeous arrangements.

Flowers and greens from the garden are transformed into beautiful arrangements during Historic Garden Week.