Richmond's talented arrangers got creative once again for Thanksgiving. Now that the ugly weather has finally passed through, and the sun is bringing in a glorious day, these arrangements might lure you to take a walk and enjoy — and be thankful for —  nature's beauty, even on a cold November day.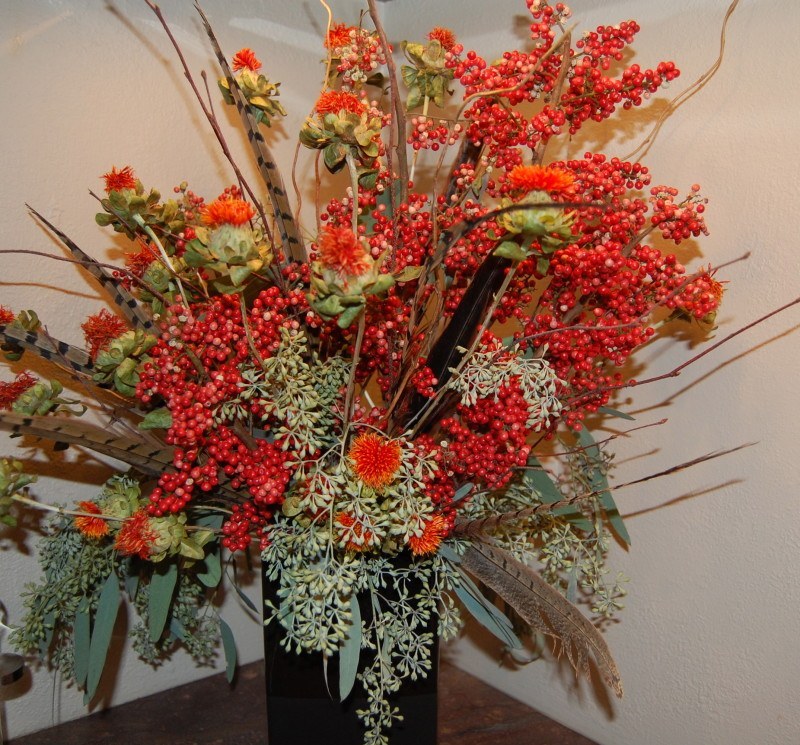 Melinda Hardy supplemented the native Bittersweet with Seeded Eucalyptus, twigs, and even feathers.  Rumor has it she plucked that turkey herself.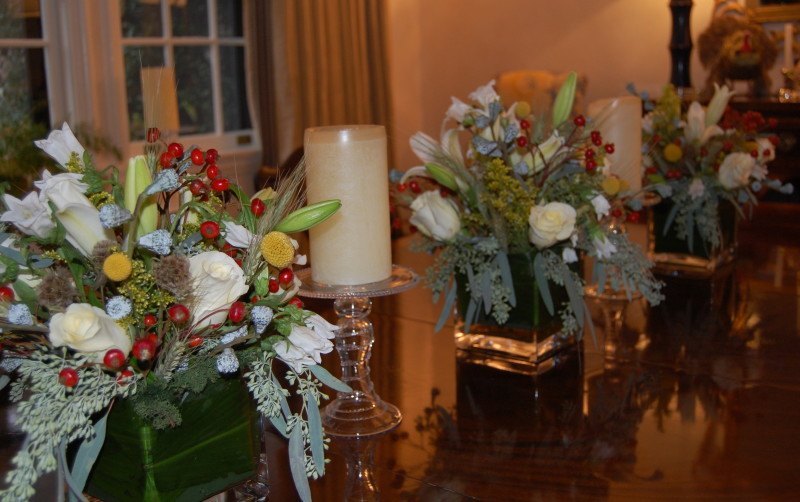 On her dining room table, Melinda filled three containers with white Roses, Lilies, Rose Hips and more Seeded Eucalyptus and Eucalyptus pods.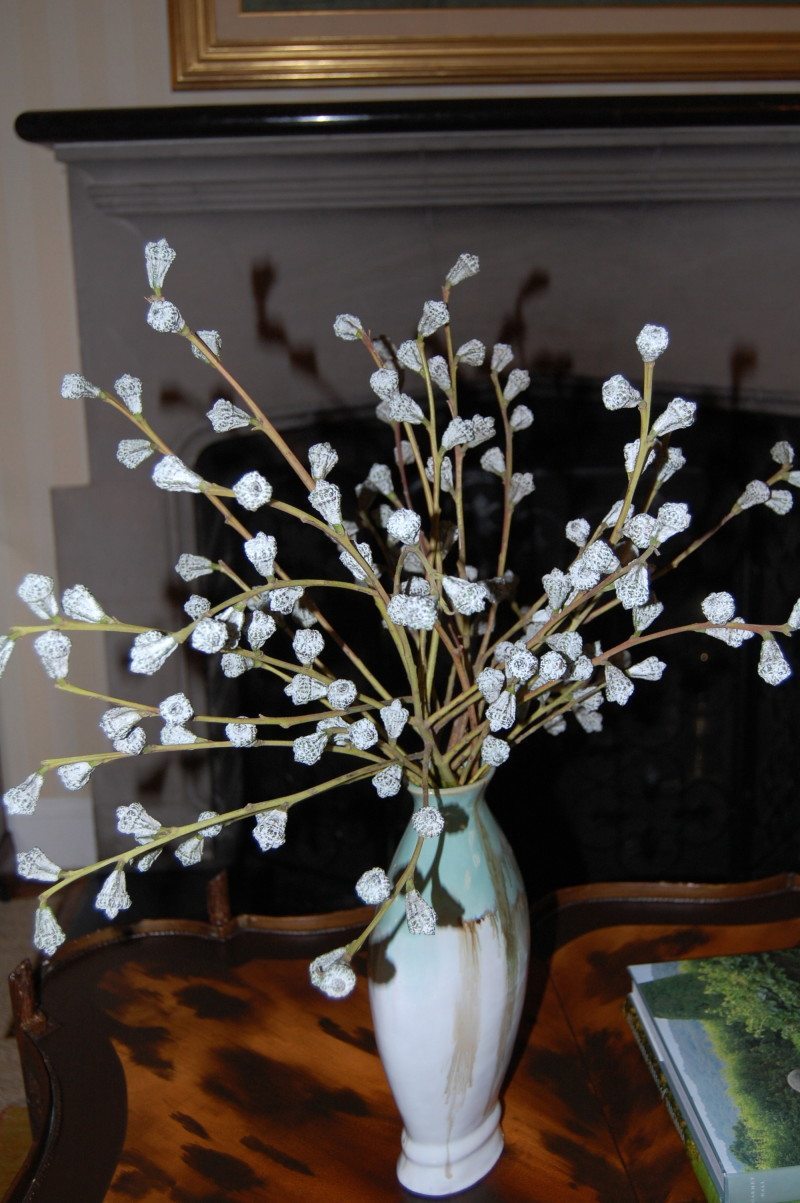 Melinda gathered her leftover  Eucalyptus pods and created a stark, yet stunning composition.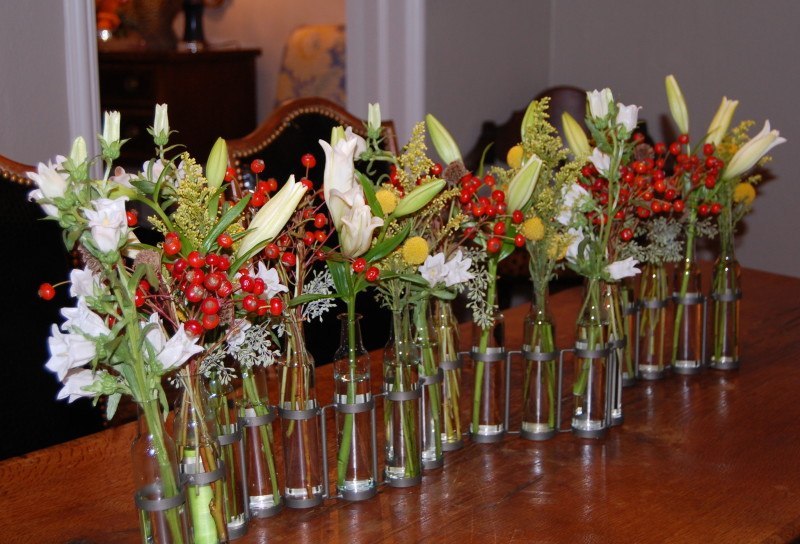 Melinda filled the test-tube container with the same flowers and fruit, but what a completely different feel it has!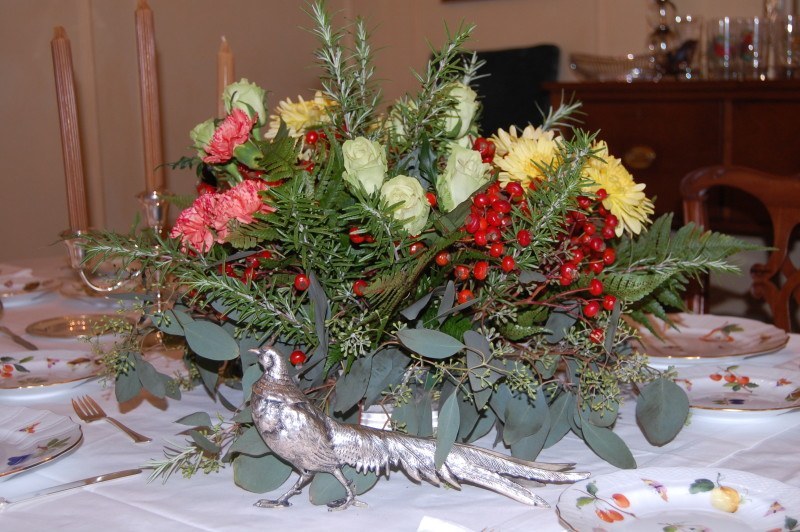 Susan Robertson combined hot colors with the Mums, Carnations and berries, but provided the cool anchor of Rosemary, Ferns, Seeded Eucalyptus and white Roses to allow the warmer colors to shine.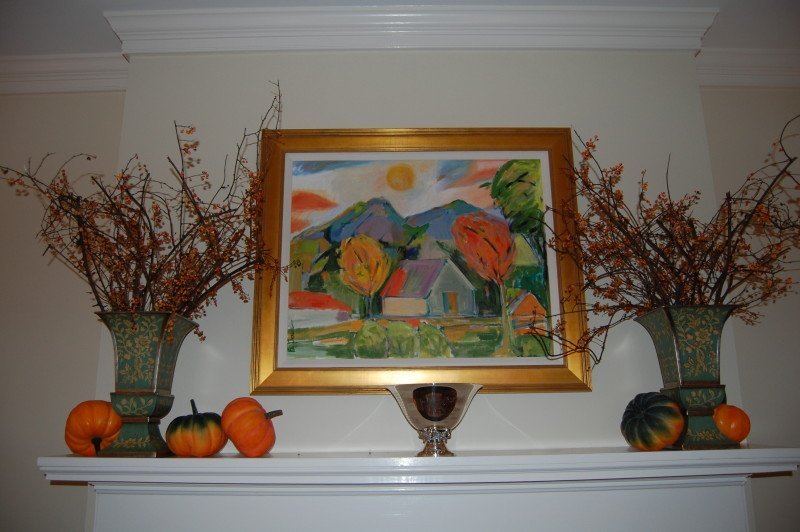 Susan cut some Bittersweet growing on a tree in her neighborhood.  The berries and the pumpkins frame the countryside painting so beautifully.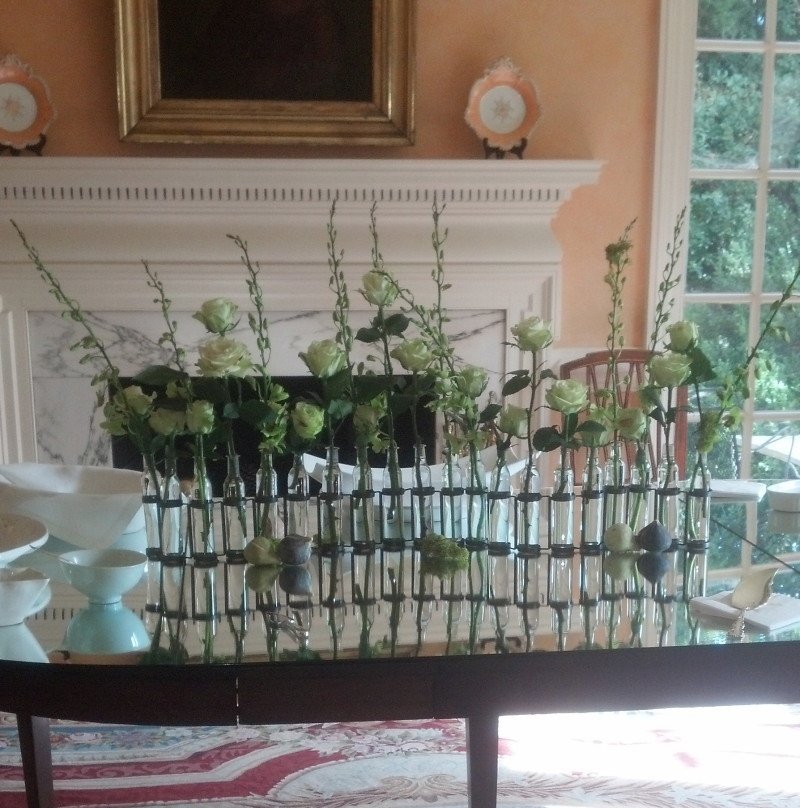 Nan McVey sent this picture to me a couple of weeks ago.  Nan's flair for elegance is on display here, where white Roses and Orchids are reflected on a mirror-topped table.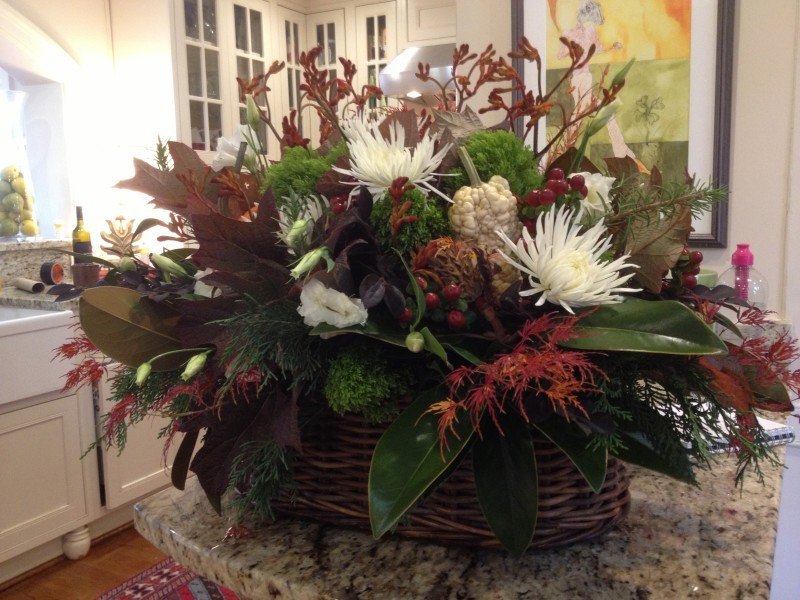 Ashley Wallace and Jeannie Shutt filled this beautiful, abundant arrangement with the foliage, flowers, berries, branches and gourds of the season, including Magnolia, Japanese Maple, Oakleaf Hydrangea and Deodar Cedar foliage.  They spiced it up with Spider Mums, Lisianthus, Hypericum and Kangaroo Paw blooms.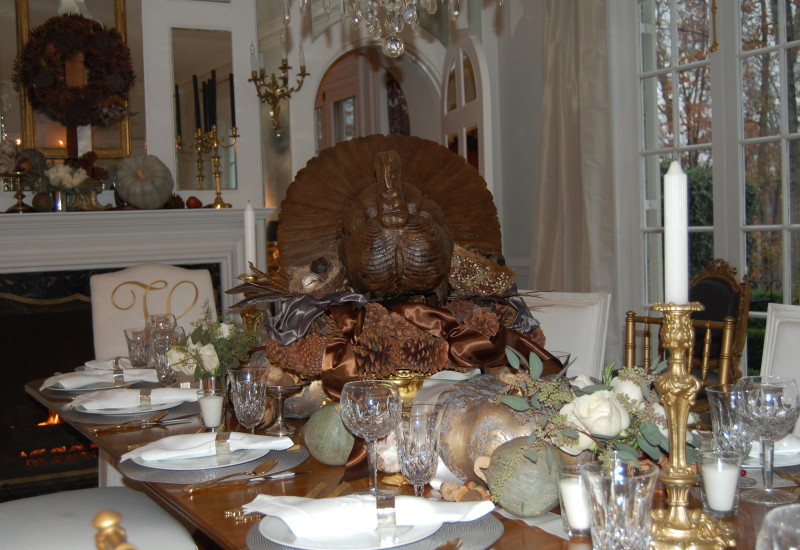 Laura Valentine created a work of art in her dining room, surrounding the Great Bird with a subtle palette of grays, greens, creams and a touch of gold. Pumpkins, gourds, pinecones, white Roses and Seeded Eucalyptus create a sublime tapestry.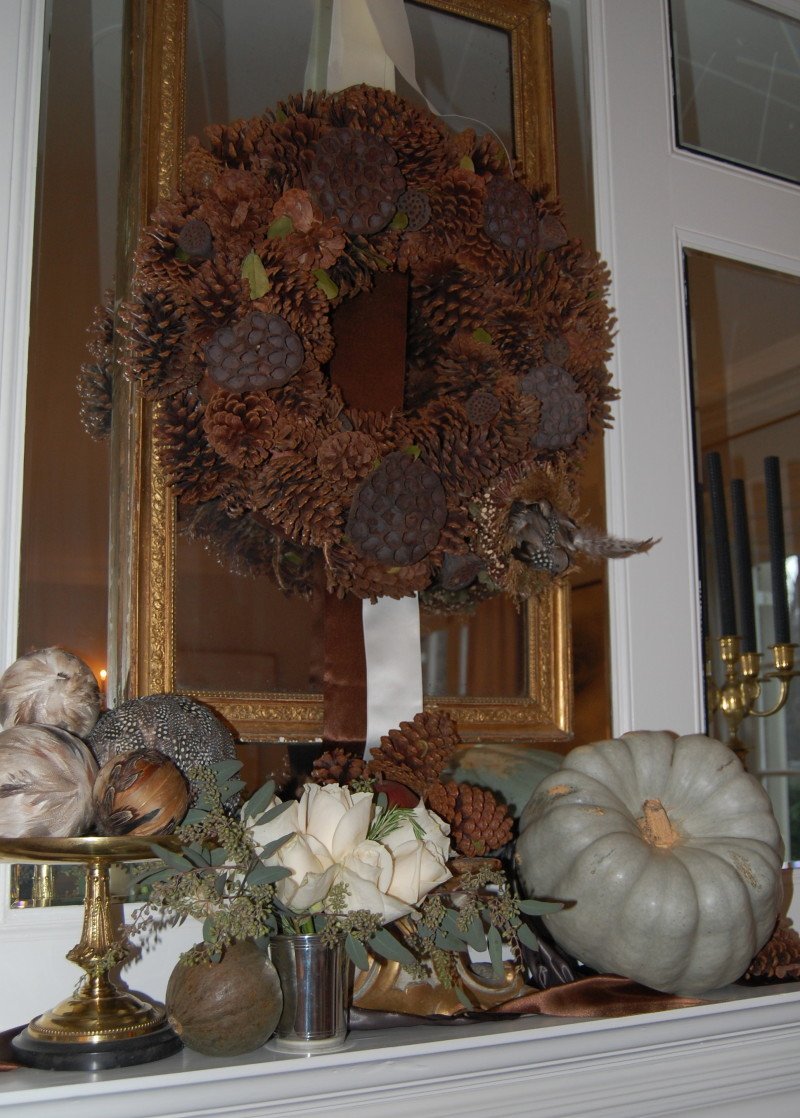 Laura gathers the same bounty on the mantle, underneath a wreath made of pine cones and seed pods.  I love the cool palette of the pumpkin (yes, it's real!), the Seeded Eucalyptus and Roses in combination with the rich browns of the pine cones.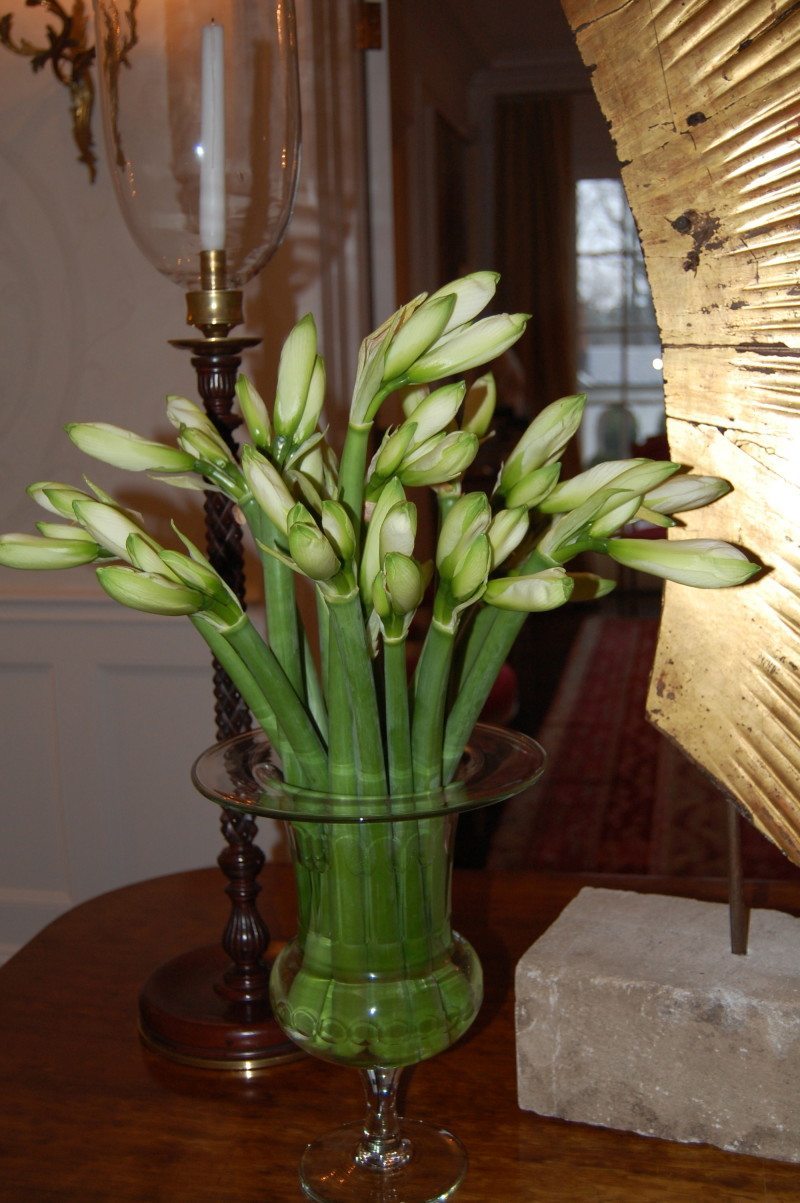 A simple bunch of Amaryllis stems greets visitors in Laura's entrance hall.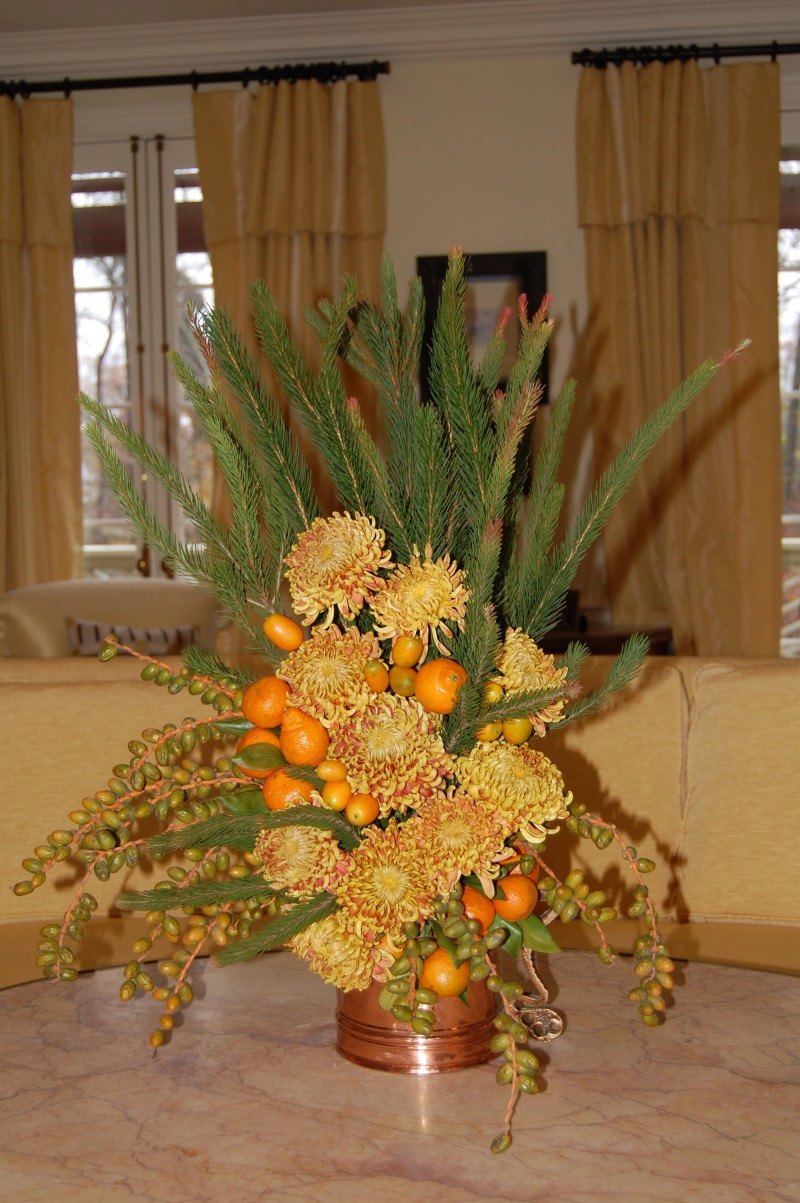 Jeanette McKittrick's arrangement veritably glows.  She filled a copper pot with Mums, Clementines, Kumquats and Date Berries.  Australian Pine (note the new red growth at the tips) provides a dramatic backdrop.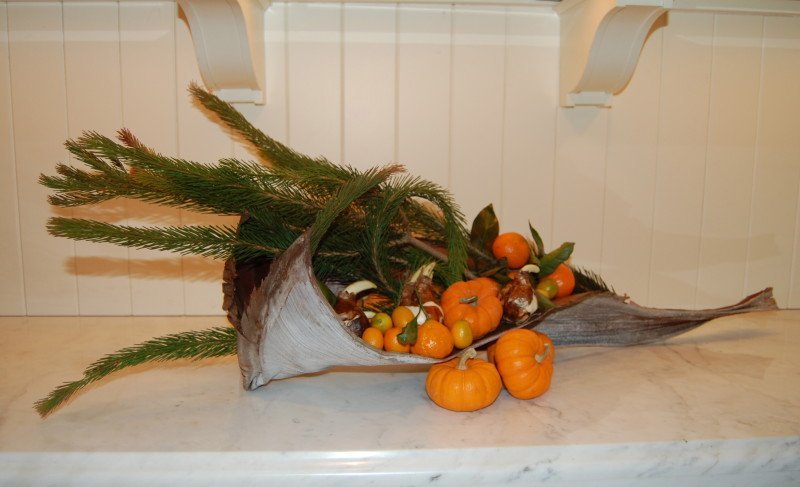 Jeanette filled the shedded bark of a Palm Tree with the same Australian Pine, Kumquats and Clementines, and added Paperwhite Narcissus bulbs and little Pumpkins to the overflowing cornucopia.  Jeanette worked some of the Pine branches to repeat the gentle curve of the Palm bark.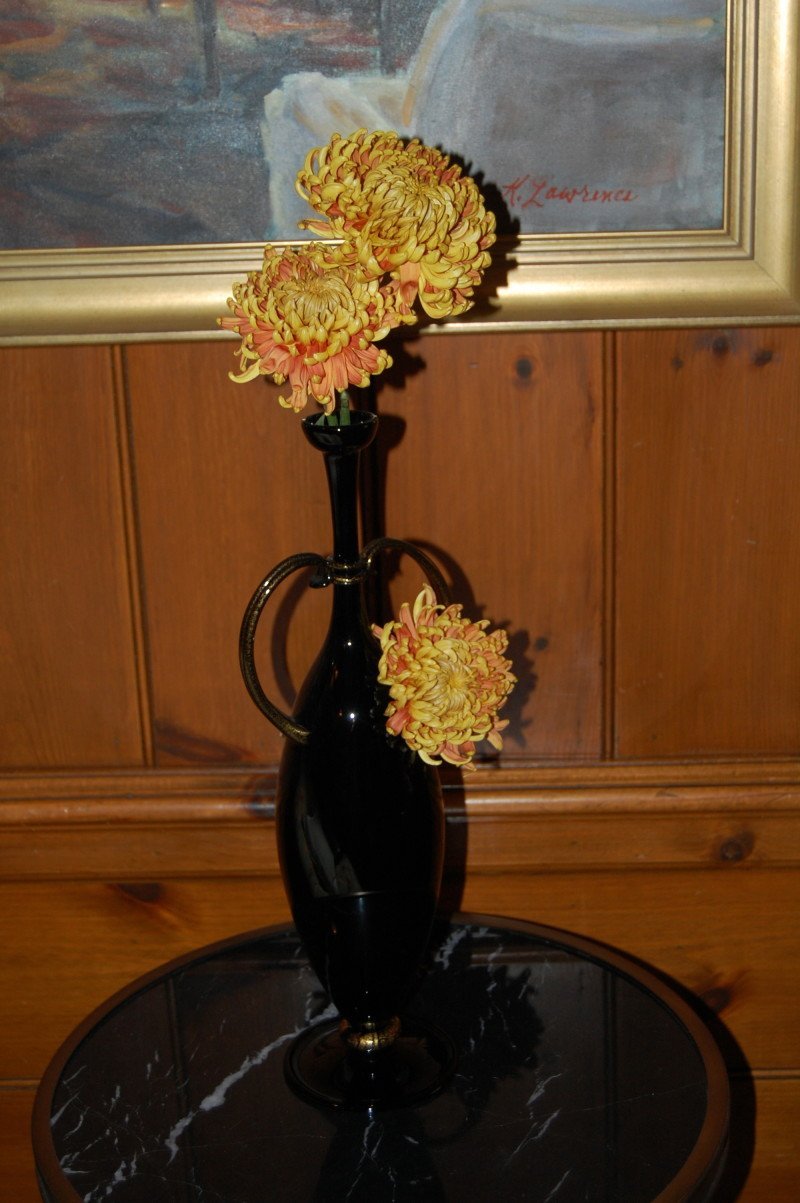 Jeanette used some of her Mums to create a simple, beautiful line arrangement.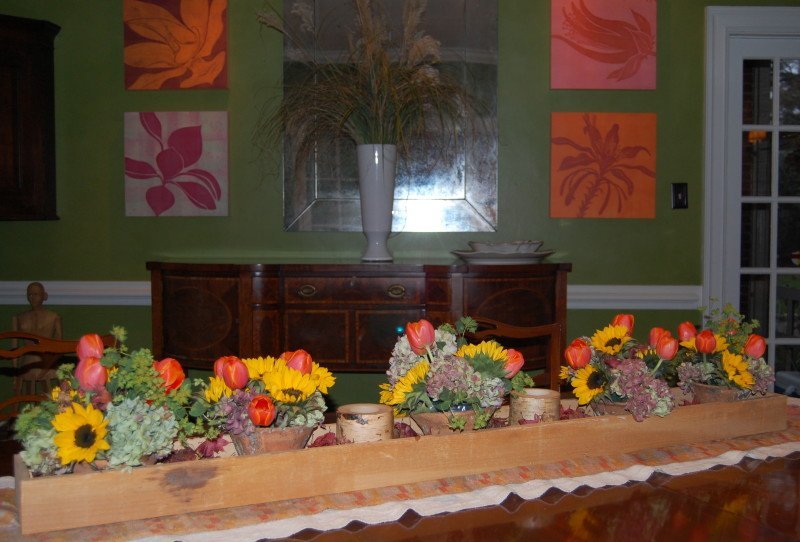 The flower power team of Jennifer, Blakely and Charlotte Sisk took their dynamic art collection as inspiration for these Thanksgiving arrangements.  They created a colorful, earthy vignette by filling terracotta pots with Sunflowers, dried Hydrangea blooms, Tulips and Euphorbia, then placed them in a long rustic wooden container with candles wrapped in Birch Tree bark.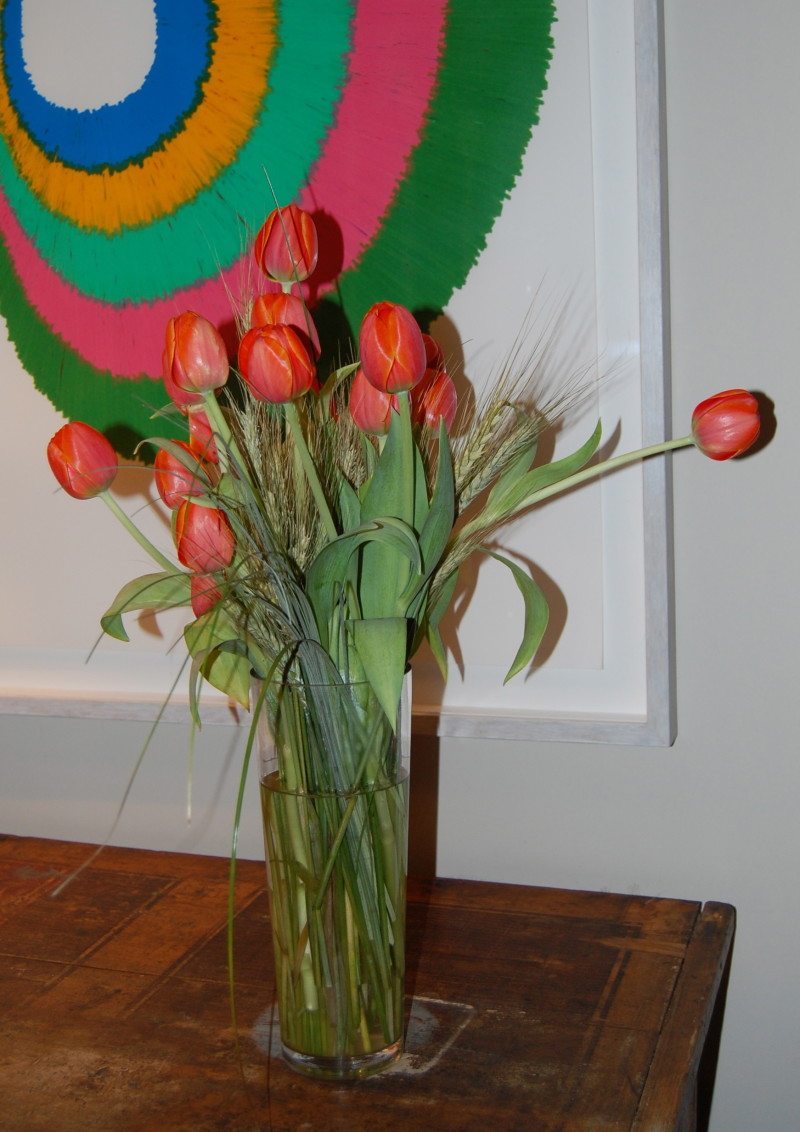 Tulips and Wheat are happy together.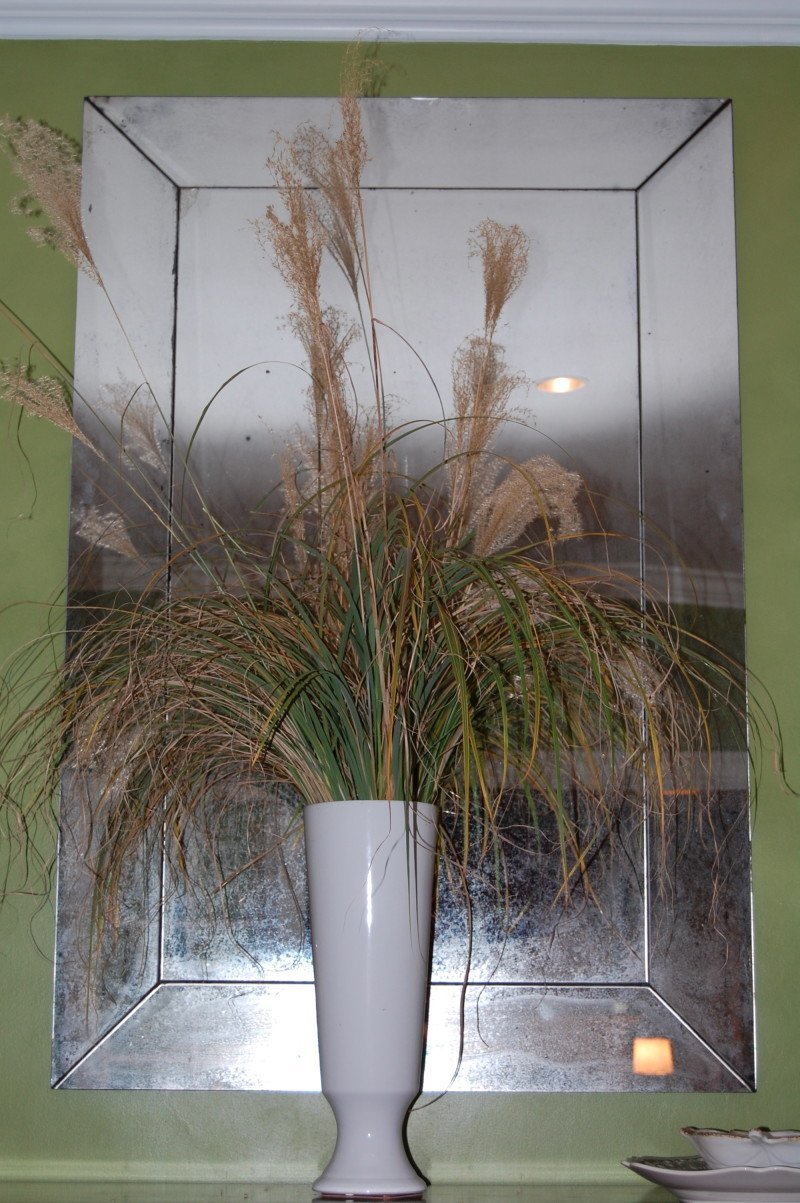 The dried plumes and leaves of these grasses simply, but dramatically, convey the turn of the seasons.  May you and yours take the time this Thanksgiving to drink in, and give thanks for, the beauty and the sustenance that nature brings us each and every day.
Related Posts
As I write, greens and flowers are being cut and expertly pulled together  into stunning arrangements.  Alas, this Thanksgiving I was not able to get my act together to photograph those arrangements.  Instead, I'm reposting the first blog I did on Thanksgiving arrangements, in hopes of inspiring you to have…